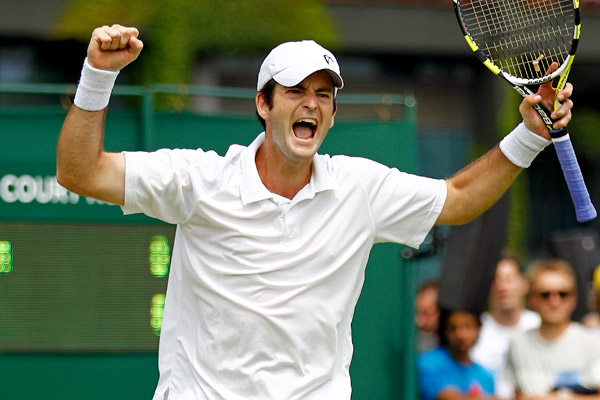 The first week of Wimbledon has passed and on the tennis free Sunday I will try to summarize some of the highlights or insights I've gathered in the first week with a dash of humor –  the Tennisnerd way.
Rosol who? We who follow tennis knows how hard it is to play the match of your life, upset a better player and come back for the next round with your A-game. Lukas Rosol who managed the biggest Wimbledon upset in a long time by beating Rafael Nadal in round two, became another example of this in his straight set loss to "Coalwriter" Philipp Kohlschreiber. Lightning rarely strikes twice on the tennis court. Good for Kohlschreiber though, has a nice game with a beautiful one-handed backhand.
Ana "Fist-pump" Ivanovic beat Goerges and fist-pumped after a dodgy shot and a weird bounce. She would probably fist-pump if the opponent fell over from heat stroke and forfeited the match. Gentlewoman? Not really.
The juniors. I had big hope for the up-and-comers this year, but it was all in vain. Dimitrov's game is fantastic to watch, but his body is frail (cramping after two sets during the French Open is not okay), Raonic's serve is brilliant and the Canadian has lots of potential, but he was out-missiled by Sam Querrey in round two, Donald Young deserves no comment, neither does hothead and improviser Dolgopolov who is way too emotional to consistently win tough matches. Do I forget someone? Yes, Tomic, and I forget him simply because he seems to want to be forgotten – he lost against the babyface of the tour, David Goffin, who then lost to Mardy Fish in round three. So none of them got into the second week – disappointing.
One "up-and-comer" that got into the second week is Brian Baker, loosely named comeback kid after the many injuries which has sidetracked his potentially glowing career. The guy beat French head case Benoit Paire and the story continues, Baker is in the fourth round where he is playing a beatable opponent in Kohlschreiber. Can the story of the comeback kid/man continue?
I know the British crowd loves their sportsmen and that they rarely see the kind of success they want/need/expect in major sports events, but it gets a bit silly with Andy Murray sometimes. It must be nice for him though, screaming like a little kid on Christmas day after winning an important point, his jaw menacingly huge and his whole clan and the rest of the British tennis crowd giving him a standing ovation. Murray is a major threat for the title of course, especially since Nadal is out of his side of the draw, but I still think he'll might come short against Djokovic or Federer, despite having the whole SW19 resonating his name.
Another Andy and one of my Wimbledon hopes, Andy Roddick, went out to David Ferrer after a decent grass season run (won Eastbourne). Roddick looked a bit like his old self in the first set, playing power tennis, using his big forehand to dominate the Spaniard, but after a second set tiebreaker which he lost 10-8, Roddick fizzled a bit and you started to see why Ferrer is number five in the world. He is simply damn difficult to beat. I hope Roddick comes back to make another really good run at Wimbledon, the guy deserves it.
Queens winner and always #humble and quiet Marin Cilic got through a 17-15 fifth set and the second longest match in history (5:31) against Sam Querrey. It's amazing how fit these guys are, being able to sustain a good level to play over five hours. Good win for Cilic who always struck me as a nice, but very reserved guy. Next up for him is Murray.
While we're at it, let's have a quick look of week two and the fourth round of Wimbledon 2012:
Djokovic – Troicki: Serbian brothers in arms. Troicki is a great baseliner and has one of the funniest service motions on the tour. Still that's far from enough from beating the wall of Djokovic. The Djoker in straight sets.
Gasquet – Mayer: "Baby Federer" (that nickname must be retired now, right?) Reach-hard Gasket always plays well at Wimby, one would say despite his long, top-spin powered swings and I think he can provide a test for The Djoker in the quarters. Mayer is tricky player with an odd-looking game, but I don't think he packs enough to beat Gasquet. The Frenchman in four.
Federer – Malisse: Federer will hopefully be recharged after the debacle in the third round against Benneteau and he shouldn't have a big problem beating Malisse who is creative but one of the least-healthy (chubby?) looking players on tour together with Nalbandian and Baghdatis. He is a shotmaker though and might steal a set from the Swiss if Federer looks the other way for a couple of games. Federer in four.
Istomin – Youzhny: I have nothing against people from that side of the world but this match doesn't make you drool does it? Istomin hits big and flat and Youzhny knows how to make the tennis ball do what he says. The hot-tempered Russian will take this on experience, Youzhny in four.
Ferrer – Del Potro: Now this is more like it! Delpo the fly-swatting maniac versus Ferrer the never-stopping terrier. This could be a lovely long five-setter with many great rallies or Delpo could simply use his far better serve to his advantage and win it in straight sets. I'll compromise and say Del Potro in four.
Cilic – Murray: It's a shame, but I don't think Cilic has the mental stamina and enough game to beat Murray at home, but I'm sure he'll take a set. Muzzah! in four.
Tsonga – Fish: Tsonga is always good on grass and his movement looks light and cheerful on the turf. Fish is coming back from a weird heart condition and he's playing remarkably well considering. I still think he will find Tsonga bit too tough. But this can go five sets…so Tsonga in five.
Baker – Kohlschreiber: Will the fairytale of the comeback kid continue? Kohlschreiber is tough on grass and has played well both in Halle and here and he knows he has a good chance against Baker. I think Kohlschreiber in five sets based on better fitness and more recent experience.
There you go. These are my predictions and humble ramblings for the so called Manic Monday at Wimbledon. Let's hope we see some spellbinding tennis and enjoy your day off…