I've recently started hitting with the Yonex VCORE 95D, a racquet I've actually never tried before and so far, I'm loving this stick! Is it just due to the racquet honeymoon period or is it really that good? After all, Stan Wawrinka is playing with it…
But as I've said before, you shouldn't play with a racquet because one of your favourite players use it. A racquet and its setup is highly personal and should fit you, it doesn't matter if it's used by top 10 player or not. As you know, professional tennis player racquets are not the easiest to swing for recreational players and don't believe that they play with the specs in the marketing lingo. Pretty much every serious tennis player will customize their racquet in some way although there are of course exceptions to this.
We've all been in a racquet honeymoon period (read my previous post about this topic) where you're sure the racquet is THE ONE for you and a one month later you put it up for sale. I'm not sure if this is another honeymoon period or if I'm actually going to play with this racquet for like half a year at least, but it sure feels good these first few hits.
How would I customize the Yonex VCORE 95D? Not sure yet, for now I don't have a smudge of lead tape
on it and it plays great. Yet, I usually like a high twist weight and might add some weight at 3 and 9 o' clock which I'm prone to do with all my racquets. What does Stan Wawrinka add to his racquet? You can either click his name or check out his specs below.
Stan Wawrinka's real racquet specs:
Racquet: Yonex vcore 95D
Paint Job: Yonex Vcore Tour Duel G (330)

Headsize: 95 Sq Inches
Weight: strung: 372 grams (with overgrip)
Balance: 32.1 OR 32.3
Swingweight: 359-360
Stiffness: 63-64
Lead placement: 3 & 9 O'clock
Leads length: 5 inch
Grip: 4 3/8
Replacement grip: Yonex leather

Strings: Babolat RPM Blast 16g

String Pattern: 16×20
Tension: 27 KG(61 pounds) /25 kg (57 pounds)
Looking at Stan the Man's racquet specs, they do look rather close to my own preferences in a tennis racquet. The main difference being that he actually enjoys playing with Babolat RPM Blast
strings (I used to do this before I realized there are better poly strings out there for people who are not keen on re-stringing their racquets every 6-8 hours of play) and that he adds around 12-15 grams more in weight to the racquet.
So as a fun experiment I'm going to see if I can mimic his specs and see how that frame feels like. I'll might even string it up with RPM Blast for the heck of it.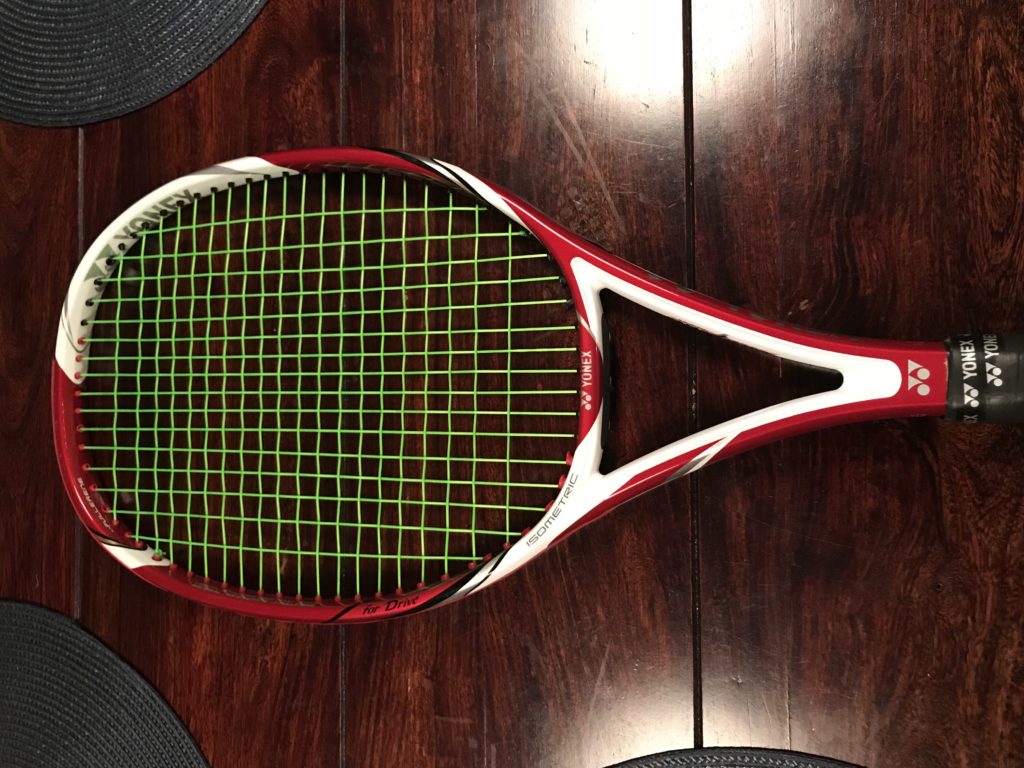 What I can say about the Yonex VCORE 95D already is that it offers good spin and control in a manoeuvrable and comfortable package. Why they discontinue racquets like this is hard to understand. The VCORE 97 series are also good racquets, but being a fan of 95 sq inch tennis racquets, this is the kind of racquet I want to find in the store.
Below you have another "therapy session" video of me hitting tennis balls on a large rectangle. I'm going to work on my video game from now on, but this will have to do for the time being. Thanks to Mathias for another enjoyable session on the court. He was better on the day, but I'm starting to find my groove after a slump-ish period.
As a sidenote to this, I really respect the quality control and finish on Yonex racquets. The paint jobs are also top notch and they do seem to use a high quality graphite. I'm not saying they're better racquets, but sometimes "Made in China" can be a little disappointing and this is why the HEAD frames of yesteryear from Austria and the Czech Republic did seem like more high-quality products. This might be a broad generalisation and I'm sure there are high quality products made in China, but I'm definitely not the only one who feels this way.
Have you tried the Yonex VCORE 95D? What do you think of it? And what do you think of Yonex racquets in general?
***
Do you like Tennisnerd? Don't miss a word or video by stalking us on social media. Every like and follow is appreciated!

YouTube
Instagram
Twitter
Facebook Page
Racquet buying guides
Here is a great racquet buying guide to get you started.
What tennis racquet should I buy?
Top tennis racquets to buy right now
The Gear of the Year 2016
Tennis racquets for juniors
Tennis racquets for kids
Buy tennis gear
EU
Racquet Depot
Pro Direct Tennis