I've used the Ytex Quadro Twist for a few hours in my Tecnifibre Tfight 315 ATP Ltd (that is usually strung with Solinco Hyper-G
) and I really have only one word, well actually two: dwell time.
The Tennis Warehouse play-testers talked about how much spin you would get out of this string, but I was more impressed by the feel than the spin. I would actually get Hyper-G an edge in spin production, but when it comes to softness and feel, Ytex Quadro Twist
is one of the best strings I've tried.
It's good to mention though that you might need to string it slightly higher than you usually do as I sometimes struggled controlling the power. It is by no means a powerful poly, but if you're used to the dead-ish and super predictable response of Solinco Hyper-G, the Quadro Twist does inject more power into the ball. For this test I strung Ytex Quadro Twist at 23 kg (around 51 lbs) and next time I might try 24-25 kg.
Since I've only used it for a couple of hours I can't really comment on the lifespan of the string.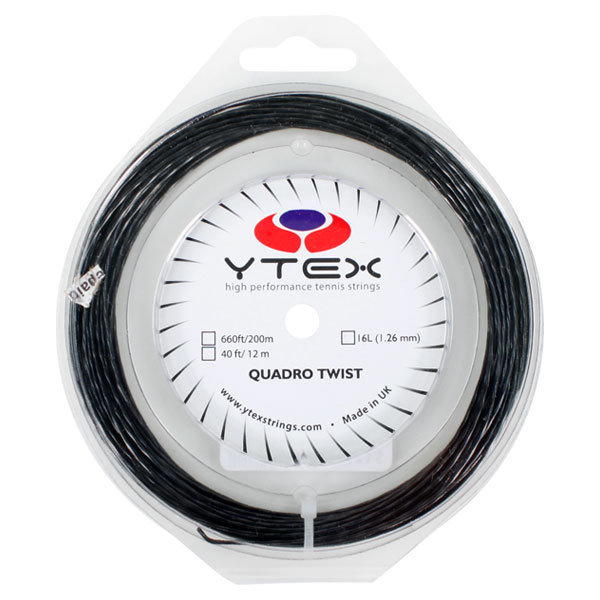 I'll update this post when I've used it more.
When it comes to comfort, the Ytex Quadro Twist is a role model among polys. You really feel the ball on the string bed and even hits off the sweet spot doesn't jolt the arm much. It actually feels like the string is made for my Tecnifibre Tfights with its rather flexible feel (RA 59).
So feel and comfort are really standouts of the Ytex Quadro Twist. If you're looking for a crisp poly with a lot of bite, I would rather go to Solinco Tour Bite
or Hyper-G
or a Babolat RPM Blast Rough
. But if you want something comfortable that gives you nice pocketing and allows you to really feel the ball on the string bed – I can't think of a better string than Ytex Quadro Twist
.
Here is a comparison between Ytex Quadro Twist and my regular string Solinco Hyper-G.
Property
YTex
Quadro Twist 16L
Solinco
Hyper-G 16L (1.25)
Difference (%)
Stiffness (lb/in)
178
218
22
Energy Return (%)
85
89
5
Spin Potential
6.2
6.1
-2