Do you have trouble keeping score during a match? Check out Scoring Right – a scoring tool that attaches to your racquet. Here is my Scoring Right review.
Scoring Right is a semi-rigid plastic unit that attaches to the throat of your racquet. It helps to keep score and tells you which side of the court to serve from. It is an interesting tool to teach kids the scoring of tennis but also works well for forgetful recreational players.
I have been playing with Scoring Right on two racquets for a while and although some commenters on my Instagram thought it was a silly idea, it can actually be quite useful.  Not only for you who forget the score but also as a way to build a routine into your game. As you might notice with most pros, they always fiddle with something or have deeply ingrained routines that help to center them mentally and prepare for the next point. Adjusting the score on this small device can be a good routine.
Buy Scoring Right here – use the code TENNISNERD and get 10% off.
Scoring Right Review – How does it work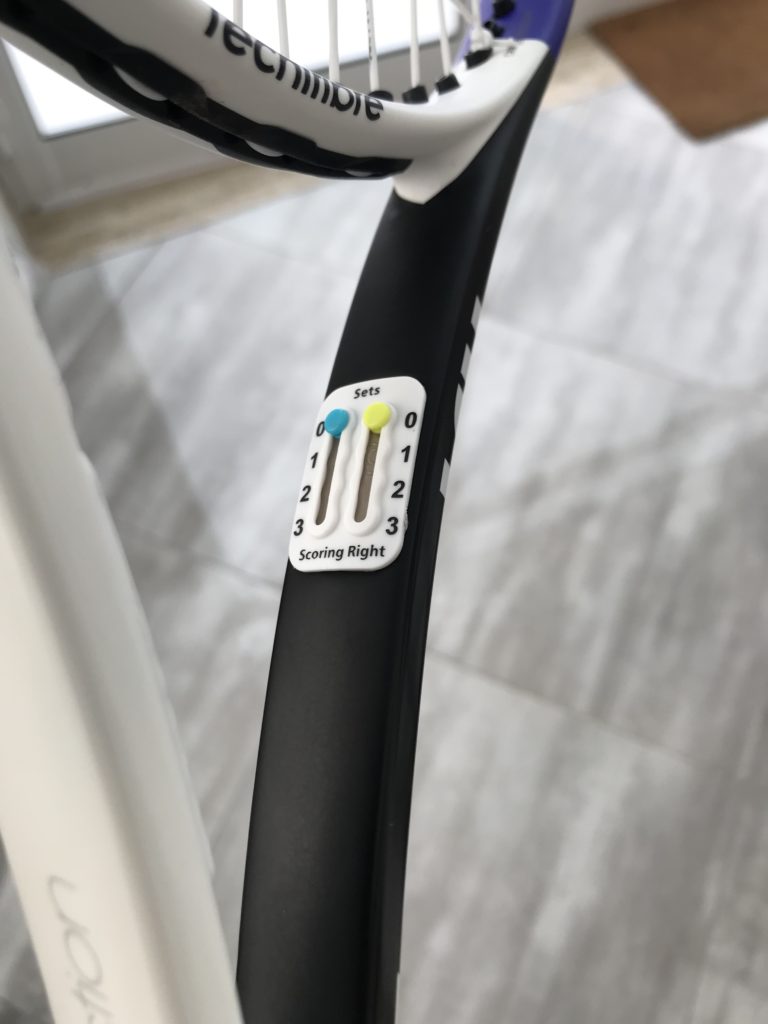 This is not really a product that needs an instructional manual. It is easy to attach it to the racquet and once you've done that it sticks really well to the frame. Thanks to a 3M automotive-grade adhesive, no matter how hard I swung my racquets, it remained in place. The quality of the product is nice and I did not use any print coming off during my weeks of testing.
It does add a bit under two grams to the throat of the racquet, so if you are really specific about the weight of your racquet you need to keep this in mind. When it comes to the balance of the racquet, the throat is a neutral position so there are no issues with the balance.
The functionality is basic. After each point, you move the tiny beads into the position of the score. One unit measures sets and the other bigger unit measures games and points. There is no measurement for tie-breaks sadly.
Is it worth buying?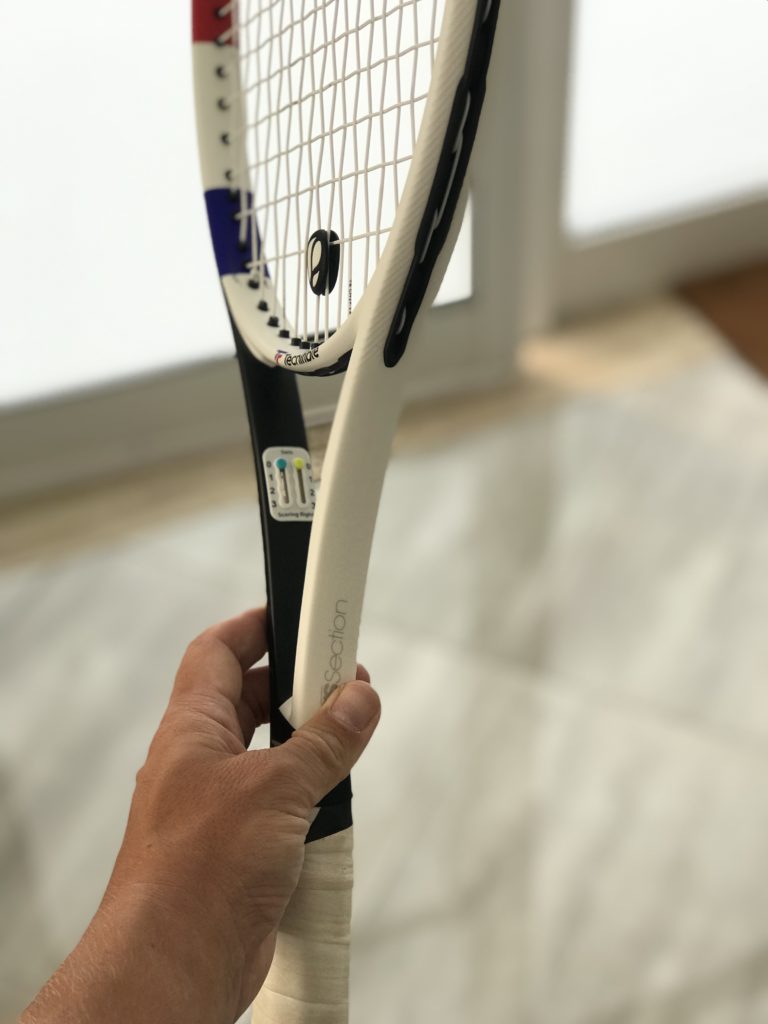 The product is made with high quality and it doesn't affect the playability of your racquet much (for most people it won't affect it at all). It is easy to install and does not protrude or make you think about it when you're playing. The question is really if you will use it or not.
Let's look at the pros and cons:
+ Easy to install
+ Doesn't fall off
+ Doesn't alter the racquet much
+ Doesn't rattle or create any noise
– Doesn't do tie-breaks
– Doesn't work on ultra-thin beam racquets like the Phantom 93P, but the vast majority of them, yes.
– The beads can be a bit tricky to move at times, but that is maybe due to my finger dexterity being similar to a Gorilla's.
I think this is a great product for kids who want to learn to keep score or have trouble doing so in a match. If you have a bad memory or your mind tends to wander during matches, it is also great. But for most recreational players keeping score in a traditional way (using your mind) is probably enough.
Buy Scoring Right here – use the code TENNISNERD and get 10% off.