As some of you might know, I've been using Swingvision to analyze and edit my practice matches. Here is my Swingvision review and interview with their head of business development Nikhil Jayashankar.
Swingvision is one of the most hyped-up tennis apps of all time and has been mentioned twice in the official Apple keynote. It has also been backed by high profile tennis players like Andy Roddick and James Blake.  SwingVision an A.I. tennis app that brings you pro-quality match stats, video highlights and line challenges on any court, using just your iPhone or iPad. Swingvision uses Apple's tech to the max in being able to track every shot you hit, measure the average velocity of the ball, and cut out dead time in between points when you're playing matches.
It's easy to get going, all you need is a smartphone or camera, a tripod or another mount, and an iOS device (only works on iOS for now). If you have an iPhone or an iPad you can record directly into the device, but if you only have a MacBook, you can record it on an Android phone or a regular camera and then import the footage into the app.
How much does it cost?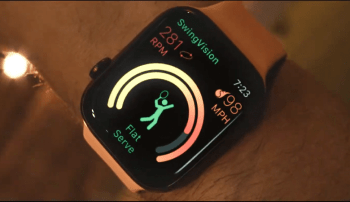 You get 2 hours of shot tracking, video analysis & cloud storage per month for free. If you want more, they have a Pro plan that you can try for free for 14 days and if you want to continue it's $149.99 per year or  $12.49 per month.
Alright, that's the marketing style intro. Let's get into what I think.
Is it good?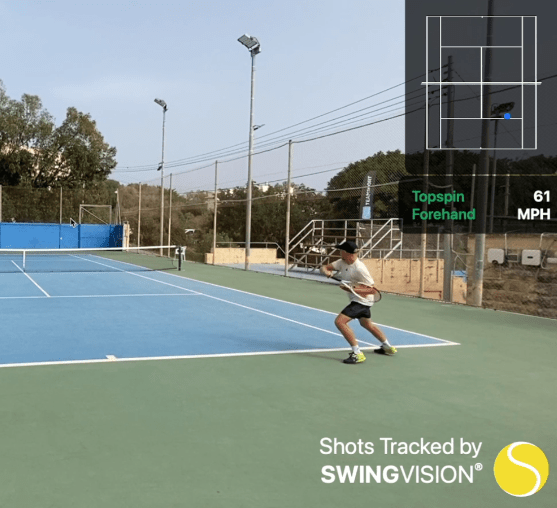 I am not an advanced user of Swingvision. If I worked as a coach, I could probably find several more usage cases for it, since you get some good data from the app. I do think they can work on helping the player use the data for insights, but I'm sure that's to come later down the line.
I have used the tool myself mainly for the excellent feature of cutting out dead time between rallies or points. Let's say you play a set against your hitting partner that takes an hour. Swingvision will cut it down to 20 minutes or less depending on the length of your rallies. That's a huge time saver for players who like to record themselves. Like I mention in my video about 5 tips to improve your tennis, this is a great tool.
I haven't tried their line-calling feature using an Apple Watch for example and I would prefer radar gun shot speed over the average ball speed that they're measuring right now, but I see a lot of potential in this app and that's why I'm excited about it. For a guy who is passionate about tennis, it's nice to see the sport at the forefront of Ai innovation.
I sat down with their head of business development Nikhil Jayashankar and talked about the app, their future plans and the strategy of the Swingvision team. Watch the video below.
Swingvision review and interview
The first part of the video is about my experience with the app and some features and the second part of the video is my interview with Nikhil about their future plans.
I hope you find it interesting. Do you use Swingvision and if so, how do you use it?
Try the Pro version of the app for free here.