You might have seen me hit a blacked-out prototype of the Functional Tennis Saber in one of my videos. Now it's available for pre-sale.
The Functional Tennis Saber is a sweet spot training tool for ambitious players and coaches to work on a player's contact point. You don't have a lot of margin for error with the 37 sq inch head size of the Saber, but that's the whole point. You need to make sure you contact the ball close to perfect to get a decent shot.
But the Saber is not as difficult to use as the Tennis Pointer. Here you can hit the ball and play points. The pointer required a Jedi-like focus and wasn't very pleasant on impact due to it being a plank of wood. With the Saber, you get strings (12×12 string pattern), which you're used to anyway, right?
You can pre-order the Saber here.
Functional Tennis Saber Specs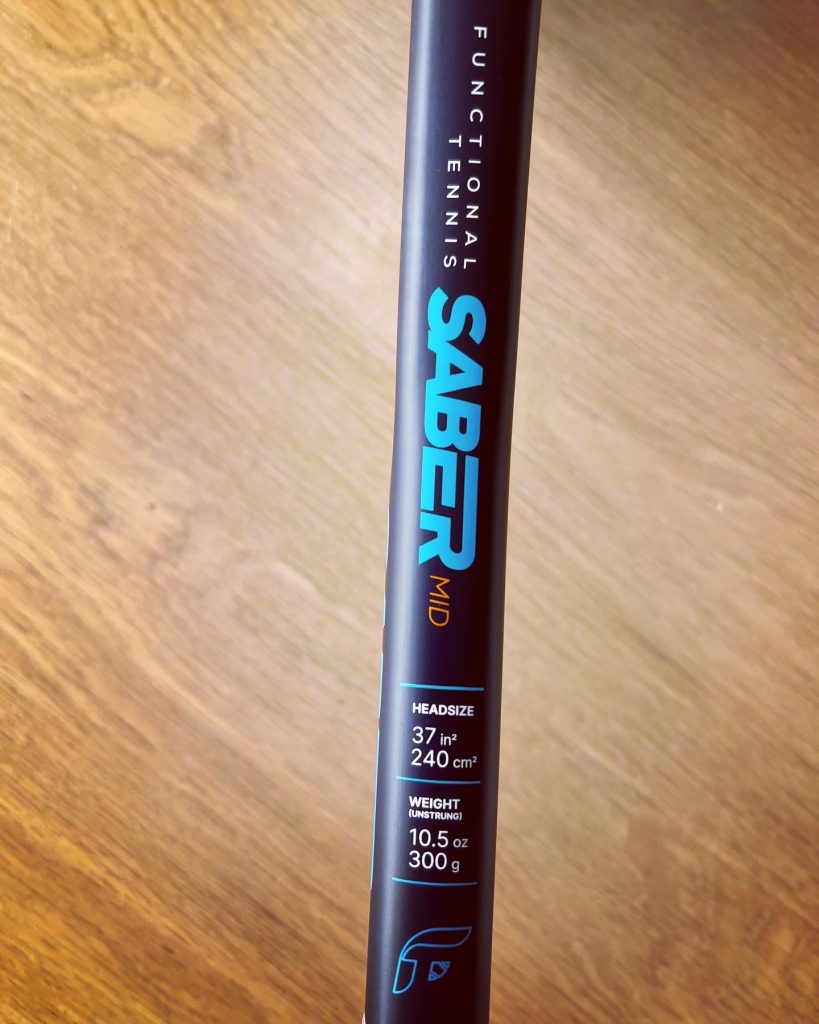 Head Size 37 Sq in
Weight (Unstrung) 300g
Weight (Strung) 312g
String Pattern 12×12
Swing Weight 270
Beam size 22mm straight beam
Grip size 2 (4 1/4)
Strung – Yes
Material – Mixed composites of Carbon Fibre and Fibre Glass
What I like about the composition of the Saber is that it's partly made of fiberglass. I always liked racquets with fiberglass in the layup. It creates a nice, connected, and soft feel. One such racquet is the Babolat Soft Drive, but in the 90s there were quite a few other racquets with fiberglass.
Who is it for?
If you're ambitious about your tennis and want to improve your game, I think the Saber will be an exciting addition to your racquet bag. I always feel I'm hitting the ball cleaner when I warm up with the Saber than a standard racquet. If you're a coach, I think the Saber could be a perfect way to get your students to improve their ball anticipation and the distance between body and ball. An excellent tool to start the coaching session!
The main competitor to the Saber would be the Toalson Sweet Area, which is also good, but I feel like the Saber has a bit better feel and a more distinct sweet spot.
Have you trained with a sweet spot tool? What do you think about them?