I was looking for tennis training tools and found a gravity belt review. But what is a gravity belt and what does it do?
Every ambitious tennis player tries to find that extra edge to be stronger, faster, play better and win more matches. There are many different tennis tools to work on those goals and you might have seen videos of pro players training using resistance bands. Why? To improve their strength and movement. This leads us to the question: what is a gravity belt?
The Gravity Belt uses variable resistance to keep the player in a lower, more athletic position. The more you resist the tension of the resistance bands, the harder you have to work. This is for example great for you who forget to bend your knees (I've been bad at that), because the bands makes it easier to bend them than to use straight legs.
You play tennis with your legs and the idea of the gravity belt is to naturally force the player to adopt a stronger and lower stance.
Other benefits of tennis training with a Gravity Belt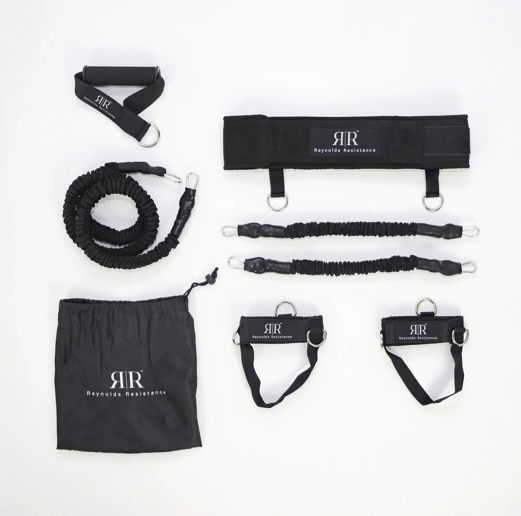 Besides helping you adapt your footwork, it is claimed to  also improve your ability to change direction. According to Reynolds Resistance you will improve your fitness and develop better control when hitting on the run. The belt will also force you to optimize the efficiency of your weight transfer.
Sounds good, doesn't it? I hope to be able to test this product properly soon. I know I need it, because I want to improve my footwork and consistency.
Sometimes you buy a product with the intention of working on your game and then you end up never using it. I've been through that many times before. Let's see if this one will be beneficial enough to stick around. My plan is to use it with a ball machine, because if you don't have a coach or a ball machine, your hitting partner might not be up for feeding you balls so you can work on your footwork.
Have you tried a Gravity Belt?
Let me know if you have tried a resistance product like this for your tennis training. What did you notice about it? Is it something you will keep using? I'm always excited about developing my game and I hope a tool like this can help me to the next level, but like with everything in life – you need to put in the work to get somewhere.
If you want to check out the Reynolds Resistance Gravity Belt, I reached out to them and you get 10% off with the code tennisnerd10.