The Senior Masters Cup in Marbella is an exhibition-style tournament played over a weekend. I was there to capture some highlights.
The 2019 edition of the Senior Masters Cup included players that are just about "senior" and two that are not even retired. Three Spanish stars were there: Tommy Robredo, Feliciano Lopez and David Ferrer. They were joined by German former world number two, Tommy Haas.
The format of the Senior Masters Cup is that they play two semi-finals on Friday and a third place match and final on Saturday. They played two normal sets and one match tie-breaker.
The event was really well-arranged, especially if you had access to the VIP arena. Sadly, I didn't but I at least got a press pass 🙂 thanks to team behind Senior Masters Cup.
Senior Masters Cup 2019 – Semi-finals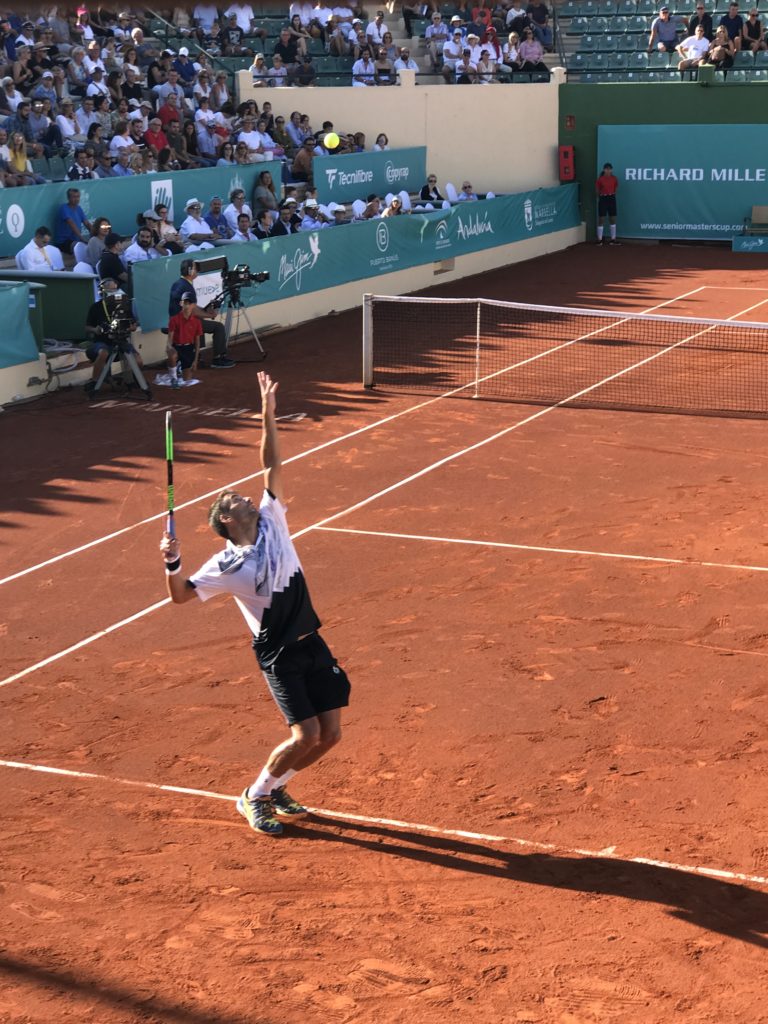 There two types of semi-finals. The first match between Robredo and Lopez was intense, dramatic and with some really nice rallies. If you like one-handed backhands and varied play, this was truly fun to watch. Lopez edged out the first set in a tie-break, but Robredo came back in the second. The match tie-breaker was really tight, but Lopez got it in the end 11-9.
The second semi-finals was a bit more one-sided. Ferrer showed why he is comfortable on a clay court and despite not playing at a hundred percent intensity, he was too much for Haas. Haas has a visually and technically very appealing game, but he does get too down on himself at times. Despite this being an exhibition match with plenty of kids attending there were a few "Fuck!" and other curse words. He hit some fantastic one-handed backhands but Ferrer won comfortably 6-4 6-2.
Senior Masters Cup 2019 – Finals day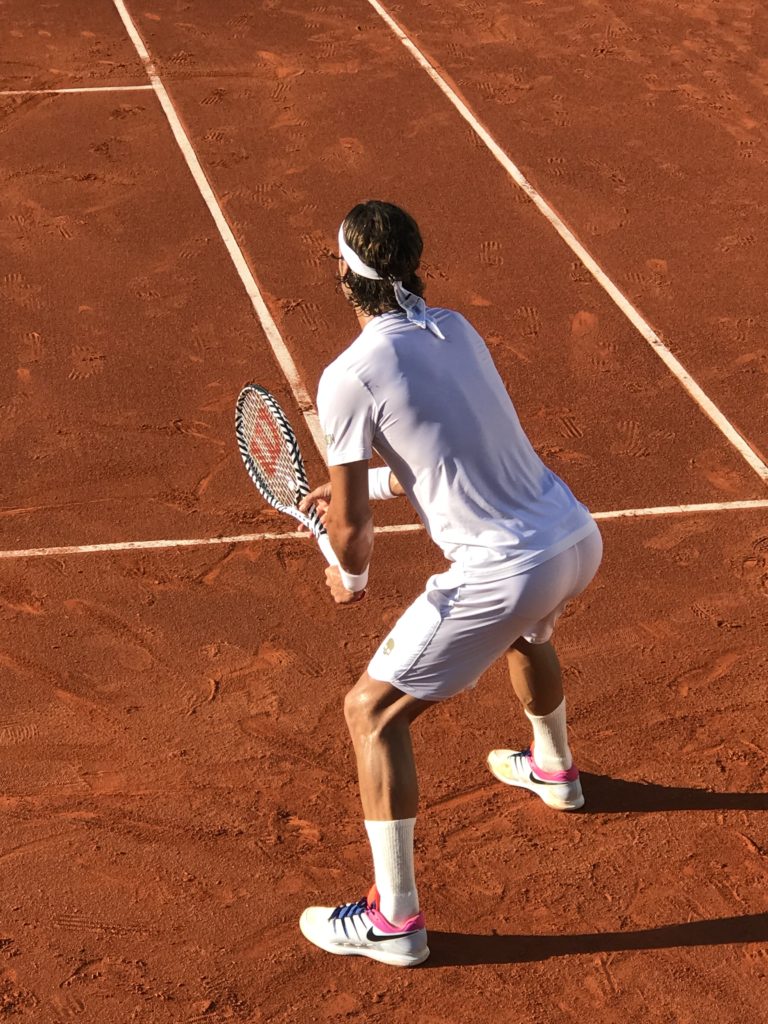 The same story for Haas continued in the third-place match. He wasn't consistent and (perhaps fit) enough to match Robredo from the back of the court. We have to remember that Robredo was number five in the world, but injuries have since partly pushed him down in the rankings. He is ultra-solid and versatile and got it done 6-4 6-4 to claim the third prize.
I think the best match was, suitably, the final. With the contrasting styles of Lopez and Ferrer, we were in for some really exciting rallies. Ferrer hasn't lost a step since he retired and Lopez won the Queens ATP earlier in the summer so these guys can hardly be called "seniors".
Lopez started slowly and Ferrer raced to a 4-0 lead and a 6-2 first set. Then "Deliciano" started getting into his groove a bit more. He started serving a lot better and hit some spectacular volleys at the net. He took the second set 7-5. In the match tie-break, there was really nothing to separate the two, but Lopez was a bit cooler in the end and won the match and the tournament 11-9.
Senior Masters Cup 2019 – Summary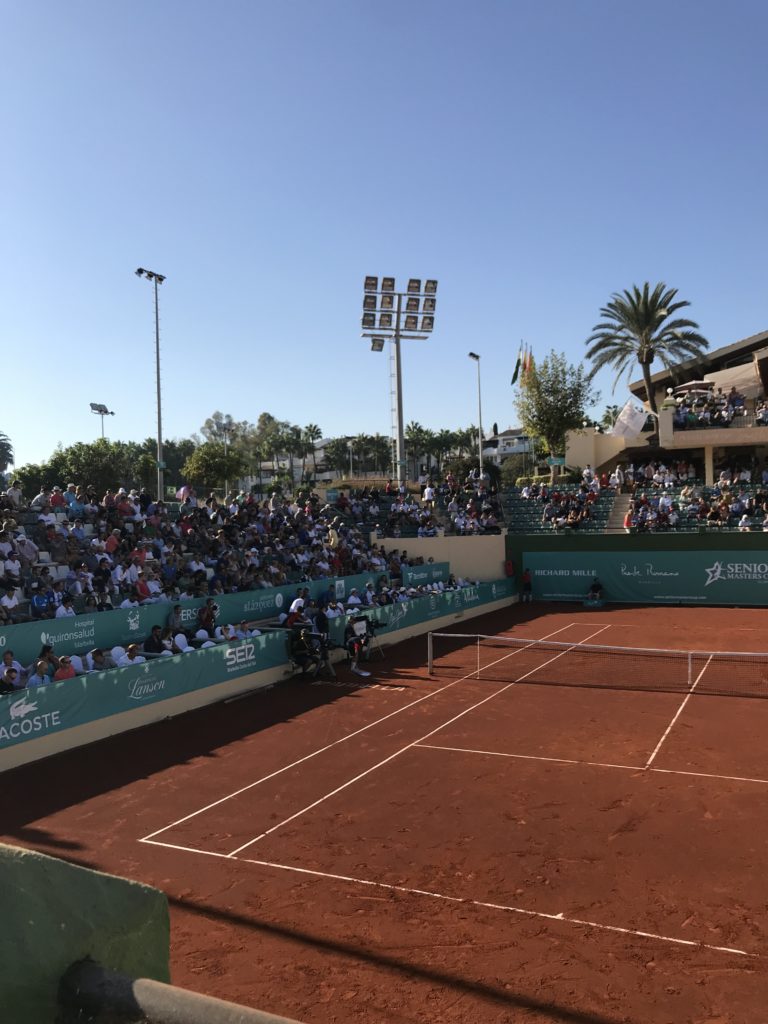 The Senior Masters Cup is a really nice and relaxed tribute to tennis with some highly watchable players. The entry fee is pretty modest at 25 euro and you get really close to the action. I am sure the VIP experience is something a bit extra (there are plenty of "VIPs" in Marbella), but not everyone is up to pay close to 200 euro of course.
No matter what, if you like a nice vacation in beautiful Marbella and like to watch some tennis…this is a perfect event. I was there in 2017 as well to watch Wilander vs McEnroe and that was fun too. This year Wilander sat in the crowd instead.
I caught some highlights from two days of tennis in the video below. There are some spectacular rallies in there so I really recommend you to watch it if you are a true tennis nerd.