We got a guest post from Stan Boone who wanted to contribute his experience about getting a ticket for Wimbledon. Unless you have been there it might be good to know how to navigate the Wimbledon queue.
If you want to watch a match at Wimbledon, there are four ways to get a ticket. The most common of them is through the Wimbledon Queue.
Or you can be born with a silver spoon in your mouth, or achieve sporting greatness, and can sit in, or be invited to, the Royal Box. You can become a Russian oligarch or successfully rob a medium-sized bank in order to afford the cost of a Wimbledon Debenture. Or you can enter a ballot months before the Championships and hope you are lucky enough to be chosen.
However, assuming you do not get chosen in the ballot and the other channels are unavailable to you for whatever reason – whether it be due to an accident or birth, an absence of athletic prowess, or lack of suitability for the criminal life – then your only recourse is to join the Wimbledon Queue.
The Wimbledon Queue – Those prestigious Grand Slam tickets…
The queue for Wimbledon tickets has become as much a part of its tradition as strawberries and cream, pristine all-white tennis kits, and British players succumbing to brave defeats (at least until Andy Murray upset the narrative by winning the tournament twice)! In fact, it has become so important in its own right that it has garnered a definite article and has become known as "The Queue".
The queue sees fans stand, sit, lie, lounge, squat or otherwise take their place in a long, snaking plan outside the gates of the All-England club waiting for a limited number of general tickets to go on sale at nine o'clock in the morning.
But, if you are thinking you can just casually turn-up at 8.30 in the morning, stand in line for a few minutes, and then just buy a ticket for Centre Court or Number One Court to enjoy a few hours of watching tennis in the sun, then think again. You will find literally thousands of people already in the queue ahead of you, most of whom will be lucky just to get on an outside court, or to watch a top player practising.
The Wimbledon Queue – The rules of the Queue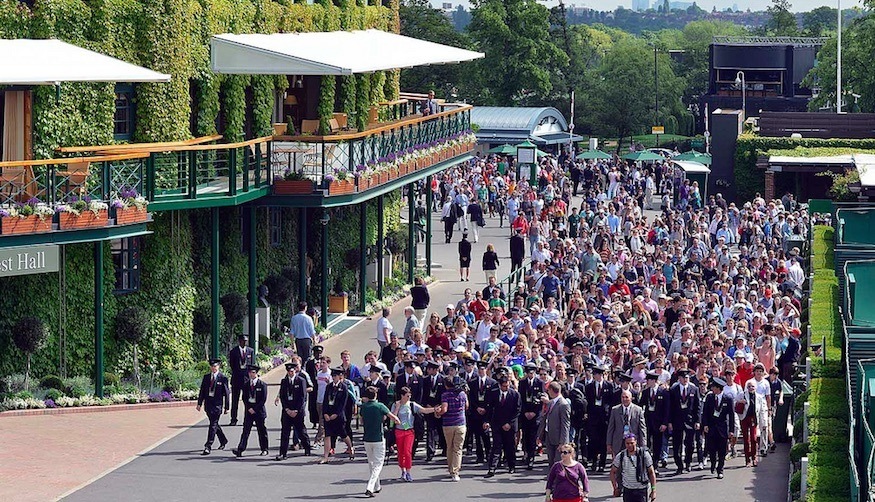 Instead you have to learn the rules of The Queue – and there are many, some official as enshrined in the AELTC's (All-England Lawn Tennis and Croquet Club) code of conduct, and some of which are unofficial, but just as sacrosanct.
Whilst queueing at Wimbledon for the limited number of tickets made available each day for general sale is by no means a new phenomenon, it is in recent years that it has become an event in its own right, and has become so popular that it has had to migrate from its original spot in Church Road to nearby Wimbledon Park.
Now it is not unknown for diehard fans to start queueing up to 40 hours ahead to get a ticket, particularly before the first Monday of the Championship when the weekend affords them more time to wait. And they come prepared as well, with tents, blankets, sleeping bags, fold-up chairs, blankets, cushions and warm clothes, not to mention enough food and drink to feed an army, and the ubiquitous picnic-basket.
The Wimbledon Queue – What to do in the queue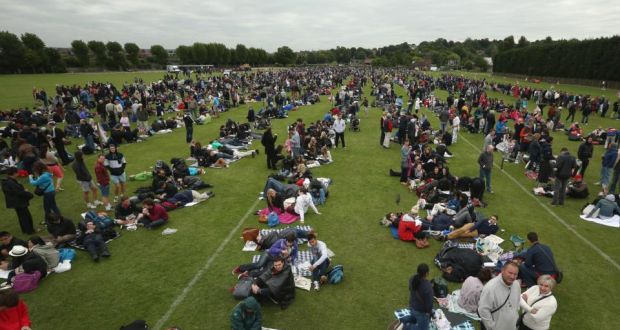 But what do you do if you are stuck in a queue for that long? The answer is as varied as the people who form it. You can read books, magazines or newspapers, listen to music, eat and drink, chat to your neighbours, play cards, join-in impromptu games of football, or just sleep. Toilet facilities are available and places to store your excess baggage when you get inside the Club itself, and, although you might be a little cramped and sore by the time you get through the gates itself, for those who love their tennis, the experience is worth all the inconvenience.
However, as this is a British event, and the British have evolved queuing into an art form, you must obey the rules. The AELTC issues a 29-page guide to all members of The Queue detailing their Code of Conduct. These include stipulations such as only one ticket per person, no absence from The Queue to buy refreshments or to use the toilet to last more than 30 minutes, the banning of barbecues, stoves and cooking facilities, no music or ball games after 10 pm, and no smoking or vaping.
What is not stipulated in the Code of Conduct but, nevertheless, can be considered the most important rule of all, is no queue-jumping. Whilst it may be accepted practice in other countries, queue-jumping of any sort is taboo in the UK anyway, and, in the context of Wimbledon, could be an incitement to riot – or as close to riot as the middle-class crowd that throng the leafy environs of London SW19 are ever likely to get!
The Wimbledon Queue – The Golden ticket
But, at 6 o'clock in the morning, all those who have queued overnight are politely woken up by the stewards, asked to pack away their tents and sleeping bags, clear up their rubbish and asked to line-up in tighter formation. At 7.30 those at the front of the queue are then, as in Willy Wonka and the Chocolate Factory, handed a golden ticket – which, in this case is a wristband entitling them to buy a ticket on one of the show courts.
For the rest, they will shuffle forwards and hope to get a ground pass, giving them access to the outside courts, or to the famous Henman Hill, where they can watch all the action on a giant screen.
Of course, it can happen, particularly at the start of the Championship, that the number of people in The Queue exceeds the capacity of All-England Club's grounds. If that happens, you have two choices. Go away and try again another day. Or bed down for the night, knowing you will be near the front of The Queue next morning.
By Stan Boone, editor of TennisWorldLive.com