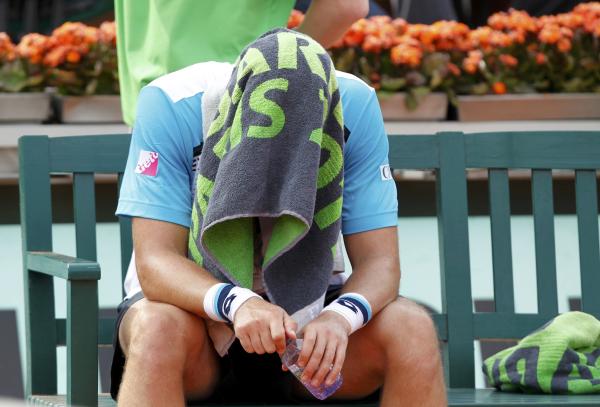 Do you have  smartphone or a notepad you can put in your tennis bag?  If you do you can keep a checklist of things to remember when you're having one of those days when something or everything isn't working. Take a look at it during the break and it might help you concentrate on the right things and not get too negative.
This is my back-on-track list.
Serving:
Aim and concentrate
Throw the ball high
Watch it like a hawk
Look at the ball throughout
Hit it at its highest point
Balance and footwork
Breathe in and breathe out during the stroke
Take a longer last step before the shot to get a better balance (Federer a good example)
Keep the hitting point away and in front of the body to get better power.
Lean into the court and keep moving forwards through aggressive footwork.
Specific shots
Slice with varying length to keep the opponent guessing.
Be prepared to run around with small steps to maximize the forehand
Roll the wrist!
Step into the court to hit the backhand
Use your other arm as a counterweight
General and the best tip!
Every match is also training session, make it fun!
What do you sometimes forget during a match or training? Don't you bend the knees, do you put your weight on the backfoot, do you try to paint lines when it might be a good idea to just hit everything back for a while?
Then make your own back-on-track tennis list!