Tennisnerd is a website for true tennis nerds and racquet enthusiasts who like to read about the latest tennis gear and get information about new tennis racquets and what the pro players use.
Tennisnerd was founded by marketing director, writer, and tennis nerd Jonas Eriksson. Jonas is interested and active in tennis as a business and has had a genuine passion for the sport since childhood. He competes semi-regularly on the ITF Masters Tour and has had the good fortune to watch plenty of live tennis as well as meet with some of the game's legends over the years.
Okay, that was the marketing style pitch. I'm Jonas. I started playing tennis as a kid but left the game for other sports. When I came back in my early 20s, my passion was stronger than ever. Somehow I ended up pouring a lot of that passion into testing racquets, strings, shoes, and tennis tools to find the optimal setup. While frustrating, the journey has led me to amass loads of information I hope can help you elevate your game. If you want a lot of knowledge condensed into a course and an e-book, check out the Road to the Right Racquet.
My background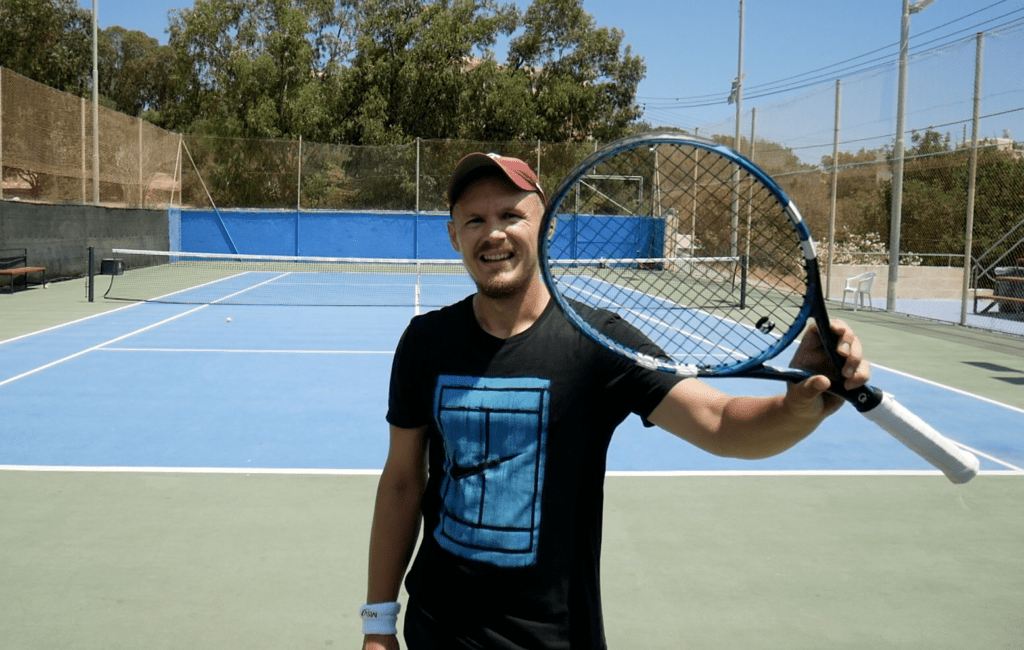 I was born in Sweden in 1982, but I have spent my last 15 years in Malta and the last five alternating between Malta and Marbella, Spain. I play tennis 4-5 times weekly and create content for Tennisnerd daily.
I was always a curious person, and I try to bring my passion for learning and understanding into everything I do. I started as a journalist, transitioned into marketing, and worked as a marketing director for various online businesses for many years before I decided to go all-in on my passion. Besides tennis, I love reading, writing, music, red wine, food, and spending time with friends and family.
In 2023, as I write this, Tennisnerd.net and its related social media channels have helped thousands of tennis players find the right gear. You can follow Tennisnerd on twitter for the latest news and opinions or on Instagram for the latest pics and videos. Tennisnerd is also active on its Youtube channel and facebook page.
PS. Are you interested in writing for Tennisnerd? Send a message through our contact us form. Ds
About Tennisnerd – Advertise with us
Running a website is a time-consuming hobby, and to cover domain and hosting fees, Tennisnerd has partnered with a number of tennis companies. This means that if you buy tennis gear through one of the links on this website, we get a tiny slice of commission.
If you enjoy TennisNerd and want to use a humble dollar or two to help out you can donate through the below Paypal link or PayPal.Me/tennisnerd. You can also join our Patreon members page.