My friend Filippo Gioello of Mental Tennis has created a mental tennis checklist for you to use when you play matches. There are a lot of good points here that I use myself.
If you are interested in improving your mental tennis, Filippo offers mental training through his website Mental Tennis. I have tried his methods for over a year and it's definitely improved my competitive tennis level. Many players underestimate the anxieties and mental challenges that come with competitive tennis matches. That's why I find the tips in this mental tennis checklist very useful. Still, it's not a magic wand, there is a lot more to this topic and if you want to become a warrior on the tennis court, you need to do the work.

I have talked about mental tennis with Filippo in my podcast here. And below you can find a vlog about mental tennis I created a while back.
The word back to Filippo and his mental tennis checklist.
EMBRACE THE PERSPECTIVE TO ENJOY THE COMPETITION!
Before going on the court to compete, when you are preparing your bag, try to remember that you are not going to the slaughterhouse. You are just going to play a tennis match. It is a choice that you made because you like to feel those emotions mixed with the adrenaline when you are competing – so just play and enjoy it!
To calm down, you must understand deeply that in tennis, the more pressures and expectations you put on yourself, the worse you will perform! Before starting to burden yourself with anxiety, remember that tennis is fun and that you are not going to the mine to feed eight children who would otherwise die of hunger.
Do me a favour and enjoy this great opportunity you have and remember that you play better tennis if you are positive with yourself and have fun!
PRE-VISUALIZE EMOTIONAL AND GAME SITUATIONS YOU MIGHT FACE DURING THE COMPETITION.
Remember that if you want to compete in tennis, the first and perhaps the most important rule I teach when I talk about mental soundness is that whatever happens, you will never and ever have to carry your frustrations or negative thoughts of the previous error to the next point!
You will have to strive to erase that pain (this is where you need to produce the effort with your mind, that is why it's called mental training) by taking full advantage of those 25 seconds between one point and another or during the changes of the sides, to start as if it were the first 15 of the game! Impossible? No, it takes training, but it can be done! Remember that if you cannot integrate this anti-discouragement process, you'd better not step on the court to compete because you will end up hurting yourself with that kind of attitude! Remember, do not get into this vortex of discouragement process:
1. Mistakes-> 2. Nervousness-> 3. Disgust towards yourself and your performance-> 4. Emotional depression-> 5. Exit from the match.
FROM CLARK KENT TO SUPERMAN! BEFORE STARTING THE MATCH, ENTER INTO AN EMPOWERING STATE OF MIND.
Before stepping on the court to compete and starting the pre-match warm-up, make sure you have changed the state of your mind. "Changing the state of your mind" means to enter an enhancing mental state of concentration, adequate to the performance you are about to sustain. It is a state of mind different from the one you normally have when you eat french chips at McDonald's ;). You have to be focused, determined, ready to fight and compete.
Start the procedure with a charged mind and body. Spur internal dialogue to tackle every point, every adverse situation with determination from the first 15. Listen to music that powers your warrior spirit with headphones, visualize the possible game situations you will have to face, and visualize the technical anchors you will need to have when you are playing. For example, in my case, I often say to myself:" Go down with your knees when you have to make the one-handed backhand loop. Or you want to put the first serve with more margin? Throw the ball higher and jump higher. Do you want to make an effective volley? Then hold the racket in front of your body with the head faced up.
FINDING THAT RIGHT BALANCE BETWEEN BEING A LIONHEART AND FEELING RELAXED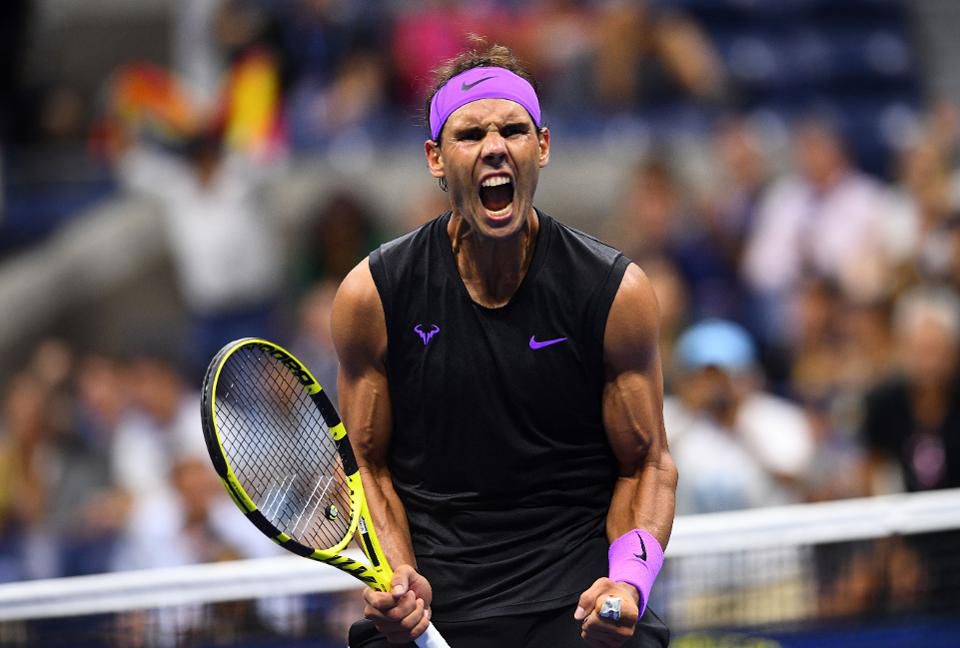 Remember that a true tennis player is an athlete who has found the right balance between being relaxed, calm but with a sacred inner fire that burns inside and that represents his competitive spirit. You could choose two great examples between the calm samurai Roger or the Warrior Rafa, who instead seems agitated from birth. But if you observe him carefully when he prepares himself to play the next point, he does a whole series of rituals that allow him to find calm, concentration without giving up the grit and competitive nastiness that distinguish him.
Having a solid game means, first of all, not to give away a lot of points because you are too agitated. I am not telling you to be a pusher, far from it! I am only telling you to find the right measure to play without giving points away, use more spin and less speed, for example. You should normally play at your 70% by first visualizing where to hit your shots, to defend when you have to defend, to maneuver when you have to and, when there is to attack because the ball goes in the middle of the court, then you have to explode it without thinking twice instead.
AUTOGENIC TRAINING AND EXOGENOUS TRAINING: DO A CAREFUL CHECK AT EACH CHANGE OF SIDES!
Check your emotional state (autogenous training) and game plan (exogenous training) at each change of sides. If something does not work, change it! Are you too afraid? Are you blocked? Are you in a panic? Ok, we have given you a whole series of tools to overcome these demons. Use them, and you will also train your mind in addition to the forehand and the backhand! Does your game plan with this opponent not work? Well, how about changing it? How about thinking about a pattern before starting a new point? You have 25 seconds (which can easily become 40 if you are not a pro) that you can use to become a "thinking tennis player!"
What do you want to happen when you are going to serve or receive? If you pre-visualize a pattern, you might have a better chance of winning the next point, don't you agree? Remember that playing tennis means keeping your game identity but also defusing the opponent's game!
DO THE RIGHT THING! TAKE THE RIGHT ACTIONS TO WIN THE MATCH AND DISCONNECT YOUR MIND FROM YOUR FEARS!
When we are competing, what does matter in this sport is to disconnect our minds from our ghosts and take the right actions to win the match! So, select your thoughts and choose the proper patterns to win one point at a time, staying with your mind in the present moment! So, do the right thing and try to defuse your opponent's game plan! If you have to take more risks, do it! If you have to be more cautious, be! If you have to play dirtier, play! If you have to play flat, do it. If you have to use more spin, do it! If you have to use more slice, do it! If you have to go on the net and put more pressure or take the initiative in the rally, do it and stop your paranoias because, in tennis, fear is just an illusion. To keep yourself focused and feel the right sensations while you are playing, use the power of the hops! A simple tool that dramatically increases concentration and reactivity!