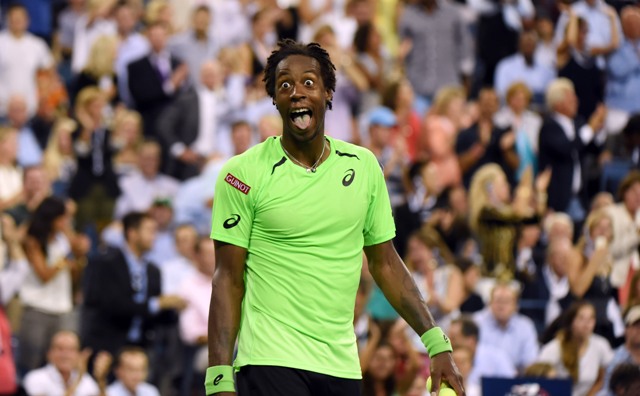 I just had to start writing about this, but I might not finish it tonight and with this post. It's simply a topic at the heart of our game. What's in the head of a tennis player?
We all know that the deciding factor in most tennis matches is the mental ability. Confidence. How you deal with setbacks. How much you want it. How nervous you are. How you handle pressure. This is all part of the head of a tennis player.
Physical ability and technique are of course very important, but when you're in that final set tie-break, you have to save that break point, or serve out the match, you know that the technique is often completely out the window. All you have is your head and your ability to focus and get your best game out there.
We have some players who seem to be mentally stronger than others, but this obviously fluctuates:
Nadal is known for playing each point equally, no matter the score. I think this has changed over the years, as he has matured and his body has taken its toll, but he still is a mental beast.
Federer has won pretty much everything there is to win. You don't do that if you're weak mentally, it doesn't matter how much you talk about talent this, talent that. You need to ride the storms and waves equally well.
Djokovic wasn't the strongest player mentally before his break-out year in 2011, but has shown to be fantastic at turning matches and sets around. It doesn't matter if he has match points to save, he still seems to find that extra gear.
Wawrinka is known for being a bit up and down, but I would definitely label him as a big match player. He might not always be his best self for a third round in an ATP 250, but he will fight in the quarter-final of a slam. And he's 2-0 in grand slam finals.
Then we have players who you wonder about. You see their talent shining like a diamond, but it's definitely in the rough. Looking back a few years you would put guys like Safin and Nalbandian in this category, despite their accomplishments, because you know how much more they could have achieved with a different mental outlook/stamina.
Recently, you have Fognini look like he's taking a stroll in the park in a grand slam match and lose without seeming care. He can beat Nadal on clay, but still fails to show up to some matches. Strange. Imagine what could be if he worked for every point!
And then you have showmen like Monfils who can just stop midpoint and play like he's having a laugh with his friends. He starts talking to his coach mid-match etc. Not about the match, but about something completely different. There's all this talent, but something is missing. Something to bring out the best.
More players ought to pay more attention to the mental side of tennis. Today they're all fit and have physical trainers and a tough training regime, but what do they do to work on their mind game? I think despite all the research and good trainers out there, this is still massively overlooked in professional tennis both for men and women.
More to come on this exciting topic.