Nadal defeats Djokovic in their nail-biting 59th match on the ATP Tour. It felt like a final, but it was only the quarter-finals of the French Open 2022.
It felt like the final and maybe it was. Who will stop Nadal now after the display of grit, determination and some brilliant tennis he showed against Djokovic. I had Novak as the favorite going into the match. There were several reasons for it. One, he looked to be in fantastic form. Two, Nadal's foot has bothered him. Third, the late-night start provides cooler conditions that Nadal tends not to enjoy as much (the ball is less lively and spinny in cold-ish weather).
Still, Nadal came out all guns blazing and took the first set in dominating style, 6-2. Novak looked a little shell-shocked at the beginning of the match. It again showed the importance of starting on the right foot (no pun intended) and building a lead.
It looked surprisingly one-sided at 6-2 3-0 to Nadal. Djokovic was fighting, but Nadal was everywhere.
Then. A blip on the radar. Nadal missed a drop shot on a key point, got broken back to 1-3 and suddenly, Djokovic came alive.
85-minute second set
The second set was topsy-turvy. After the 0-3 start, Novak came roaring back. He hit with a lot more intensity and aggression. Suddenly, he was the one dominating. He won four games in a row and had break points at 4-3 up, but Rafa saved them in one of the many long games of this 85-minute second set.
But it felt inevitable that Djokovic would take the set in the end and at 5-4 he broke for one set all. The match looked like it was on his racquet, not Rafa's.
Rafa strikes back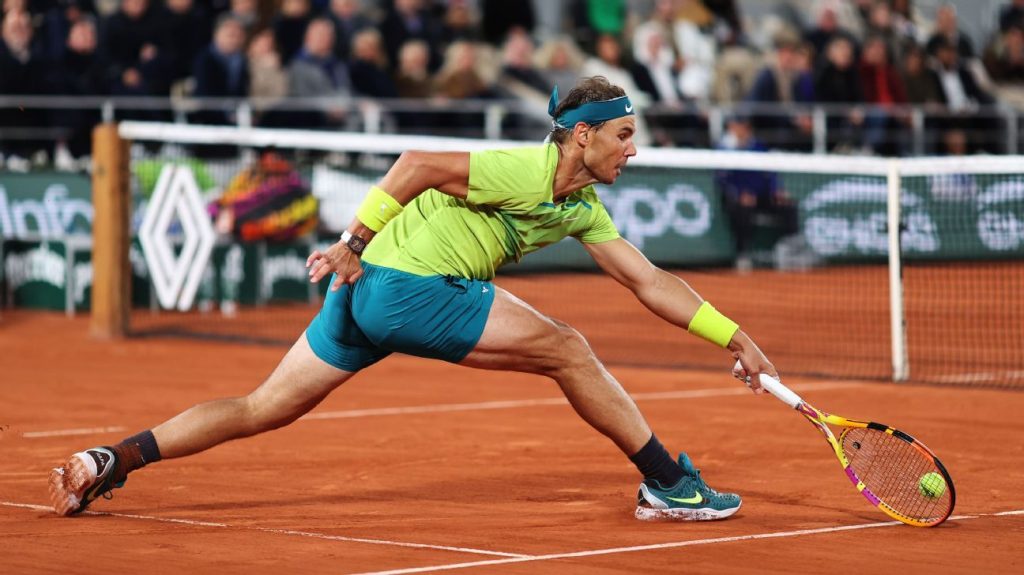 This match was unexpected in many ways. After Novak's impressive play in the second set, it was supposed to be him throwing all the punches in the third. But Nadal had other ideas. He starts the set with a break and looks like himself again. Heavy topspin, attacking, running down everything. Novak was a little tentative and not quite finding his best tennis.
Rafa dominated the third set like he did the first. 6-2 4-6 6-2. What's going to happen next?
Never count out Nadal/Novak/Nadal/Novak/Nadal
Yeah, you can't count out either guy at any point in any match. It's hard to find similar examples of the kind of mental resilience that both Nadal and Djokovic displays on a tennis court.
Djokovic took a page out of Nadal's book and roared to a 3-0 lead in the fourth set. It was getting late in Paris. People were trying to keep warm in the stands while the players were on fire on the court (Nadal can sweat in Antarctica it seems).
Most people got mentally ready for a fifth set. Djokovic served, up 5-3. Nadal had not had a single break point in the 4th, but after saving two set points, he created two break point chances and took one.
After that, it was close. When they reached the tie-break, it felt like the match could still go either way.
The tie-break
If Djokovic wins the tie-break, it seemed like he must have a mental and/or physical edge going into the fifth (but then again, you can never predict anything with these guys). But it was Nadal who stepped up to the plate and raced to a 6-1 lead.
It was seemingly over. Then Djokovic did what he often does. He just played three great points to get to 4-6, Nadal serving.
And after a long rally, Nadal found the backhand winner down the line, sealing the match, 6-2 4-6 6-2 7-6.
Summary
Nadal again showed why he is the undisputed king of clay and specifically the French Open. Djokovic fought hard but couldn't show his best form.
I don't think the partisan crowd gets to him. After all, he has gotten used to it after all these years in the spotlight. But the booing irks me. This guy has won 20 grand slams in the considerable shadow of Nadal and Federer. Give him some respect. It's getting a little silly. I understand the crowd loves Nadal, which most of us do, but Djokovic deserves immense credit for how he has managed to achieve so much as a permanent underdog to Fedal.
For the Nole fans, I still think he is the clear favorite to win Wimbledon, so there is hope over there.
For Rafa fans, Nadal is now the clear favorite to win this French Open. But it's not done until it's done. Zverev played impressive power tennis to defeat Alcaraz and won't be a pushover. And if Nadal gets through that one, he most likely has Ruud in the final (my prediction at least). I would say, though, that the odds are heavily stacked in Rafa's favor considering his domination of this event. We don't know what is happening behind the scenes, but he doesn't seem impeded by the foot.
To finish this summary, great match, great players, great entertainment, as in most cases when these two guys play each other.