My regular contributor and friend, Henrik Wallensten, is back. This time with a Babolat Pure Drive Racquet Holder x12 Bag Review.
You know for sure that when a new racquet is launched, it will also come with a new bag. The bag is an essential part of the equipment for me. I have an absurd amount of stuff with me to the court – it's almost worth a separate post!
If you look at the big tennis-stores online, you will see the prices differ pretty much between the different brands, which often has a good reason. Some brands make bags that are flimsy like plastic shopping bags and some bags are sturdy like a solid suitcase. Some bags have just a couple of racquet compartments and nothing more, and some bags have more pockets than what Inspector Gadget can stuff under his coat.
I have been testing two new bags launched together with two of the most popular frames on the market, the new Babolat Pure Drive and the Wilson Pro Staff v13. These two bags are also among the very best and most functional bags on the market right now and well worth a more in-depth look. Since they are relatively new, I have not been able to comment on the durability of the bags.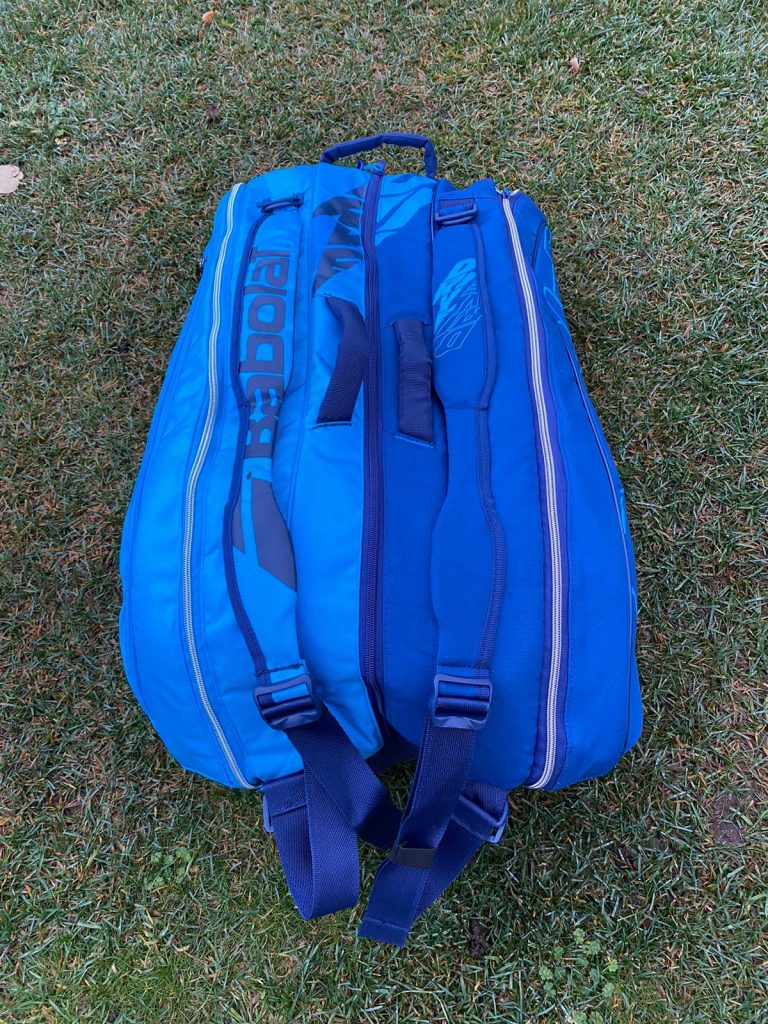 Babolat Pure Drive Racquet Holder x12 Bag Review
If we start with the Pure Drive Racket Holder x 12 bag, it now comes in a two-tone blue color. On one side, it's dark blue, and the other side is bright blue. It looks excellent. The dark blue side has a molded, smaller side pocket, and the bright blue side has a large pocket for accessories.
There are three main compartments, and of these, the two on the sides are with isothermal protection. The side compartments easily fit four racquets each, but you can squeeze in a fifth if necessary. The middle holds around 8 racquets, but I presume most players will use this compartment for shoes, clothes, etc.
On the bottom part of the middle compartment, there is an opening where you can place shoes or wet clothes, towels, etc. This compartment goes into the center compartment and is made of clear plastic to see what's in it and so you don't forget to remove the wet stuff. We all know the smell if you forget wet clothes for a week or two! There is also a shoe-bag attached in the side-pocket. It is detachable and easy to fold and store. Suitable for dirty shoes.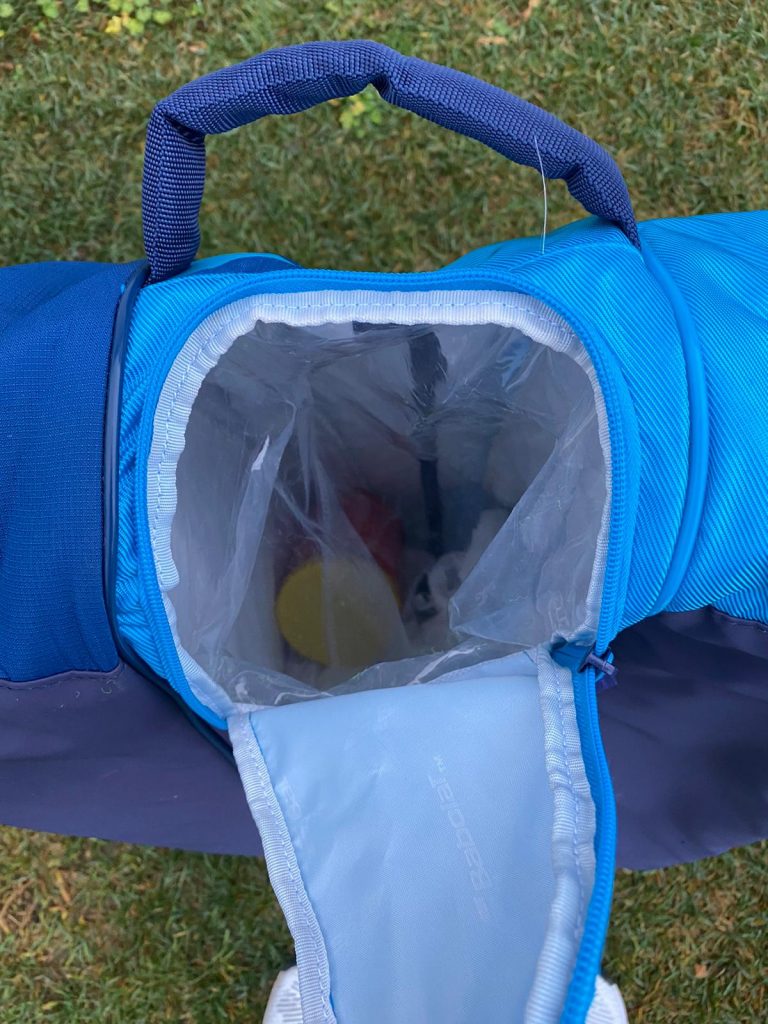 There are two backpack straps on the upper side of the bag. These are adjustable and now fully padded, and similar to the straps found on Tecnifibre-bags. There's also a grab-handle at the bottom and two handles in the middle of the upper side.
The build quality is good, and the month I have used the bag shows no sign of wear whatsoever.
Babolat knows how to create a tennis bag
In the past, I have used the 12 pack Aero-bag for over two years without any significant wear or failures, so Babolat sure knows how to build a bag. I cannot find any big flaw with this bag, and considering it's one of the most expensive bags on the market, that is what you can expect, an almost perfect bag.
Maybe it would have been good if the backpack straps were fastened with plastic clips so you could remove them easily when the check-in clerk says the bag is too big for carry-on luggage, but that's all I would have changed on this bag.
When going to tournaments, you will most likely fit all your gear into this bag. 4-8 rackets, shoes, clothes, towels, snacks, and so on.
In a couple of days, I will look at the Wilson Pro Staff 15 pack bag. Please comment on what you want a bag like this should contain. What do you miss? What do you want to read about more? So I can adjust already for the Pro Staff 15 pack bag article.
You can buy the Babolat Pure Drive Racquet Holder x12 Bag
here.