This Angell Custom TC 101 Racquet Review deals with a new racquet in the Angell Custom line-up: the TC 101. Why 101? Well, the racquet is 101 sq inches.
I will try to tackle this Angell Custom TC 101 Racquet Review in my new and hopefully improved review format. Keen to hear what you think about it in the comments section below. This will also be reflected in the video review. If you don't know about Angell Custom racquets, I have reviewed a lot of them and they are a good example of a small manufacturer making a high-quality product.
More about Angell Tennis:
Read about Angell Custom Racquets on Tennisnerd (with an overview of my reviews)
Check out Angell racquets on their official website
Introduction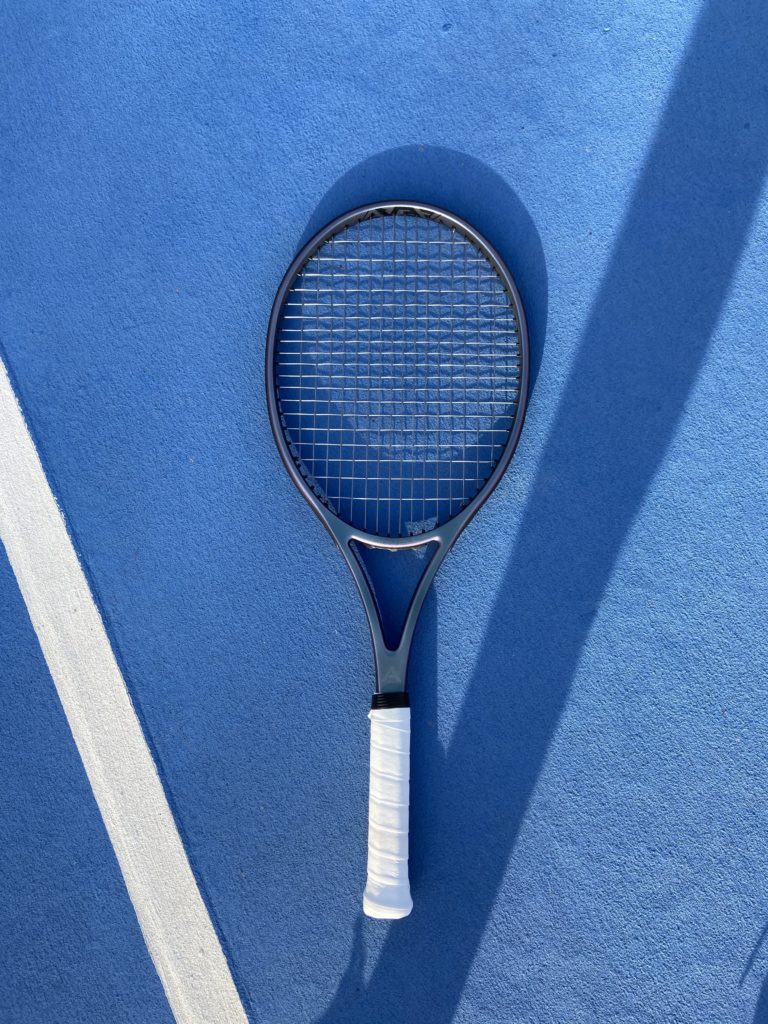 In my introduction I want you to give you a short version of the review for you who don't have time to watch/read the whole thing. If you like the Angell TC 97 Custom, I am sure you will like this one. It has the same layup as that racquet but in a larger head size. It is comfortable, offers a decent-sized sweet spot, has a high-quality paint that won't chip easily. You will get access to good power and spin (although this is not a Pure Drive) and yet be able to feel connected to the string bed.
The big benefit of Angell Custom racquets is also that you can choose the specs you want. Do you extended length? Lighter or heavier? The choice is yours. And with the limited edition Octane paint job, you can even choose between that paint or the standard black/copper one.
In short: this is an excellent racquet for players looking for a nice blend of power/spin/control/comfort in a larger frame.
Specs and tech
What is new in the Angell Custom TC 101 is the head size and the paint job. The layup is otherwise the same as the TC 97 Custom. This is more of a player's frame than many other 100+ sq inch head size racquets due to the thin beam and relatively low stiffness. Angell racquets also have a more traditional head shape and are not round or square like some racquets today. I think that gives the racquets nice maneuverability and control, but also a slightly smaller sweet spot than HEAD Gravity, Prince Phantom and Yonex racquets (with Isometric head shape).
Standard specs include
101-inch head size
66 RA prebuild stiffness
21mm tapered beam
New throat box section design.
Over frame grommet structure
High Modulus Carbon construction
Foam Core
Micro Braid
I chose the following unstrung specs:
320 grams
10 pts HL
Standard length
Strung specs with overgrip:
342.4 grams
326.5 swing weight
31.8 cm balance (7 pts HL)
I tested the racquet strung with Angell Halo Touch and Angell Halo Spin 7 @ 23 kg or 51 lbs.
Foam core means that the racquet is foam-filled which creates a more solid feeling and better comfort. Some players might translate this to feeling sluggish, but I personally don't think that is the case.
A brief word on the "chameleon-inspired" Octane paint job: it looks great and does not seem to chip easily. I find Angell racquets usually have a really high-quality feel to them. I have not seen this paint job idea before and it really looks great, especially as it color-shifts in the sun.
How does it play?
Like I wrote above, if you have played the Angell Custom TC 97, you will feel right at home with the TC 101. The racquet offers a bit bigger sweet spot and more spin potential at the cost of some precision compared to 97 sq inch version. Angell Custom racquets offer a bit of a unique feel thanks to the foam core. You will notice a more solid feel which translates into better stability and comfort. The detriment to foam core would be that the racquets don't feel as "whippy" and fast as some of their similar counterparts.
I did enjoy the TC 101 from the start. It felt familiar and was easy to get used to. I did appreciate the better spin potential and higher power level than the TC 97. It was just easier to use and I did not find myself missing the precision of the smaller head size. I felt very connected to the ball and really appreciated that along with the stable feel at the net. The racquet offered good plow-through and I felt the weight and balance was close to perfect for me to be able to inject some extra pace on serves without losing control.
Pros and cons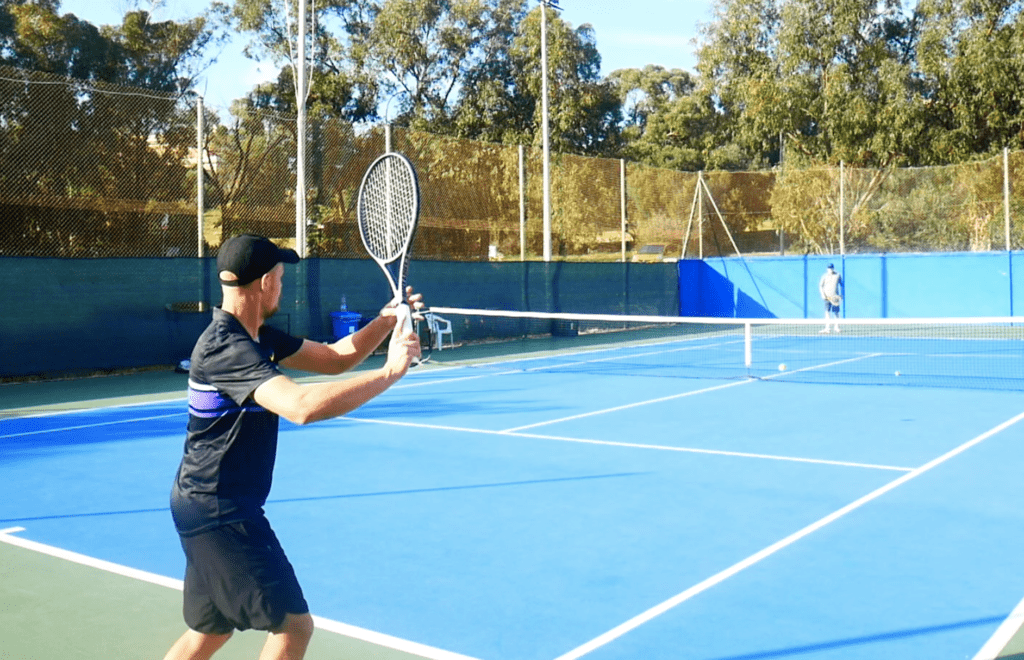 + Good balance of power and control for more advanced players
+ Comfort
+ Connected feel
– Not the power level you might expect for an oversized racquet
– Smaller sweet spot
– Not as whippy as some tweener frames
On-court characteristics
I will give a short opinion about the different characteristics of the frame.
Control – Very good control for an oversized racquet, but not a midsize Prestige.
Power – It offers a balance of control and power, far from a Pure Drive or other Tweeners.
Feel – I felt very connected to the ball with this racquet.
Spin – The 16×19 pattern is pretty open but can still knife the slice and inject good amounts of topspin.
Comfort – This racquet did not emit any harsh sensations despite being strung with a full bed of shaped poly.
Player type – This racquet works for a wide group of players. All courters especially. It is a very versatile frame.
Player level – This racquet suits players from 3.5 NTRP and upwards.
Recommended string – For my game, I felt this racquet needed a control-oriented string and I liked it best with Angell Halo Spin 7 at a medium-high tension. I felt the Halo Touch string was a bit too lively for this racquet.
Different strokes for different folks
Ground strokes – A good mix of abilities to be able to camp out at the baseline all day and not miss. It sort of "Novak style racquet". I did not feel as comfortable playing with extreme techniques and spin because of the smaller sweet spot. A flatter style of play worked better for me with this racquet.
Volleys – Perhaps my favorite area. Really a good connection to the ball and nice stability to punch a volley for a winner.
Serves – I really enjoyed this racquet on serves. It wasn't a "blast machine", but offered a good combo of pace and precision.
Slices – You can carve the ball nicely with this frame. Cuts through the air and gives you a low skidding slice.
Touch shots – I used "connection to the ball" a few too many times already, but yeah, that is one thing I like about this racquet.
Price and where to buy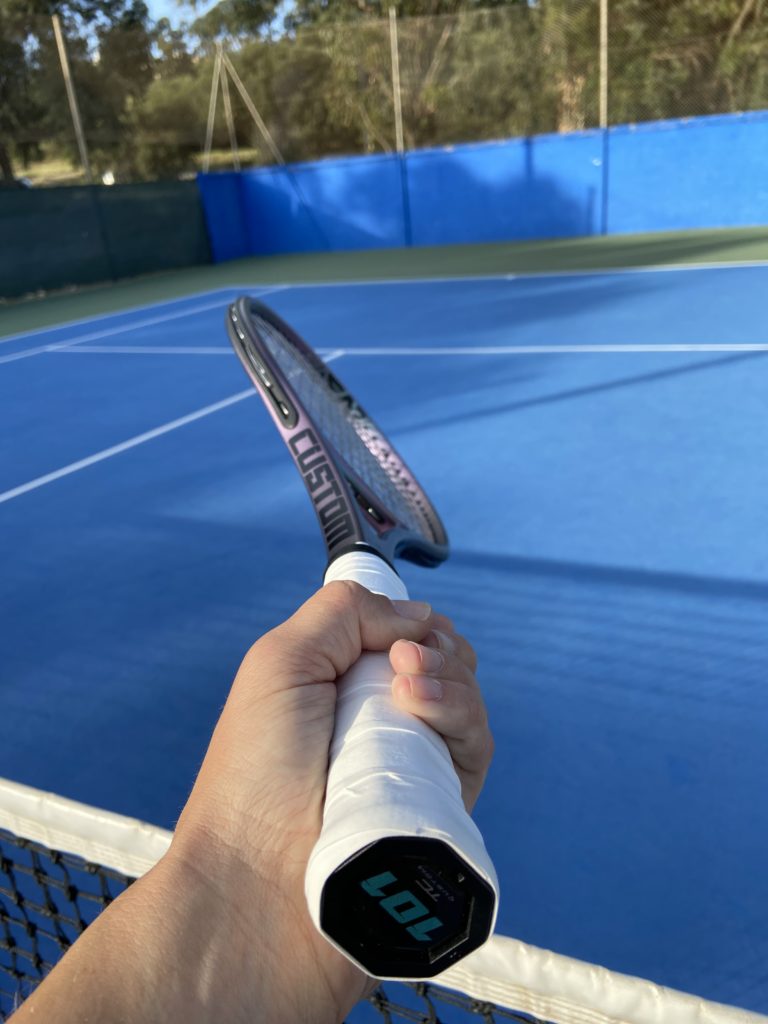 Angell racquets are only available from the official website of Angell tennis. The price is £150 excluding shipping and potential extra options like a leather grip, racquet bag, and string.
I hope you like this Angell TC 101 Racquet Review. If you do, please share it with your tennis friends. If you have tried Angell racquets and want to share something about the experience in the comments below, please do that too.