As you loyal readers of Tennisnerd already knows, I am a fan of Angell racquets, particularly the K7 Red. Now that racquet has finally gotten a big brother, the Angell K7 Lime. More weight, more control, the same excellent feel. Here is my Angell K7 Lime Racquet Review.
I loved the Angell K7 Red when it came out (read my review here) but after a few months, I felt that the launch angle was a bit too high for my flatter, precision-based game. I suggested to Angell to create a heavier, tight pattern version and now it has arrived in the form of the Angell K7 Lime (not sure it had anything to do with my wishes, however, I suggested it to be the Angell K7 Blue). The Angell K7 Lime (link to Angell website) plays with the same plush response as the K7 Red, but the tighter string pattern offers more directional control at the cost of less spin.
It is, of course, a matter of taste whether you think this trade-off suits your game or not. For me, it was all positive, although at times I would have liked a tighter 16×19 pattern (than the K7 Red, or perhaps a 16×20/18×19) better. But the weight of the Angell K7 Lime is pretty much perfect and leaves room for a little lead tape in the hoop to increase stability. Not that it is really needed, because, at 315 grams unstrung, the Angell K7 Lime is quite stable.
Angell K7 Lime Racquet Review – Specs and Tech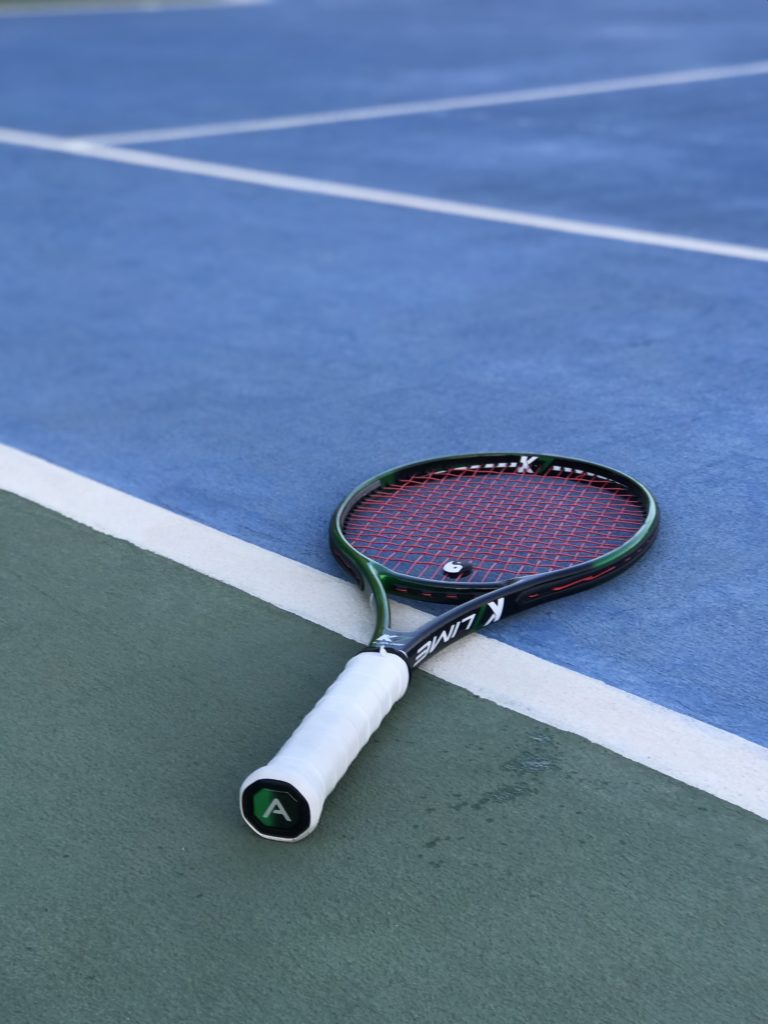 Angell K7 Red is arguably the bestselling racquet from Angell so far and it is highly playable for various levels of players. The Angell K7 Lime requires a little more from the user with its higher static weight and tighter string pattern, but if you know how to use it you are definitely rewarded with control and actually some pretty good power as well. At least compared to many other 18×20 racquets.
But the control and power is not the main feature of this racquet. For me, it is all about the buttery feel that I would assume comes from the Aramid fibre layup. It doesn't cup the ball quite like a PT57A pro stock, but more like an H22 or PT57E. It is hard to explain or compare, it is definitely plush and muted but still controlled. I felt like I could direct groundstrokes with ease and the racquet also had a nice response on the serve and the volleys. It is just a very nice all-rounder for players looking for a softer and more control-oriented Blade 98 18×20. Which is pretty much exactly what I like in a racquet.
Unstrung Specifications
Headsize – 98
String Pattern – 18×20
Weight – 315g / 11.11oz
Balance – 310mm / 10 pts HL
Stiffness – 64 RA
Length – 27" / 685.8mm
Grip type – High Tack PU Black
Full protection grommets
Moulded PU handle – non-pallet
NEW Ergonomic endcap incorporating trap door (it does come filled with some silicone).
The grip shape of this racquet is Wilson style and cannot be altered like with other Angell Custom racquets which is good to know.
Angell K7 Lime Racquet Review – Performance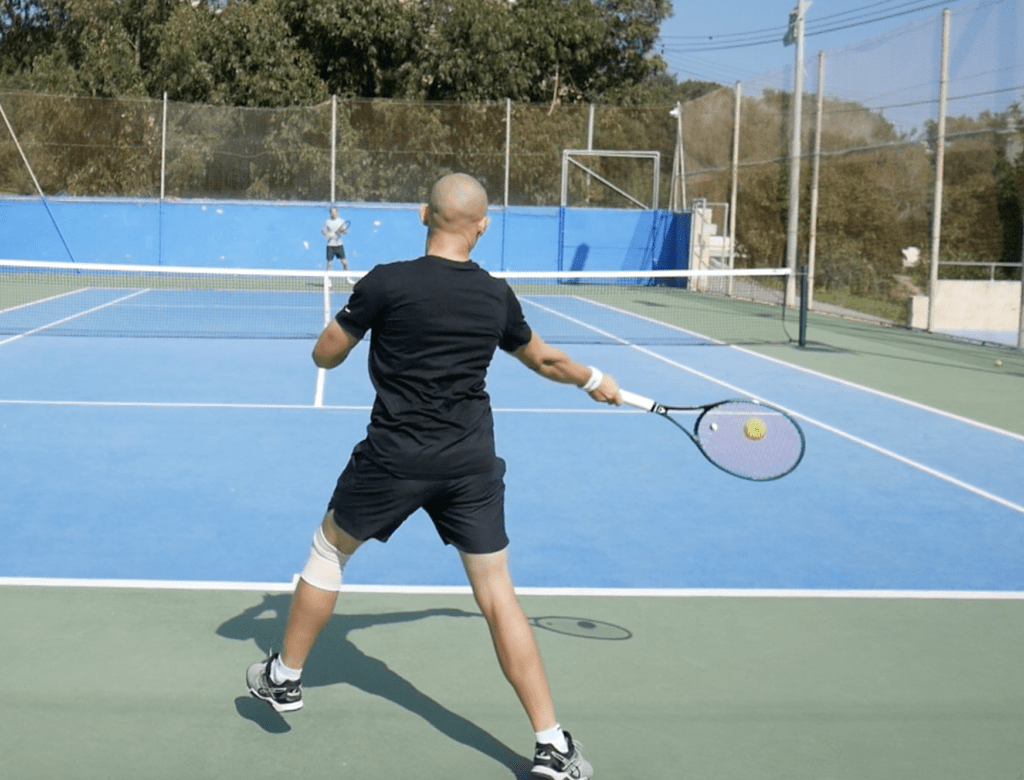 As you might have surmised, I really like this racquet. It might not be everyone's cup of tea because it has a lower launch angle (if you like a higher launch angle and a plush feel, go for the Angell K7 Red instead or the TC 95 Custom 16×19 RA 63 if you want to try an Angell racquet). But it has pretty much everything else I'm looking for in a racquet: decent power, good control, great feel. It is stable enough to play in stock form, more so than the Dunlop CX 200 Tour 18×20 which I have used up until now and needs some lead tape to really shine.
Like with the Tecnifibre Tfight XTC 305 (link to my review), I was quite smitten with this racquet. It was like returning home in a way, because I loved the feel of the Angell K7 Red, but prefer the tighter string pattern. It is just a very intoxicating feel in the string bed that keeps me wanting to play more tennis. It might not have quite the spin nor the power of the Tecnifibre Tfight XTC 305
 (link to Amazon), but it is more comfortable and I simply am at home with that 18×20 pattern, despite many attempts to try to get a bit more spin "for free".
I strung the Angell K7 Lime up with Tecnifibre Red Code Wax 17
at 23 kg and they really work well together. I will test it with more string setups because I have a reel of Head Hawk Touch (read my review) that I haven't even opened yet and I think they could go well together.
I did try several setups of lead tape. It is stable in stock form, but I like a little higher swing weight so started with my usual treatment of 4 grams at 3 and 9 and 2 grams at 12. It made it a lot more powerful, but I felt almost too much and I removed the lead tape at 12. That was pretty good, but I wanted to try to reduce my weight and bump up my swing speed and finally, I settled for 2 grams at 12. This landed the racquet at 345 grams with overgrip and a 32 cm balance. A bit lighter than I usually go for, but I do feel I get a nice blend of swing weight, twist weight and recoil weight with this setup. It works well for my game at least.
Angell K7 Lime Racquet Review – Video and summary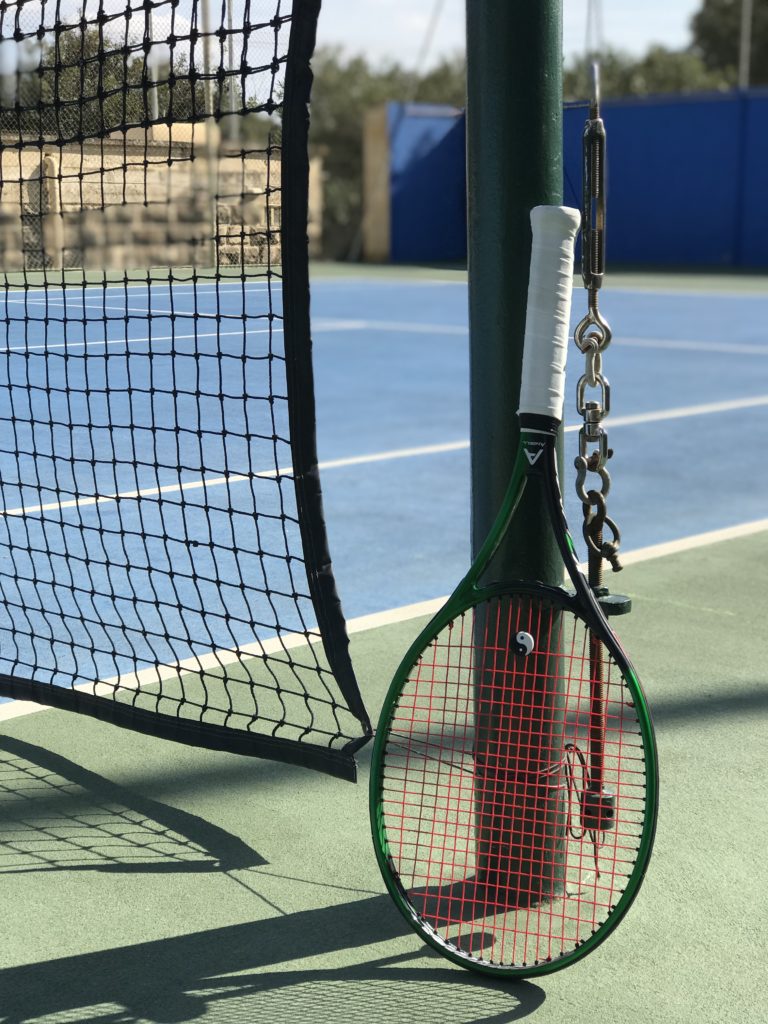 To summarize, the Angell K7 Lime is like a racquet made for my game. Control-oriented, comfortable, big on feel and still with decent power. It has a plushness in the string bed that takes a page from the PT57A, but in the package of a Blade 98. It was similar to the experience I had when I tested a perfectly specced Wilson H22 Pro stock (link to video) in Marbella two months ago, It just felt right at home from the get-go.
As you might have guessed already, this will be my next tournament racquet. I needed to find a racquet to commit to after I started straying from the Dunlop CX 200 Tour 18×20 (if I would have just been faithful to that racquet I would have been fine as well), but I got a bit confused after reviewing so many frames. My tennis has been a bit all over the place after that (another reason is me trying to re-model my forehand) so it is time to settle down with one frame. Don't worry, reviews will go on as usual. But I can't keep bringing a new setup into every tournament match I play. I still enjoy winning and improving too much for that to happen.
Two thumbs up to Angell Tennis for (perhaps) listening to my humble suggestion of creating a heavier, tight-patterned K7. It met all my expectations.
What do you think of the Angell K7 Lime? Could this be a stick for you? Let me know in the comments below.