The CX 200 Tour is the update to the CX 2.0 Tour that Kevin Anderson is using. They have made the frame slightly crisper, and increased the swing weight while still maintaining a high level of control and feel. Read more in the Dunlop Srixon CX 200 Tour 18×20 Racquet Review.
There are some racquets you just know you will like. It can be based on other reviews or comments about the frame, but also just by looking at the specs. A 95 sq inch, 18×20 racquet with a 20.5 mm beam is usually music to my ears and very close to what I normally play with. That is why I was really excited about this Dunlop Srixon CX 200 Tour 18×20 Racquet Review.
The previous edition had a really low swing weight and needed some weight to be used properly, but this one was pretty decent in stock form. Still, I felt a need for some lead tape at 3 and 9 to get stability up a bit. I strung it up with RS Lyon at 24 kg in the mains and Prince Premier Touch
at 25 kg in the crosses. I thought the setup would be just right, but the racquet is still relatively low-powered so I could have gone a bit lower, even with this hybrid setup.
Either way, the control aspect of this racquet is great and it made me really swing out on as many shots as I could. The feel is very close to a Dunlop Hotmelt 200G or a HEAD Prestige. It does feel a bit more light and hollow, but it is definitely not uncomfortable.
Dunlop Srixon CX 200 Tour 18×20 Racquet Review – Specs and Tech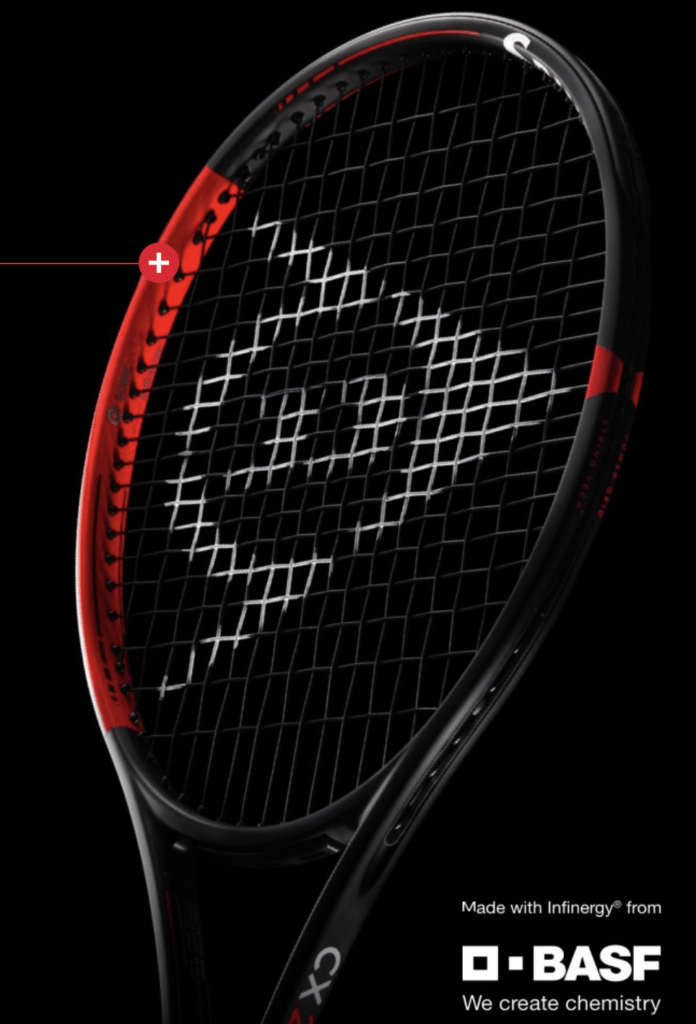 The Dunlop Srixon CX 200 Tour 18×20 is definitely aimed at the advanced player. Specs are all about feel and control and with some lead tape
, it is definitely pro player worthy.
Unstrung specs:
Headsize: 95 sq in
String pattern: 18×20
Unstrung weight: 315 g
Balance: 31.0 cm
Beam: 20.5 mm
Length: 27
Stiffness: 64
The stiffness is higher than the CX 2.0 Tour and Tennis Warehouse measured their demo at 63 strung, which means it is a bit higher than the listed 64 unstrung. It definitely feels like a 63 strung to me and not the 61 RA of the CX 2.0 Tour. That does not mean it is an uncomfortable frame, but makes it more solid and stable on off-center shots.
Like I wrote in my post about the new Srixon Dunlop CX line of racquets, they feature Sonic Core made with Infinergy by BASF. This is supposed to "allow to hit harder, cleaner shots due to increased rebound height upon the ball impacting the racquet with the racket." Infinergy is apparently the first expanded thermoplastic polyurethane, which is a very light, elastic material. In the limited edition box I received, there was a sample of the material, which I thought was a nice touch.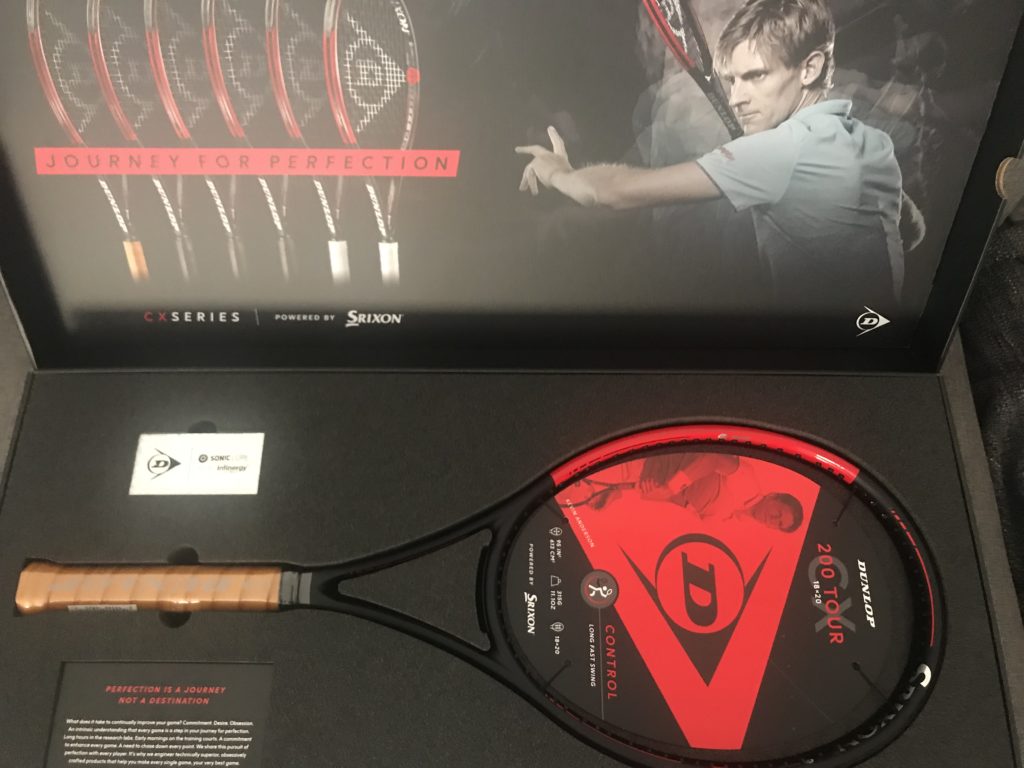 The idea with the Sonic Care made with Infinergy is to reduce the impact shock/vibration. According to Dunlop's research, it is supposed to do this by 37% compared to standard carbon fiber racquets. The racquet also have a thinner front edge enabling more compression and an increased sweet spot. Sharper angles are intended to cut through the air easier. They also include "Power grid string tech" which is a string pattern that is denser in the middle and wider at the top. The idea is to create more even power distribution and more string movement for increased power and spin.
Dunlop Srixon CX 200 Tour 18×20 Racquet Review – Performance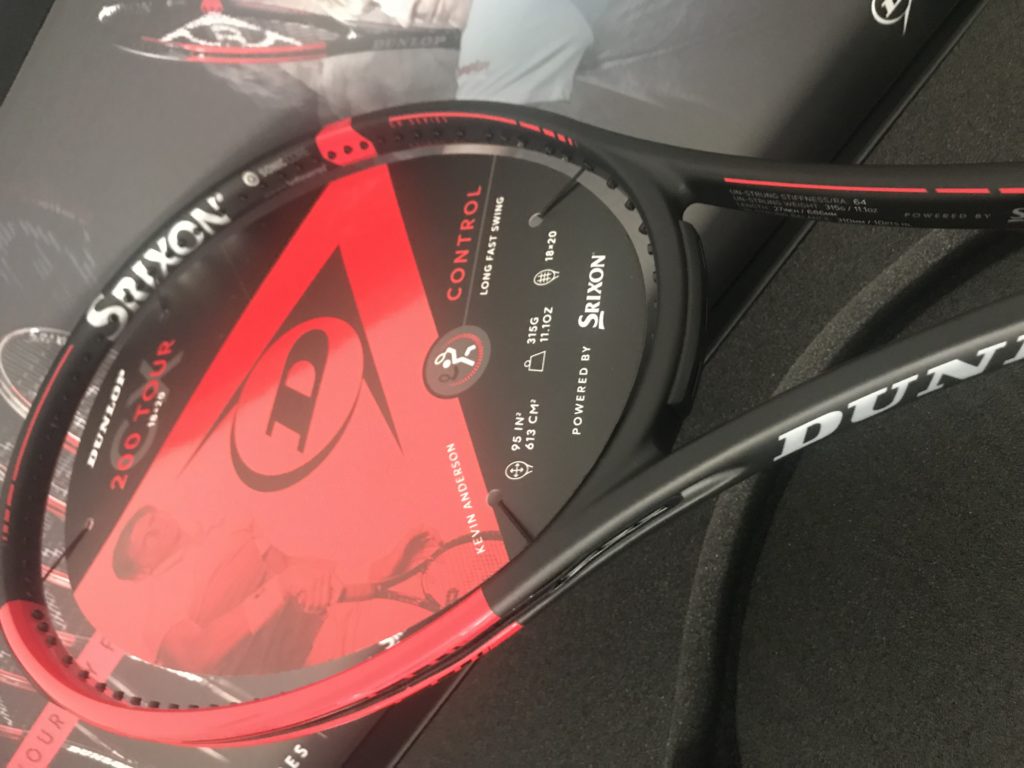 All the marketing and tech talk sounds impressive as usual, but does it really work? Well, that is, as always, hard to say. What I can say is that the racquet definitely works for me. I like a really controlled player racquet and this one felt just as home as my LM Radical Tours or the IG Prestige MP
. The ones I used to play with some years back. It is hard to say if it is better, but it gives you more room for customization and cuts a bit faster through the air.
I think comfort is pretty much on par with those frames too. String pattern is nice and tight and you can easily swing out and get good depth with both flat and top spin shots. It flexes really evenly, so the sweet spot feels bigger than many old school 95 sq inch racquets. This racquet is not easy to use, but if you like a control-oriented player racquet, this one is definitely worth a test.
I also believe this racquet will perform well whatever string you put in it. A shaped poly will give you some more bite on the ball and a hybrid, with a softer string such as a natural gut or a multifilament, will give you better comfort and touch. I play relatively flat and liked it with the hybrid I put in it. If you want to use it with a shaped spin string, I would recommend going down in tension a bit. Maybe towards 21-22 kg to open up more power and comfort.
This racquet is definitely a stick for players who like precision racquets. You get the power you bring, but your shots are inch perfect. I felt it was particularly effective on serve, where I could not unlock remarkable power or spin, but instead swing full on and go for the lines. The first couple of matches I played, I aced more than I have in a while so I really felt at home with this racquet.
Dunlop Srixon CX 200 Tour 18×20 Racquet Review – Player profile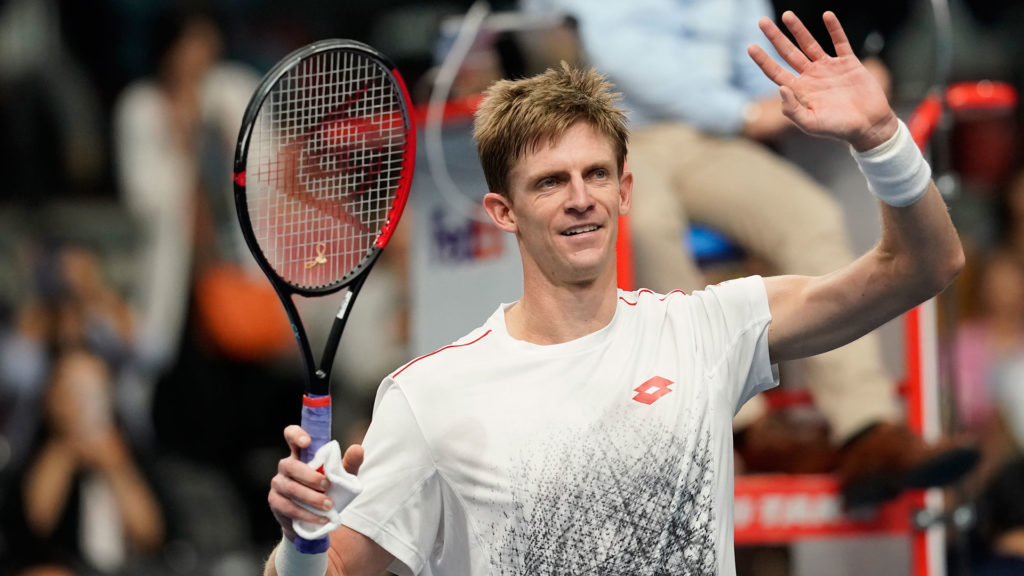 This is not a racquet for spin demons or players who like lighter racquets with a lot of room for hitting outside the sweet spot. The CX 200 Tour punishes lazy feet and swing paths and shots on the side of the frames does wobble to the sides unless you are somewhat generous with the lead tape. It is definitely a racquet that requires something from the user, but if you really like racquets that holds you honest about your own game, it does not get much better than this.
It is a great stick for serve and volley players and aggressive base liners like Kevin Anderson*. Defensive base liners will miss a more generous power and sweet spot, but players that like to hit flat, move in and take control of the point, there are not many better racquets being released in 2018. For control racquets, I would put it on par with the Prince Phantom 93P, but this one feels a bit more close to home for lovers of classic HEAD racquets.
Compared to the Yonex VCORE 95 (read my review here)
, the CX 200 Tour offers more control and a slightly lower launch angle. I would say the VCORE 95 is easier to use and gives you more power, but this one allows you to swing out more. Comfort levels are close and touch is a bit better with the CX 200 Tour. So if you like a 95 sq inch racquet with some free power, I would go with the Yonex. If you love to bring all your own power and need top of the line precision, go with the CX 200 Tour.
Dunlop Srixon CX 200 Tour 18×20 Racquet Review – Summary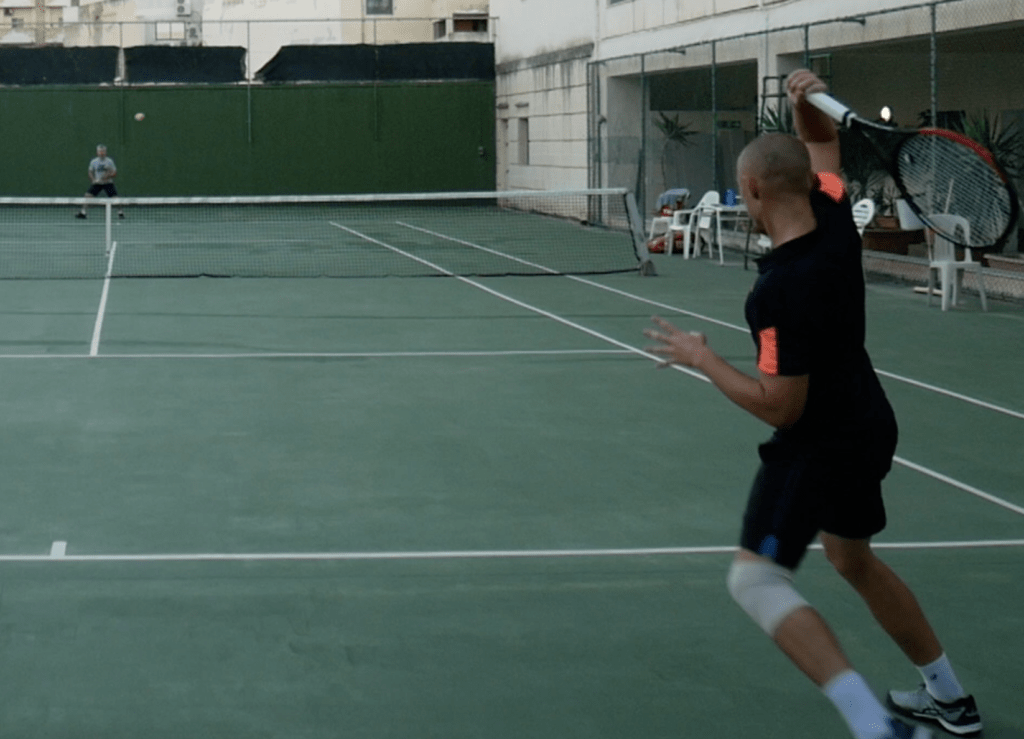 For players searching for a control oriented frame that brings them back to pre-Graphene HEAD racquets, this is probably the best choice on the market today. It gives you precision and feel and inspires you to go for your shots and attack the court. I really like it myself and if it was any racquet released in 2018 that I would have to switch to from my old HEADs, it would be the Dunlop Srixon CX 200 Tour. My only "issue" is that the 16×19 version released later might give that extra bit of spin that I am sometimes looking for with these dense-pattern racquets.
Thumbs up from Tennisnerd for the Dunlop Srixon CX 200 Tour. I will keep it in my bag for a while and compare it closely with LM/Flexpoint Radicals and see if it is truly worth stocking up on.
* Please note that Kevin Anderson is LIKELY still playing with the CX 2.0 Tour
and is just endorsing the CX 200 Tour with a so-called paint job.
If you buy a racquet from our friends at All Things Tennis, you will get 5% off and a free string upgrade if you use the code: TENNISNERD at checkout.
Dunlop Srixon CX 200 Tour 18×20 Racquet Review – Video
Thanks for reading the review. Video to come soon. Now I am curious what you feel about this racquet and the Dunlop Srixon CX line. Please comment below.