There are many ways to create a personal tennis-themed collection, but we bet you haven't tried this one yet. Antique Tennis Racquets Being Sold as NFTs?
Antique Tennis Racquets Being Sold as NFTs?
Tennis fans like collecting all types of tennis equipment and memorabilia – from favorite racquets and tennis balls to tickets to Roger Federer's last match. But now, in 2023, there is a new way to touch the history of tennis and add to your collection: through NFTs.
The project called Antique Rackets has created a world's-first collection of digitized antique tennis objects (along with their physical versions) to be sold during an online auction (along with their physical versions).
Antique Rackets uses a high-resolution 3D scanner to create a virtual token of every antique object, preserving its authentic look – every crack, wear and tear – a digital blueprint to be sold in pair with the original object. The auction will take place later this spring on the popular NFT collecting platform OpenSea, coinciding with the dates of the legendary Roland-Garros tournament.
What antique racquets are in the collection?
While these might not be the racquets you can take to your next training, many possess historical value. So, since Antique Rackets is putting up to auction over 90 authentic objects, we've taken a closer look at what unique collectibles you may be interested in bidding for:
1876 A.G. Spalding & Bros. Racquet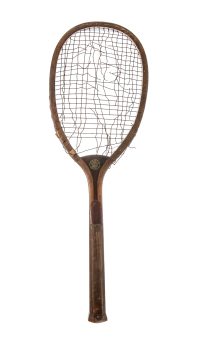 This is the oldest object in the collection – an original tennis racquet by a legendary American manufacturer, A.G. Spalding & Bros., preserved since 1876. Mostly famous for their baseball equipment and accessories, A.G. Spalding & Bros. used to manufacture high-quality tennis racquets, balls and equipment for other sports, such as American football, baseball, soccer, volleyball, and golf.
1906-1910 Brother Tsygankov Tennis Racquet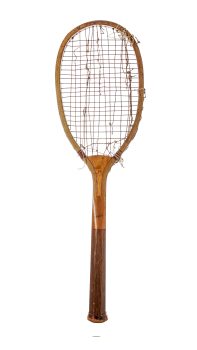 This racquet model was one of the very first tennis rackets produced in tsarist Russia and was Nicolas II's preferred racquet. Keeping in mind the turbulent history of the XXth century and the limited number of these racquets being manufactured, only four of these original models are known to exist today, three of which are on display in museums – which makes this particular racquet the only one of its kind in private hands.
1950s Wilson Jack Kramer Autograph Midsize Racquet
This Wilson racquet, manufactured in the 1950s as a limited edition collector's model of only 500, celebrates the talent and career of Jack Kramer, a legendary American amateur-turned-professional tennis player. Even though it looks like a traditional Jack Kramer racquet model, it's made of graphite – offering maximum durability and control.