You might not have heard of the brand Artengo before, but it is the tennis/padel brand from the French sports superstore Decathlon. The Artengo TR 990 Pro is their flagship racquet and is endorsed by doubles star Oliver Marach from Austria. Here is our Artengo TR 990 Pro Racquet Review.
This review is written by guest writer and fellow tennis nerd Ferenc Ferdinánd Weisz. Thanks Ferenc! You can follow him on Instagram: @ferencferdinandweisz
Artengo TR 990 Pro Racquet Review – Introduction
I first met with Artengo brand a few years ago, after Decathlon opened their shop where I live. I wanted to buy a can of tennis balls, and Artengo TB 920 was 5,30 € and the Babolat Roland Garros All Court was 6 €. I had no familiarity with the brand at first and went for the Babolat, but after I was disappointed with that ball, the Artengo TB 920 a chance. Now I only buy this ball, because I like the feel, good playability, durability and perhaps the best price to value ratio in the market. These days I buy their T-shirts and shorts, and I have about two dozen pairs of Artengo tennis socks which I'm also using every day. Maybe a pair of shoes will be next. So I wasn't skeptical about the brand anymore when I did this Artengo TR 990 Pro racquet review.
Last year, Artengo released their TR 990 Pro and TR 990 Pro Plus racquets, the successor of the TR 990. In my opinion, the paint job of TR 990 Pro was much more elegant and simple than the previous version and it made me interested in the racquet. During winter I had tried  replacing my Head Graphene XT Instinct MP racquets, and I bought a pair of used Wilson Pro Staff 97. After a few months I realized how 315 grams weight is too much for my arm and the 97 sq inch head size is too small with my footwork and I switched back to the Instinct racquets.
Artengo TR 990 Pro Racquet Review – The Price is Right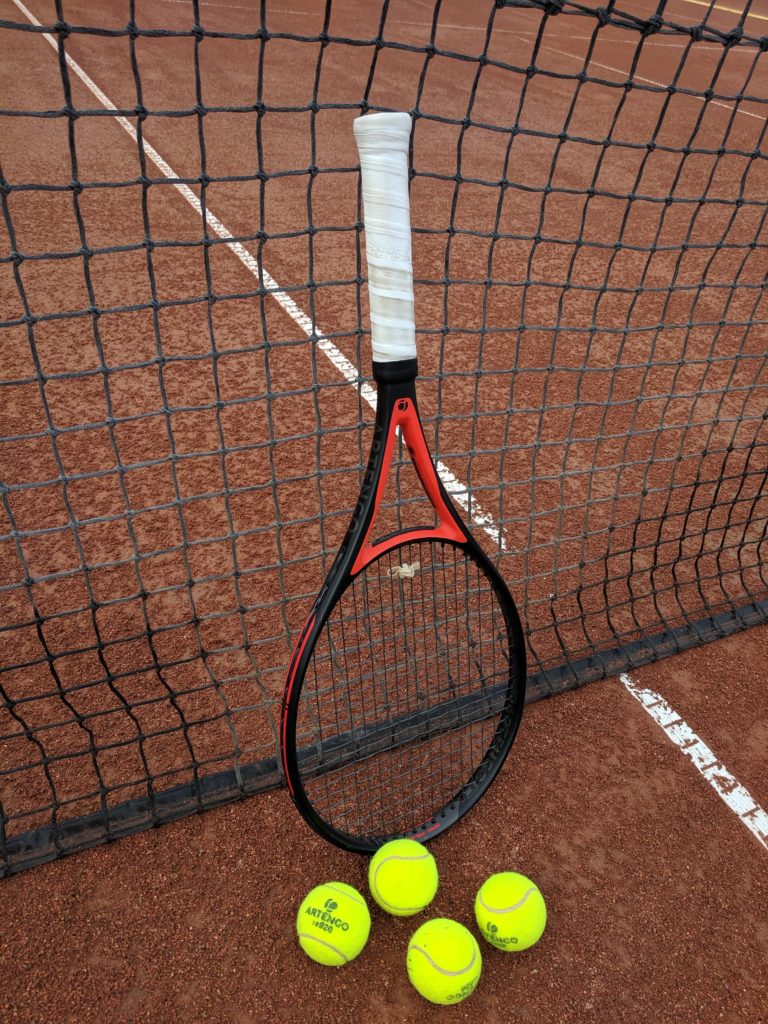 After a few months, the TR 990 Pro was again the focus of interest. I was bored with my racquets and needed some new inspiration.  I also realized it was twenty years since I bought a new racquet, when I started playing tennis as a 7-year-old. The Artengo TR 990 Pro is offered at a really nice price: 29 900 HUF in Hungary, and 89.90€ in Austria or other eurozone countries (£ 69.90 in UK), which is half or two-thirds compared to "big" racquet manufacturers price. How is this possible? The answer is simple: a big brand's products have to give profit to the manufacturer, wholesaler, and distributor also, but for an own-branded product these three is only one company, which allows a much cheaper price with similar quality as other brands.
I read some of the user reviews of the Artengo TR 990 Pro and they were impressively positive. Someone, for example, wrote how they bought this as a backup racquet to their Pure Aero, but ended up using the Artengo instead.
Artengo TR 990 Pro Racquet Review – Specs and Tech
This racquet has a typical "Babolat-style specification":
300 grams unstrung weight
100 sq inch or 645 cm2 head size
320 mm balance or 7 pts head-light
16×19 string pattern
68.5 cm standard length or 27 inches (Plus version: 70 cm or 27.5 inches)
RA 71
The racquet head is more rounded than my Head Instinct, and also rounder than the Pure Aero or Pure Drive. The head length is similar to the Pro Staff 97. Beam is not written on the frame, but I measured both 25mm in 12 and 3/9 o'clock, and 20mm in the throat. The handle shape is classic, not the even-sided one. The buttcap is similar to Head racquets. The grommet has an advanced design, no shared holes, knot positions are prepared and in the most logical position. The racquet coming is sold strung, with some 1.25 mm black polyester string.
Artengo TR 990 Pro Racquet Review – First Impressions
For me, a really important thing is, when I take the racquet throat into my left hand. The throat shape, size, paint surface and so on. When I don't feel comfortable with my throat grip, then it is not my racquet. The Artengo TR 990 Pro worked well for me in this aspect.
First I played with original factory string. Control and maneuverability were fine from the first hit. Slice also worked nicely, but maybe due to the higher tension of the strings than I am used to playing with. I felt some slight pain from the mishits. At this time, I was skeptical about whether I would like this racquet. The department manager from Decathlon told me that I couldn't restring the racquet, but I did it anyway and cut out the factory string. Instead, I strung it Wilson Revolve 1.25 at 22 kg, ATW pattern.
Artengo TR 990 Pro Racquet Review – In-depth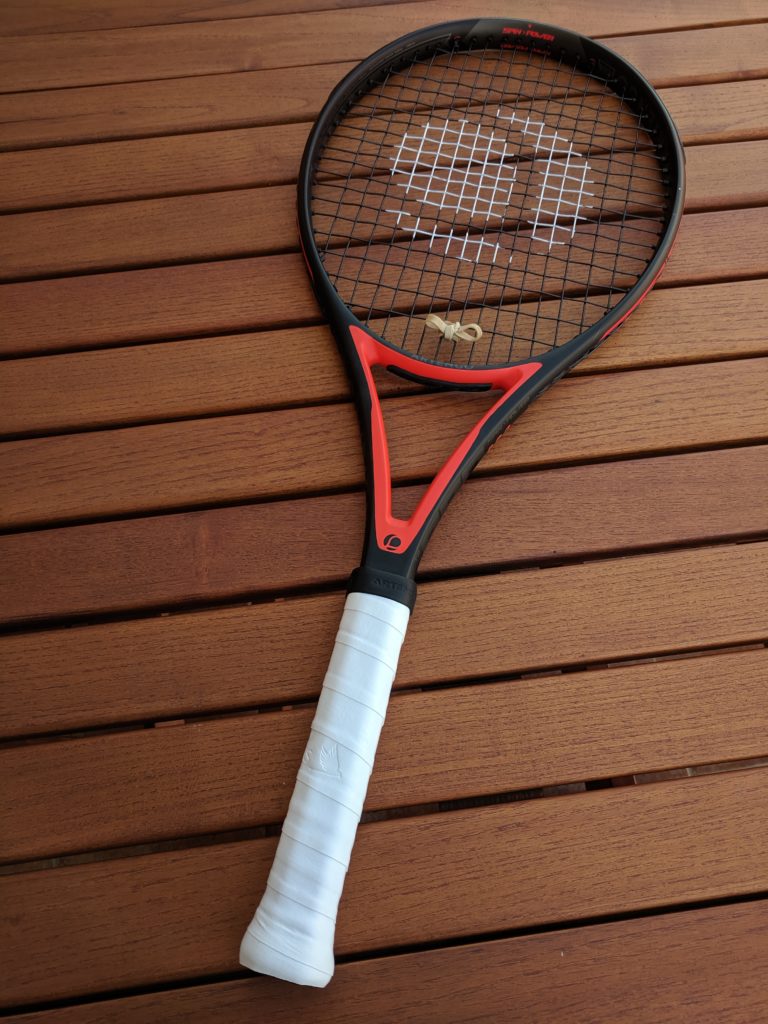 After the first minutes of playing after restringing the racquet, I felt that I made the right decision. Feel and comfort was much better. Suddenly it was really joyful to play with this racquet. My groundstrokes worked really well and I felt that the racquet was fast through the air. This is an important question for an amateur because with my Pro Staff I feel much more sluggish. The Sweetspot of the Artengo TR 990 Pro was much bigger than my Instinct (the small sweetspot was a problem with that) and I think the reason was the more rounded racquet head. I really felt connected to the ball during my time with this racquet.
I'm a fan of 100 sq inch head size racquets, therefore I don't care about the better control of the smaller head size. In this range, I'm absolutely satisfied with my game. When I swing and hit the ball correctly, I get the response I am looking for.  The topspin was excellent with the Artengo thanks to the open 16×19 pattern.
I never really liked the idea of racquets with high stiffness, but my experience with this racquet was different. I felt that immediate connection to the ball, which I currently enjoy. The handle also contains silicone, like in many pro stock racquets. Since I bought this racquet, I have not felt the urge to go back to my other racquets. I currently play the Artengo TR 990 Pro with Wilson Revolve at 22 kg (50 lbs), but maybe I want to try a one level softer poly at 23 kg (51 lbs), or some hybrid with a multifilament cross string to add a bit of extra comfort.
Artengo TR 990 Pro Racquet Review – Summary
In this spec range, I think this is an absolutely competitive and nicely priced racquet. I'm absolutely satisfied and do not regret that I bought this racquet. I recommended everyone who is looking for a 100 sq inch head size, 16×19 pattern and 300 gram unstrung racquet, to check out the Artengo TR 990 Pro, it is definitely a worthy opponent to a Pure Drive or Pure Aero.
Thanks, Ferenc for the review! Sounds like a nice racquet and I am now curious to test this one myself when I get the chance. If you have tried the Artengo TR 990 Pro, please give us your opinion of it in the comments below.
PS. Doubles player Oliver Marach uses and endorses this racquet model, but the Plus version. DS.