The new Babolat Pure Aero is here and it is very yellow. It has received positive reviews due to its lower stiffness rating. Other than that many things remain the same. That is not necessarily a bad thing. Find out more in this Babolat Pure Aero 2019 Racquet Review.
The Babolat Pure Aero 2019 is the update to the previous edition which came out in 2016. But the racquet line goes back to 2003 when Rafael Nadal started using it. Back then it was called the Aero Pro Drive and that is still what Rafa is using under the latest paint job. If you want to read more about Rafa's real racquet specs, click here. But let us continue the Babolat Pure Aero 2019 Racquet Review.
The Pure Aero 2019 definitely feels less substantial than the Aero Pro Drive Original. The raw graphite feel is gone and replaced with something so light to the touch that it almost feels like a toy. With the aggressive yellow coloring it actually also looks a bit like a toy, but that does not mean it is not a weapon on the tennis court.
Babolat Pure Aero 2019 Racquet Review – Specs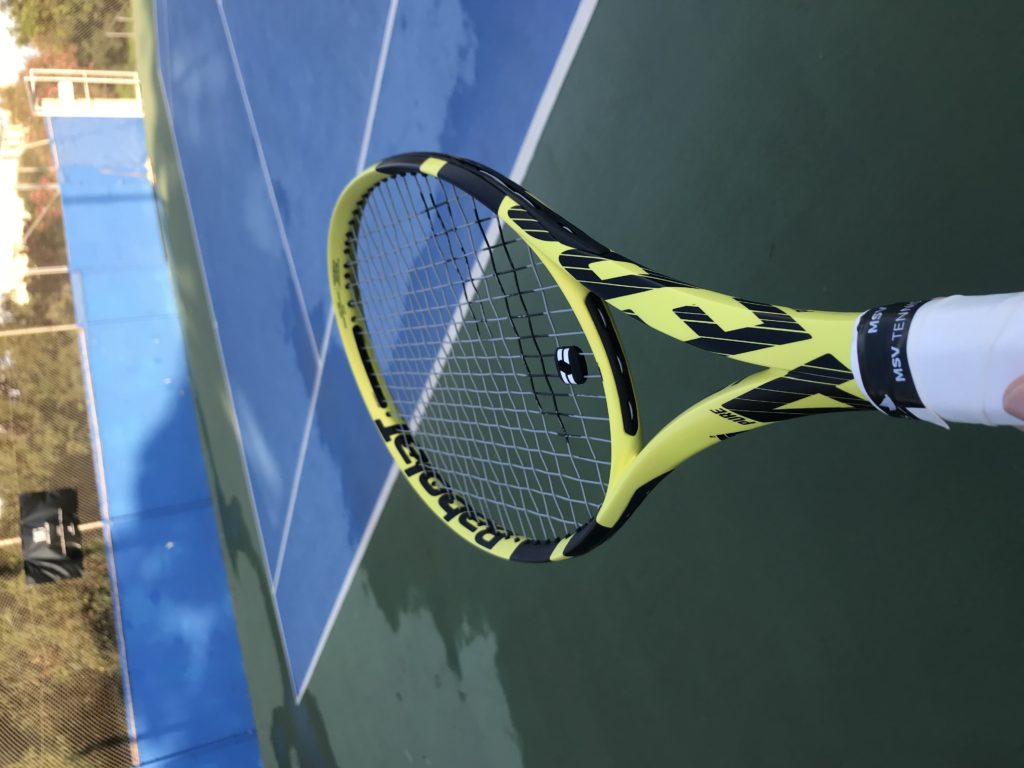 The specs of the Babolat Pure Aero is not very distinctive from its heritage. Where we see the biggest shift is in the stiffness (measured in "RA", where below 62 is flexible and above 67 is stiff). It has gone down a few points from around 70 in the previous edition to 67 in this one. This is something you can feel when you are hitting with the racquet. It offers a little less power (although power is not something you need more of with this stick). However, it is more comfortable for the arm and I believe they have improved the feel a bit.
Strung specs Babolat Pure Aero 2019
Head size: 100 sq inches
Length: 27 inches (standard length)
Balance strung: 33 cm (4 pts HL)
Beam width: 23/26/23 mm
String pattern: 16/19
Stiffness: 67
Swing weight: 323
What else is new on the Pure Aero? Now they have added something called "Spin grommets" to enable more movement of the main strings for even more spin. Also, the Cortex dampening technology is now moved to the head instead of in the handle. A positive change if you ask me. My favorite Aero of all time, the original edition, does not have Cortex at all and is for me the best racquet in the series (mainly because it offers less launch on the ball). However, this one is more comfortable.
Babolat Pure Aero 2019 Racquet Review – Performance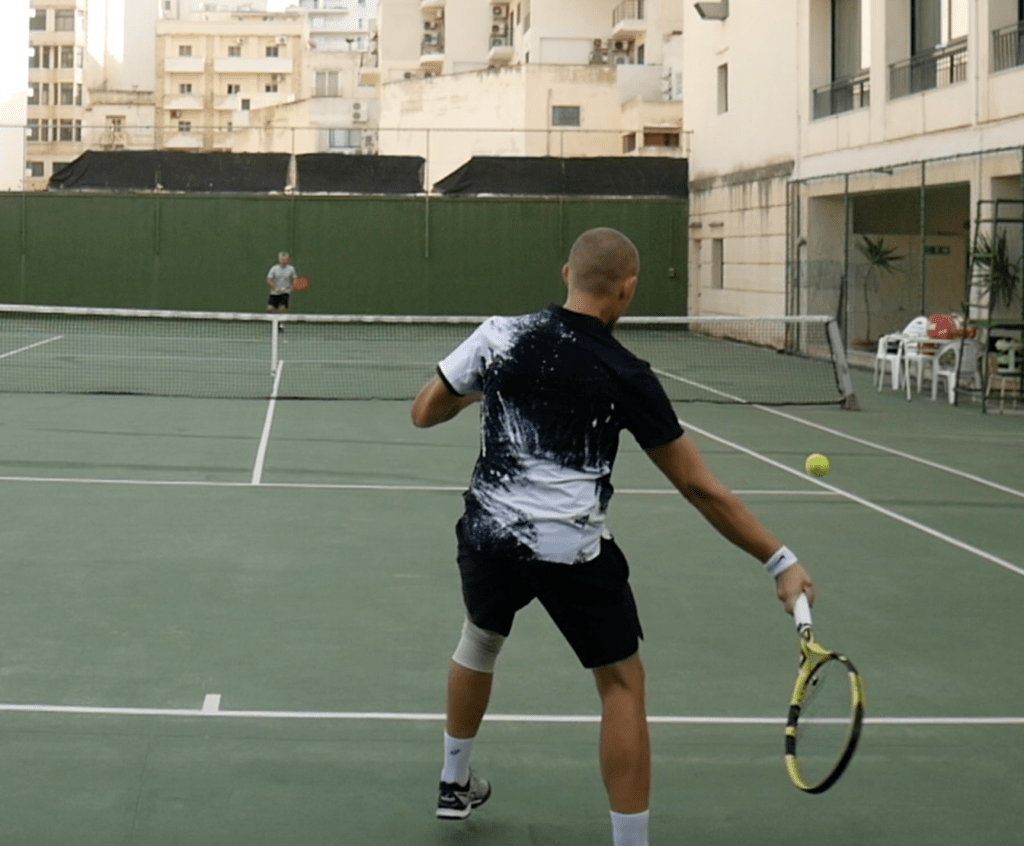 Okay – with the racquet specs and features out of the way we can talk about the playability and performance of the Babolat Pure Aero 2019
. First of all, I want to say that if you are a flat hitter and/or have no intention of changing your mechanics from an eastern grip to a western, you should look elsewhere. This racquet is not for the classical player with traditional tennis mechanics. Flat balls tend to sail with this racquet, even when hit properly.
However, this is not a players frame and is not intended for slice-and-dicers or serve and volley players. This is a spin machine that rewards a modern top-spin game and a western grip. It is made for that style and performs really well if that is your game. The spin potential is outrageous and the power level can be intoxicating. This makes it a good fit for both the defensive and aggressive baseliner as long as you hit with a lot of spin.
I played the racquet with a cheap Babolat Pro Extreme poly
 (22 kg) and the MSV Focus Hex Soft
(24 kg). I definitely preferred it with the Hex Soft and a higher tension. The string is relatively comfortable but still offers good control and I thought they were a good match. I think this racquet needs a poly string to rein in the power. Other options: Babolat RPM Blast
(great when fresh, not so great when not so fresh), HEAD Hawk Touch
 and Solinco Tour Bite Soft
.
Like I mentioned above, the racquet performs well as long as you hit with spin. If you try to flatten out shots you lose some control. On drop shots and volleys I think it was pretty decent as well (especially the dropper is a joy to hit), but I do think it lacks some mass to really feel confident at net. Some lead tape at 3 and 9 helped a bit, but it is still not a volleyers dream. This is for you who, like Rafa, belongs at the baseline and never intends to lose a point before it is over.
Babolat Pure Aero 2019 Racquet Review – Who is it for?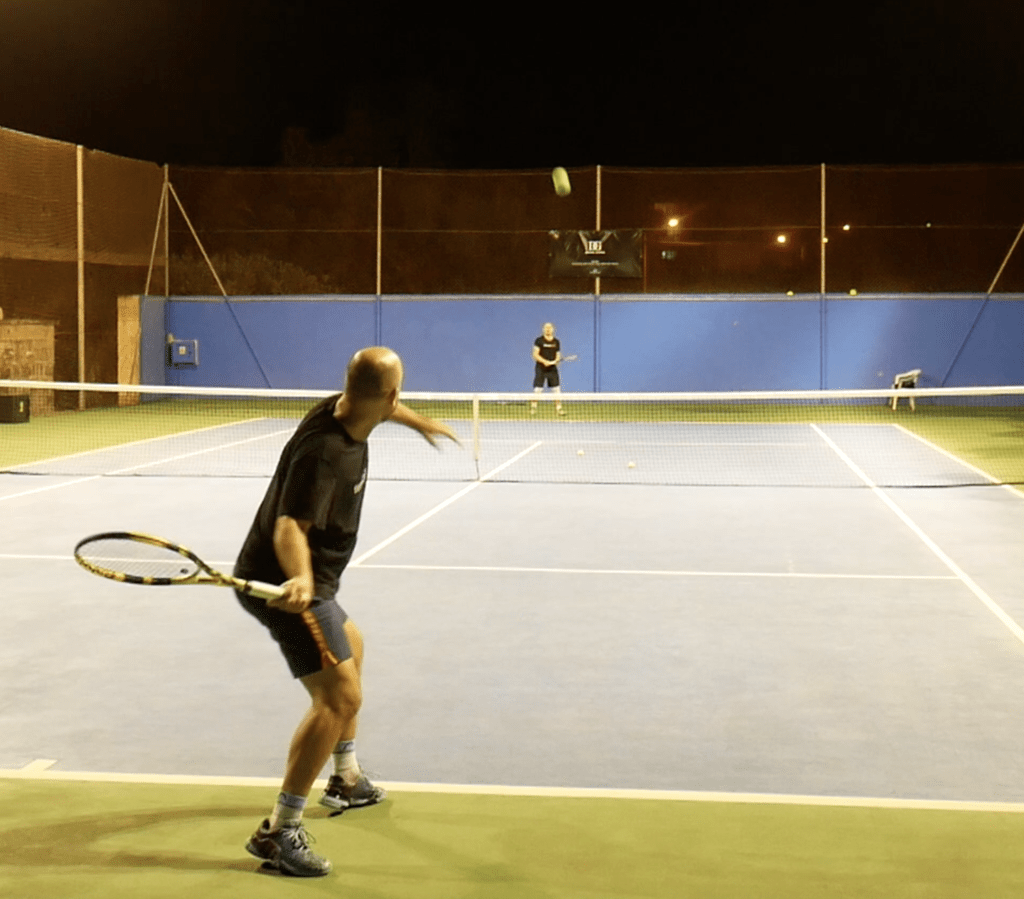 The Babolat Pure Aero 2019 is, like previous generations, for the baseline player with a modern game and technique. If you like to hit hard with a lot of spin, this is a great frame for you. If you rely more on finesse and flat shots, there are so many other options that will suit you better.
This edition offers better feel compared to the previous version. I personally think it plays quite close to the 2013 GT edition (which was very good). Perhaps even a bit softer. If I was 16 and moving up the national ranks with a heavy clay court game, I would definitely love this racquet. It is unique in the way it makes digging up shots from the corners easier. You kind of imagine you are Rafa Nadal for a while as you run into the corner and buggy whip that passing shot cross-court despite being two meters behind the baseline. It is simply a racquet engineered for that kind of playing style.
The same way Federer's Wilson RF97 Autograph
 (read my review here) is tailored to his game, the Babolat Pure Aero (and Aero Pro Drive) is tailored to Rafa's (read my post on racquet specs and player styles here). It rewards spin and fast swing speed and will deliver amazing RPM:s on the ball if you got the game for it. It is not a racquet I would consider switching to since I am more of a classical player, but it is a lot of fun to hit with. In fact I sometimes wish I had more of a modern game to make more use of it. I certainly noticed that the racquet liked it better when I adjusted my grip and started windscreen wiping my shots. But it can also be quite tiring to keep swinging for the fences unless you are not used to it. So I would not say that this is a very easy racquet to use. Mostly because if you want to reap the benefits and play with it properly, you need to have a high swing speed.
I would also like to say that a lot of beginners and lower level players are going to buy this racquet. It is relatively light, Rafa endorses it and to many it looks kind of cool. The racquet might be strung with the stiff RPM Blast that they will then use until it breaks (which is never in this case). This is an excellent way to get arm injuries. Because this racquet is still stiff (although softer than before) and will impact the elbow and wrist more easily than more flexible racquets, especially with a poly string. But this is how it begs to be played and when played correctly, by a player with expert technique, a modern swing path and fast swing speed, it can be a glorious thing to watch.
Babolat Pure Aero 2019 Racquet Review – Summary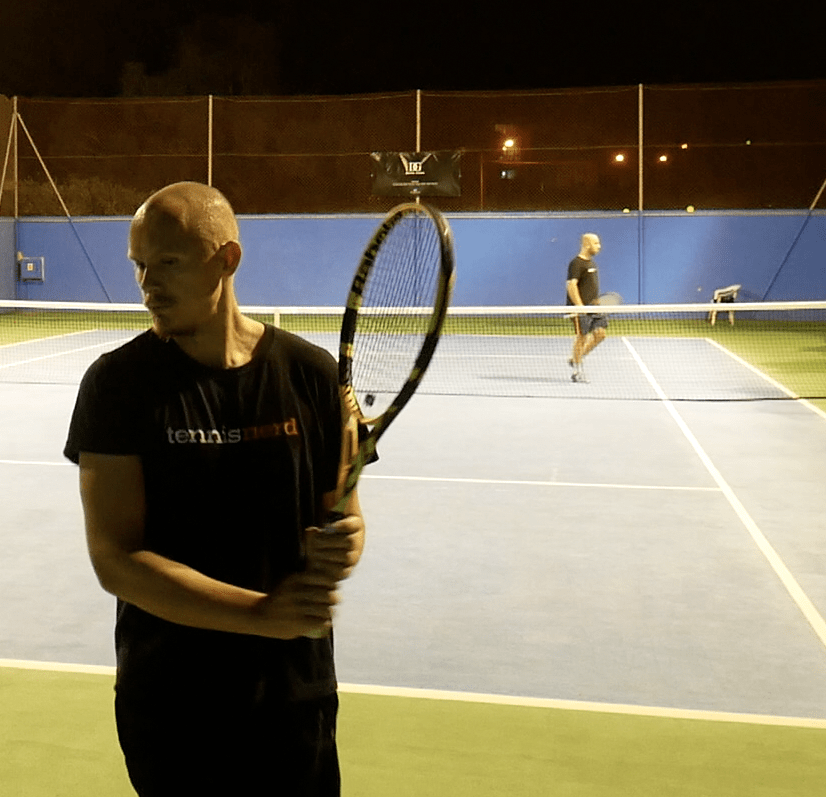 Wow, long review, huh? Well, it is a big release from Babolat and deserves digging into. To summarize, I think this is a worthy update to the Aero line. It is better than its predecessors and brings the series back to the feel of the 2013 GT
. A lot of pro's like Benoit Paire and Adrian Mannarino still use it. I like how they have brought down the stiffness rating and still maintained the power level. The spin is definitely still there and I will not say anyone needs more than this. For me, it is probably too much and the ball launches a bit. But on the other hand, this racquet is not for a flat hitter so I can fault it for that.
I would have liked a bit higher swing weight though. Something around 328-330 would have been perfect. It would have required no lead tape and if you want a more head light balance you could have just added a leather grip to it. The downside is of course that some players might find it more difficult to swing, but the increase in stability might be worth it.
Other than the swing weight, I like this stick. It is not intended for me, but I still like to imagine that I am Rafa Nadal at times. I would like to put up a small warning about the stiffness. It is lower than before, but still high and is, therefore, something to take into consideration. A multifilament or hybrid setup will not suit this racquet since it will become too much of a rocket launcher. You will probably go around adjusting your strings the entire session. So go with a softer poly and try to find a good tension. I think 24-25 kg works well, but you might have to ask your elbow before.
If you buy a racquet from our friends at All Things Tennis, you will get 5% off and a free string upgrade if you use the code: TENNISNERD at checkout.
Babolat Pure Aero 2019 Racquet Review – VIDEO
What do you think about the new Babolat Pure Aero 2019? Would you consider adding it to your racquet bag?