I've already written a Wilson Pro Staff RF97 Autograph review, but after playing more with this racquet now and testing it for the third time, I thought it was time to do it again. This time also with a video review.
Wilson Pro Staff RF97 Autograph Review
My Wilson Pro Staff RF97 Autograph
review might seem to come out of the blue, but the reason I picked up the racquet again is that I wanted to compare it to the Yonex VCORE Pro 97 330
, that I've written my first impressions about here. The Wilson Pro Staff RF97 Autograph
(RF97A) is Roger Federer's racquet of choice (his face is on the beam even!) and one of Wilson's biggest bestsellers of all time.
You can purchase Roger Federer's racquet from our friends at Tennis Warehouse, Tennis Warehouse Europe and Tennis Only.
This is quite remarkable considering the weight of the RF97A making it a very difficult racquet to use. It's definitely a racquet that requires solid technique and footwork. It's also a very stiff frame that might not be the best friend of sensible elbows and arms. Below are the specs of the RF97A racquet.
Unstrung specs
Head size: 97 sq inches
Length: 27 inches
Weight: 340 grams
Stiffness: 68 RA
Balance strung: 31,5 cm
Swing weight strung: 335
As you can see the Wilson Pro Staff RF97 Autograph is not a racquet for intermediate players. You need to have advanced mechanics and footwork to reap the benefits of this stick. But if you have that and the strength to weild it efficiently, it can be a close to "magical" racquet. It definitely rewards you when you're on your game.
The RF97A simply brings out the best and worst in your game. Sometimes you feel like Roger Federer and other times the racquet might make you feel more sluggish than normal. I could definitely see what it does to Federer's game and when I'm in good form and playing well, it also does wonder for mine. On the other hand, when I'm half-step slow, it's tougher to get the racquet around and connect with the ball properly on certain shots. On the slice it feels heavenly, but on forehand approach shots when you need to "dig up the ball", it's not the easiest racquet to use and whip around.
How it plays
I've played quite a bit with the Wilson Pro Staff RF97 Autograph
lately and I've had some really good results with it. I haven't been bothered at all by the stiffness (which used to be an issue for me) despite having the racquet strung with a full bed of Luxilon Alu Power
(Roger Federer uses Wilson's Champions Choice
, a hybrid with Alu Power Rough
and natural gut
).
I don't know if having an extra heavy spec (366 grams, like Federer's batch) of the RF97 Autograph helps to protect my arm (heavier racquets generally helps, except for when it comes to your shoulder), but it sure feels more comfortable than I remember it. And on the backhand wing where I've struggled a bit with the VCORE Pro 97 330, it feels just sublime to have that stability.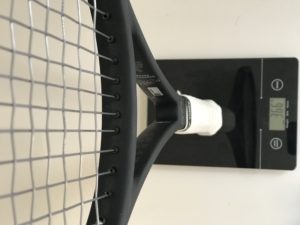 Ratings and points
People generically like to have some numerical idea of how a racquet plays so here are my ratings for the Wilson Pro Staff RF97 Autograph review:
Groundstrokes: 8/10
This is not a racquet where you hang out on the baseline during a clay court match. You need to play a bit like Federer, go for shorter points and play more aggressive tennis. Then it works just like a dream. It's going to be pretty tough to whip up tons of topspin so a flatter, attacking style tennis is recommended.
Volleys: 8/10
The RF97A is as stable as a racquet gets and if you can get it moving, you can hit some pretty solid volley winners. For a stiff racquet it has a really nice feel to it so drop volleys and touch shots are encouraged.
Serve: 8/10
Same here – get it moving and you will benefit. This racquet packs a punch for the worthy player.
Control: 8/10
I'm impressed with how controlled this frame feels despite being stiff and heavy. The string pattern is just open enough to give some extra spin, but there are not hot spots in the string bed or other things that may cause inconsistency.
Comfort: 6/10
This is a stiff and heavy racquet that requires the proper technique and conditioning to play it. If you have arm issues I'd frankly stay away from it. I don't have any issues with tennis elbow and are so far not suffering from it either while using the RF97A. But it is string sensitive so try to opt for a slightly softer setup.
Manoeuvrability: 5/10
This is a heavy stick! And it's not a 90 sq inch mid-size racquet like Federer's old Pro Staff 90
 so it doesn't move very easy through the air. Thankfully, the balance is quite headlight so it moves a little bit faster than you would think. But definitely not a racquet for everyone.
Spin: 7/10
This racquet generates decent spin with sacrificing control. I think they've found a good level of control, power and spin for this racquet.
Touch: 8/10
For being a players "club" that is stiff and heavy, this racquet feels remarkably good on touch shots and the heft of it makes it relatively easy to hit a nice dropper.
Overall: 8/10
This racquet is close to as good as it gets for the right player. A strong, attacking player with proper technique can really benefit from playing with the RF97A. And it's a fun hit also for somewhat lesser players, if you just want to try to channel Roger Federer's spirit for a while.
To summarize: top notch stick from Wilson and Roger. But definitely not a Pure Drive in terms of playability for a wide group of players.
Have you ever played with Wilson Pro Staff RF97 Autograph? What did you think of it? Please comment below.
***
Do you like Tennisnerd? Don't miss a word or video by stalking us on social media. Every like and follow is appreciated!

YouTube
Instagram
Twitter
Facebook Page
Amazon Influencer
Racquet buying guides
Here is a great racquet buying guide to get you started.
What tennis racquet should I buy?
Top tennis racquets to buy right now
The Gear of the Year 2017
The Gear of the Year 2016
Tennis racquets for juniors
Tennis racquets for kids
Popular posts
What the ATP pros play
Questions about pro stock tennis racquets
Is a pro stock racquet better than a retail one?
Do professional players change racquets?
Racquet Commitment Issues