I finally got the chance to play a couple of hours with the new Babolat Pure Drive and although it's not usually a racquet I gravitate towards, but it was for sure a fun and inspiring hit.
I think most of you know the appeal of the Pure Drive series
, which is pretty much something out of Star Wars darkside chant – "Raw, unlimited power." I would also add "spin" to this version, because I think this is something that has improved for each iteration of the Babolat Pure Drive series.
Let's break down the performance of the latest Pure Drive in a few categories:
LOOKS
The Pure Drive maintains it's cool blue colour scheme and goes a little lighter this time. Two of my hitting partners commented on how nice it looked while another friend thought it resembled a plastic toy in both look and feel. I'm personally a little mixed. The design is quite fresh, but when you hold the racquet in your hand it does feel a bit like a kid's racquet to me.
3/5 – Looks good, but feels a bit cheap.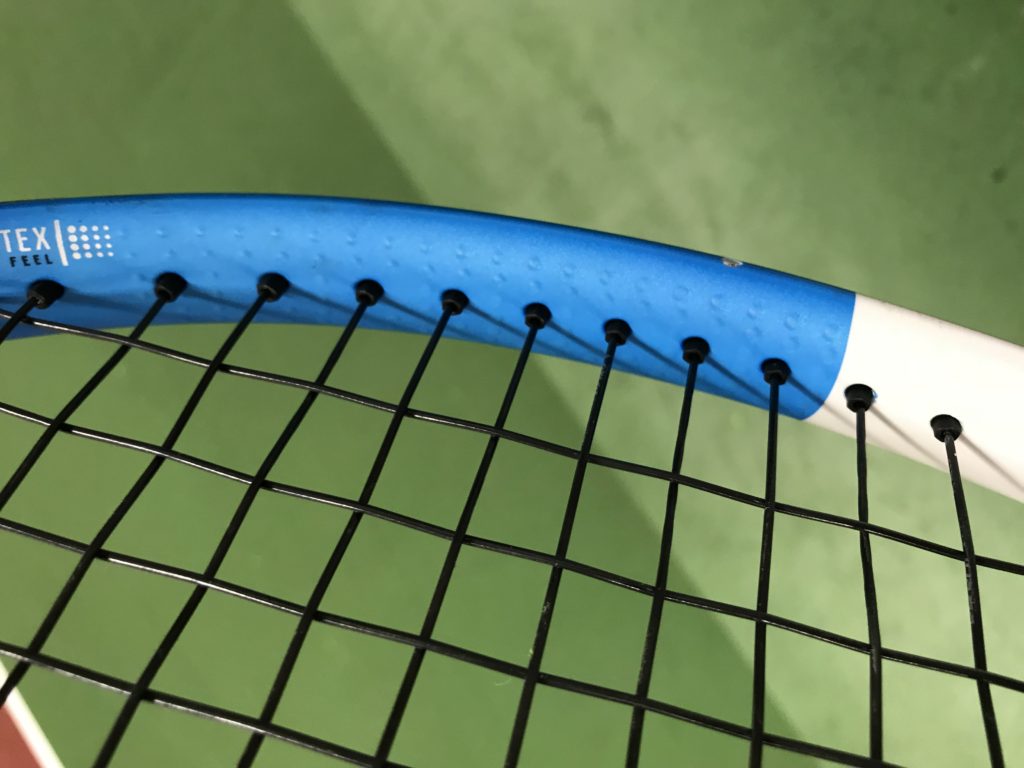 CONTROL AND FEEL
What is new with the 2018 edition of the Babolat Pure Drive? They still have the GT (Tungsten), the FSI string pattern from the previous year's model, but now they have also introduced something called Cortex Pure Feel, which is supposed to dampen the response and I assume decrease shock from the stiff frame (71 RA strung according to the TW test). What this translated into is a very muted response and I sometimes had difficulties gauging the depth of my shots and ended up increasing my spin to compensate from the lack of feedback the frame gave me on my shots. The new Pure Drive is definitely not a touch-inspiring stick and if you're into drop shots and manoeuvring the ball around, there are better racquets out there.
2/5 – Too muted to know where the shots are going.
POWER
Like I wrote above it's clear that the new Pure Drive is ALL about power. It's almost ridiculous how easy power you could get with this racquet and as history often tells us – power can be highly addictive! This was definitely the most fun aspect of playing with the Pure Drive – I felt like I could really hit laser blaster forehands left, right and center. I just need to make sure to add plenty of top-spin and the ball would drop in at the end. It surprised me how much fun this was playing with in a non-competitive setting.
However, if I would bring this racquet into a tournament I would be scared that in pressed situations this would lead me to overhit and lose control as is exactly what has happened when I've used powerful racquets in the past. But if you can harness and control the massive power – the Pure Drive might be your best friend.
5/5 – Crazy power. You need to be able to tame it however.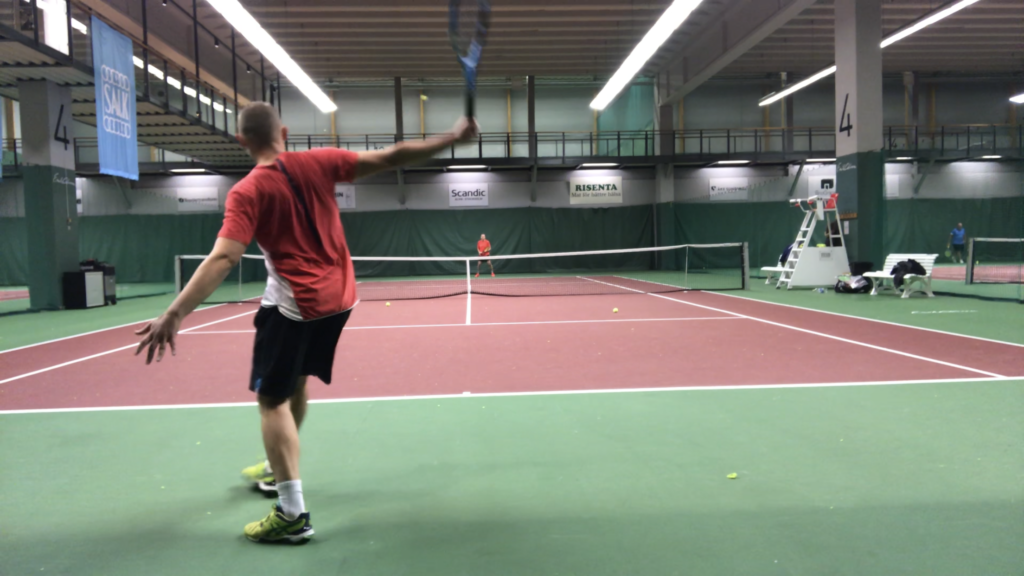 SPIN
The Pure Drive brother, Pure Aero
, is usually called the spin machine, much thanks to Rafael Nadal's buggy whip destruction of his opponents on clay. I don't think one player and playing style can be more connected to a racquets success than Nadal's can be to the Pure Aero/Aero Pro Drive. But I digress, back to the Pure Drive where I think one of the most improved factors in the latest iteration is the improved spin potential. I really felt I could hit any angle with this racquet as long as I played with high racquet head speed and that contributed to me not wanting to put the racquet down at the end of the session.
5/5 – Massive spin to help tame the power.
COMFORT
Comfort has always been the trade-off when playing with relatively stiff and broad-beamed Babolat racquets so players with sore wrists and elbows should probably look elsewhere. If you on the other hand have no issues regarding stiffness and want to maximize spin and power, there is few better options than the Pure Drive
(the new Tfight Powerstab from Tecnifibre is another interesting option). It's not the harshest racquet I've played with and I wasn't sore after a couple of hours despite it being strung with RPM Blast, but it's not a comfortable racquet by any means.
2/5 – Reasonably dampened, but still quite stiff.
Summary
The Babolat Pure Drive is a legendary racquet series with a massive following and it's not for nothing – it offers addictive power and spin to anyone who has no history of arm issues. You need to be able to tame that power however and adding a poly string at high tensions won't help your arm so this is all about racquet head speed and technique. If you like high-powered frames and have plenty of spin on your shots, this could be your next racquet. I had a lot of fun with it at least!
TOTAL SCORE: 17/25

Or why not watch my video review?
Buy the Babolat Pure Drive 2018
EU
Racquet Depot
Pro Direct Tennis

USA
Tennis Express
Do It Tennis
Amazon.com
BABOLAT PURE DRIVE SPECS
Length
27 in
69 cm
Head Size
100 sq in
645 sq cm
Weight
11.2 oz
318 gm
Balance Point
12.99 in 33 cm
4pts Head Light
Construction
23mm / 26mm / 23mm
Composition
Graphite
String Pattern
16 Mains / 19 Crosses
| | | |
| --- | --- | --- |
| | Score | Grade |
| Flex Rating | 71 | Range: 0-100 |
| Swing Weight | 324 | Range: 200-400 |

Would you buy a Babolat Pure Drive racquet? What do you think about Babolat racquets in general? Please comment below!
If you buy a racquet from our friends at All Things Tennis, you will get 5% off and a free string upgrade if you use the code: TENNISNERD at checkout.
***
Do you like Tennisnerd? Don't miss a word or video by stalking us on social media. Every like and follow is appreciated!

YouTube
Instagram
Twitter
Facebook Page
Racquet buying guides
Here is a great racquet buying guide to get you started.
What tennis racquet should I buy?
Top tennis racquets to buy right now
The Gear of the Year 2016
Tennis racquets for juniors
Tennis racquets for kids