Your kid is watching you carry that big bag of tennis rackets in and out of the house? Why not get him or her started in our beautiful sport? All they need is a racket and some soft balls and they will be swinging away in no-time!
But an adult racket is not for kids, you need a smaller one. So what is a kid's tennis racket? How do you choose a model? Because as you can see there are plenty to choose from if you go to Tennis Express.
I don't know all the models, but I can speak from my own experience having bought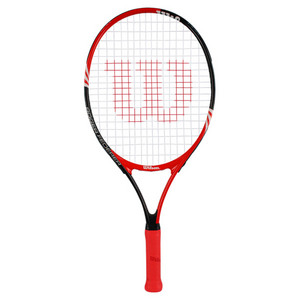 the WILSON Roger Federer 23
or my kid (soon 7) and he loves it. You can easily see and feel that this is a high quality starting point for a young player. Better buy something good from the start, if you know what I mean.
If your son or daughter is a little bit older (9 and above) I would go for: HEAD Speed 25 Comp
as I've heard good stuff about that and if he/she's younger than 4, this is a good model :) WILSON SpongeBob
SquarePants 19.
You can find all these great tennis rackets for kids at Tennis Express.