If you are a player who is concerned with arm problems like tennis elbow (wrist or shoulder), why not use multifilament strings?
Multifilament strings are softer for your arm and will give you more free power. Those are the benefits, the cons are that you won't get the same durability, spin potential, and control. Still, if you are not a string breaker and you perhaps have more of a flat-hitting game style, a multifilament string could be a good choice for you.
I am not trying new multifilament strings as frequently as I try monofilament strings (polyester strings), but I believe arm comfort is very important because not playing tennis is not an option! (right?). The most recent multifilament I reviewed was the Tecnifibre Triax, which is really 50% poly and 50% multi, so it's a stiffer and more-control oriented string than most multifilament strings.
I enjoyed Triax
, because I really value control, but I was missing some spin that I enjoy from poly strings. My personal preference is therefore either to use softer polyesters or a hybrid consisting of a multifilament and a poly. Still, even heavy hitters can use multifilament strings. My regular hitting partner Mike strings his Volkl Organix MP 10 with HEAD Velocity MLT 1.30
at 56 lbs and gets decent control and lifespan out of it.
How detailed are you with your string choice?
My tennis friend Ingemar in Sweden send me the below spreadsheet detailing his play-test of 10 different multifilament strings in March-May 2020. I like how detailed it is and I think he can feel confident now that he has done his homework and chosen a string. I am not completely surprised that found Tecnifibre X-One Bi-Phase
to be his favorite string. That is one of the best multifilaments out there in my opinion.
From the table, it is obvious that he was looking for power and comfort. Since I personally value control more, my choice of string would probably be different, so you need to know what you are looking for in your string.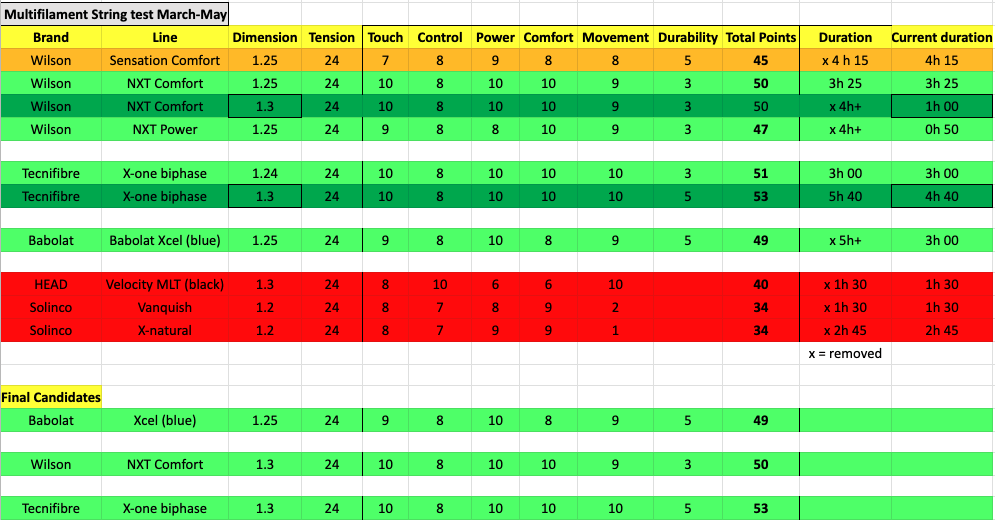 What are you looking for in your string setup? Power? Control? Comfort? Are you using poly or multifilament strings?