Here's part 2 of my Tecnifibre Triax String Review. I have now tested the string for a month in a couple of different racquets.
If you want to read my first impressions post about the new Tecnifibre Triax string, click here. For you who haven't heard about Triax, it is a string that is 50% poly and 50% multifilament. The idea is to provide good comfort for hard-hitting players who usually use poly strings. It's a well-known problem among tennis players that stiff racquets and stiff strings can create arm issues like tennis elbow or wrist tendonitis. The Tecnifibre Triax string is supposed to be comfortable, but still durable and spin-friendly. Does it do what it says on the label?
Yes, I think in this case, the hype seems to add up. This is one of my favorite multifilament strings on the market, perhaps in part because it comes in a 1.38 gauge. The thicker the gauge, the better the durability and control (and the stiffer the string). I prefer multis at around 1.30, but that Triax comes in 1.25, 1.28, 1.33, and 1.38 gauge is a big plus. I felt like I got good control, nice feel, and no string movement (similar to poly strings). The only slight downside compared to my regular polys is that I didn't get quite the same bite on the ball. But the feel was different and in many ways better than polys.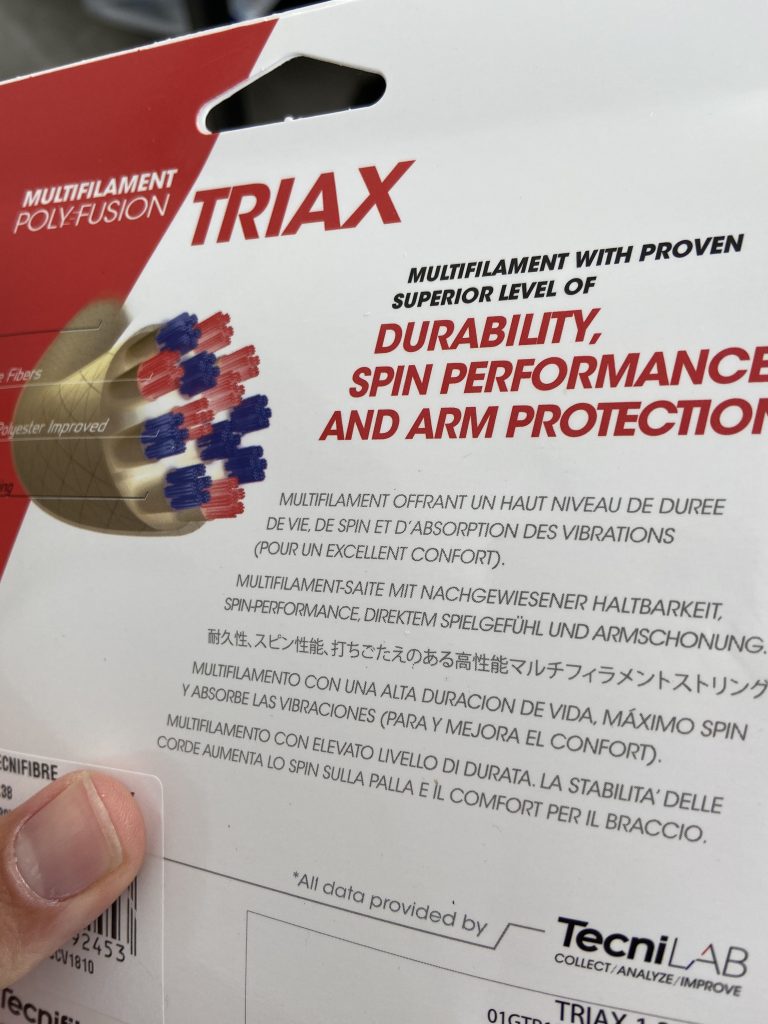 How does it play? Video review live at 7:30 pm CET
I tried Tecnifibre Triax in four different racquets.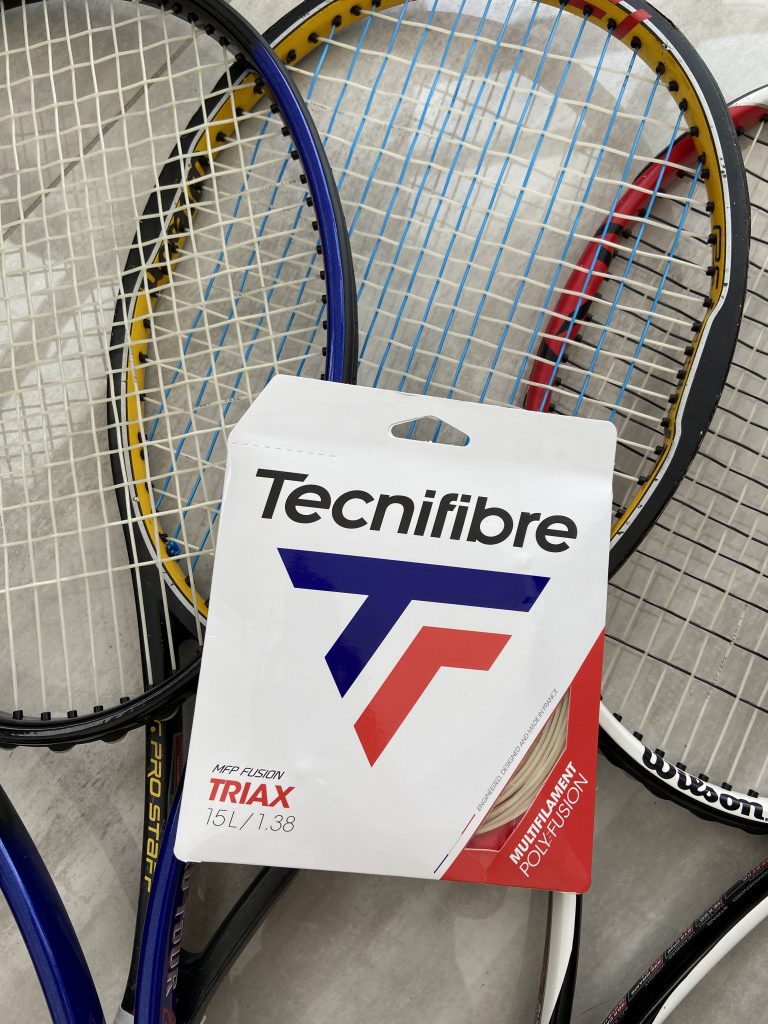 It performed well and held tension well in all these setups. It lasted around 8 hours in the Soft Drive, which is known to be quite a string breaker and it has held tension well without any fraying for hours in all the other racquets. So I found this 1.38 gauge Triax to perform well in both full beds and hybrids. It will not last as long in an open pattern, 100 sq inch racquet like the Soft Drive, but 8 hours is better than most polys I use (they might not break but drop tension quickly).
I found the tension maintenance to be really good with Tecnifibre Triax
. I take frequent measurements using my ERT 300 tension computer and after settling from the stringing machine, it didn't drop much at all.
Simply, a very enjoyable string. Let's look at some pros and cons of Tecnifibre Triax.
Pros and Cons
+ Durable            – Not as spin-friendly as a poly
+ Comfortable    – A bit pricey
+ Controlled       – String breakers will still break it fast
If you are a poly lover and a string breaker, this might not be spinny or durable enough for you. But if like softer polys or just want more control from your multifilament setup, Triax is definitely a string to try. Too many club players use polyesters when they don't really need to, risking their arm health. My recommendation is to try a high-quality multifilament string and see if that works for you.
Summary
Tecnifibre Triax is one of my favorite (if not the favorite) multifilament string on the market. I like softer polys and this one comes close to that in feel, but still retains that more comfortable feel of a multifilament string.
Have you tried Triax yet? Thoughts?