I have been testing a couple of Mayami strings: Tour Hex and Magic Twist. I call this the Mayami Tour Hex String Review but will write about both.
If you want to read more about the different Mayami strings on offer, read this post. Mayami strings have been getting some good review on Stringforum and that is why I was very curious to test them. And I can already say my experience with both of these strings were very positive. Let's start with the Mayami Tour Hex string review.
Mayami Tour Hex String Review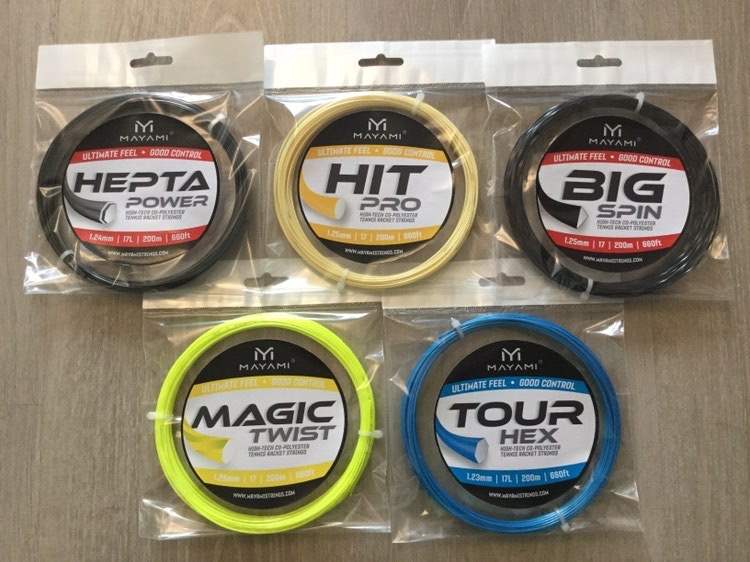 Mayami Tour Hex is a hexagonal polyester string focused on control. It comes in a 1.23 mm gauge and in a striking light-blue color.
Installation was easy, the string felt pretty crisp and did not have a tendency to turn into a ball. I tested it in a Dunlop SX 300 (click for my review) and a leaded-up HEAD Gravity MP (click for my review) and I was surprised that even after 8-10 hours of hitting, the string stayed in place and did not notch or seem to lose playability. So very high marks for durability.
The SX is a crisper racquet (16×19) and the Gravity is a more flexible racquet (16×20), but I think the string performed well in both racquets. It was definitely more comfortable than I expected. It did not experience any discomfort in either racquet.
How does Tour Hex play?
It is supposed to be a control-oriented string and it does offer excellent control. It is not a Luxilon 4G or a Solinco Tour Bite, but more on the medium scale, kind of like an MSV Co Focus Hex, but with a slightly livelier feel and better comfort.
The spin potential is good, but not monstrous like a Weiss Cannon Ultra Cable
(Amazon link). It is actually a very well-balanced string with a really solid performance in all key areas.
I can really recommend Mayami Tour Hex for players looking for a good blend of control, spin, durability, and comfort.
Mayami Magic Twist String Review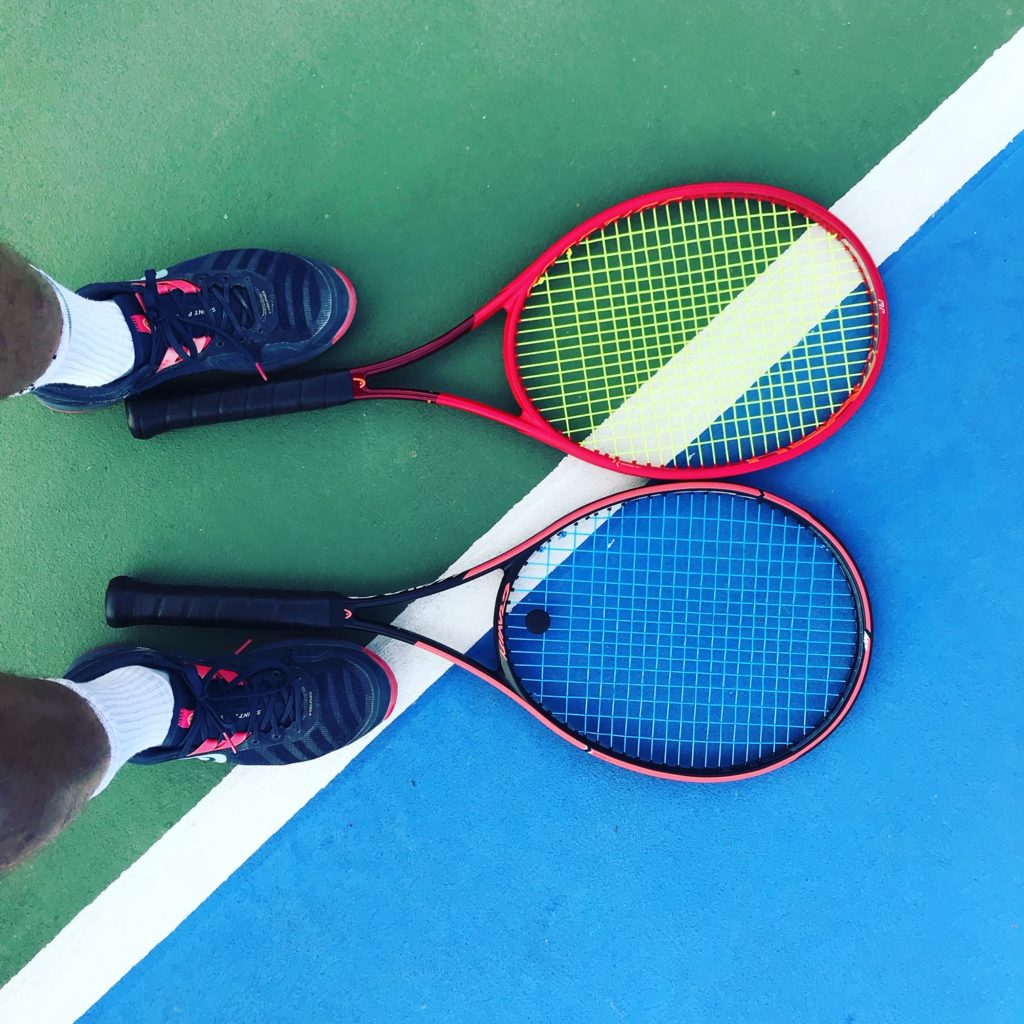 I have only tried Magic Twist in one racquet so far, (the HEAD Graphene 360+ Prestige MP – link to my review)  but I wanted to give you my impressions because I have used it for many hours and I really enjoy it.
The Magic Twist string is a poly with a heptagonal (7-sided) and twisted profile. It comes in yellow and 1.25 mm gauge. This string is used by Ilya Marchenko.
Magic Twist was easy to install and has so far lasted me eight hours without a loss of playability. It offers a better spin potential than the Tour Hex and is quite comfortable too. Since my Prestige has an 18×20 string pattern and a low power level, this string fits the racquet pretty much perfectly.
How does Magic Twist play?
Magic Twist is a control-oriented poly with good spin potential and above-average comfort. It might not last as long as Tour Hex, but it does seem to offer a bit more spin. It plays kind of similar to Yonex Poly Tour Pro, but I prefer the feel of this one.
If you are a hard-hitting player who hit with a lot of spin, it won't give you the durability of stiffer strings, but it is a very well-balanced option for players looking for a nice mix of spin, control, and comfort.
This is definitely a string I can keep using. It feels nice on impact and opens up some more spin in my Prestige, which is exactly what I want.
Summary
I like both of the Mayami strings I have tried. It did not take me long to understand that these were high-quality products made for advanced players looking for a nice blend of properties. If I would give them a rating, it would be 4/5 for both of them and pretty much across all characteristics such as spin, control, comfort, and durability. Tour Hex seems a bit less spin-friendly than Magic Twist, but more durable. They both offer above-average comfort for this category of strings. I would rate them as a medium stiffness for poly strings.
If you are looking for a new polyester (monofilament) string with a very nice balance of playability and durability, check out these Mayami strings.