I have had the fortune to play-test the new HEAD Prestige racquets over a period of a couple of weeks. In short: this is a great update.
The HEAD Prestige is one of the more iconic racquet lines of all time. It has been played by many, many pro and recreational players of the years. The Prestige line has always been about control. Nothing has changed about this Graphene 360+ update. It is all about pinpoint precision.
So what is different with the new HEAD Prestige racquets compared to the previous version? There are a few mold changes, but the overall difference is the addition of Spiralfibers. This gives the Prestige a feeling of more old-school racquets, something I personally love. It is especially apparent in the MP version, where you can really feel the dwell-time of the ball on the stringbed. Lovers of classic HEAD racquets will definitely enjoy this sensation.
Learn more about HEAD racquets and the new Prestige line on their official website.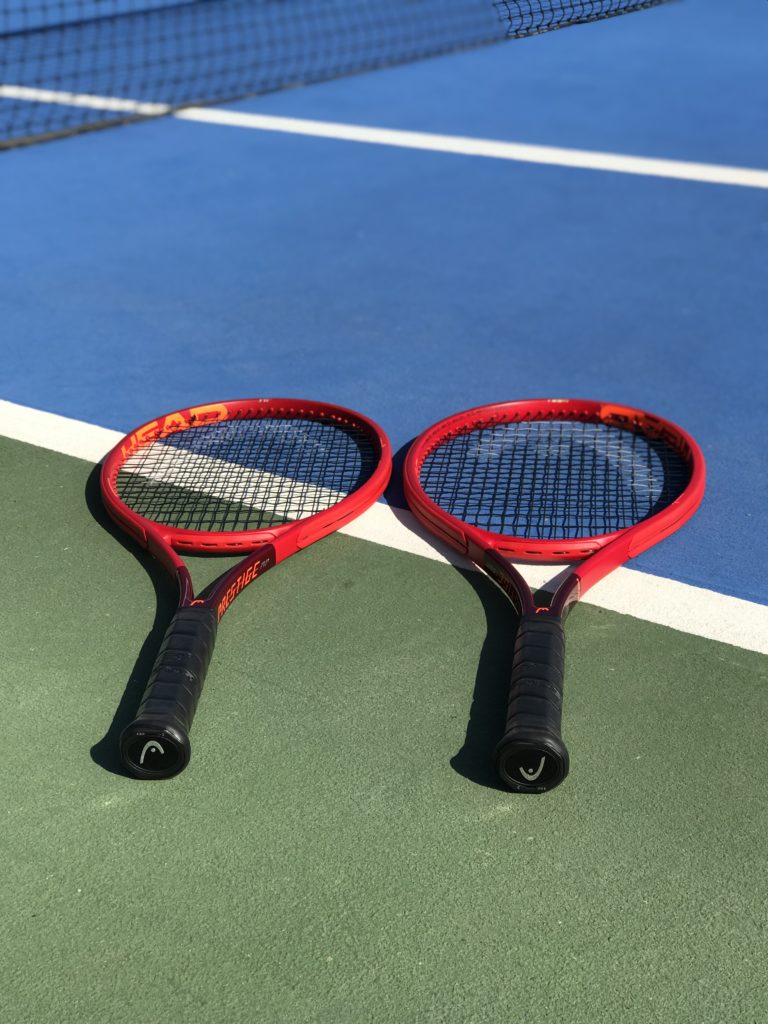 The new HEAD Prestige racquets: Specs
The HEAD Graphene 360+ Prestige comes in five different models: Mid, Pro, MP, Tour and S. The MP has gone from a 95 sq inch racquet to a "true" 98 sq inch head size, the S has the same mold as the Tour but a lighter weight and a 16×19 instead of 18×19 string pattern. Although 95 sq inch racquets are my usual "sweet spot", I really felt that this was a good move. The feeling of the MP is very plush and I find it to be a very versatile racquet. But more about the different models below.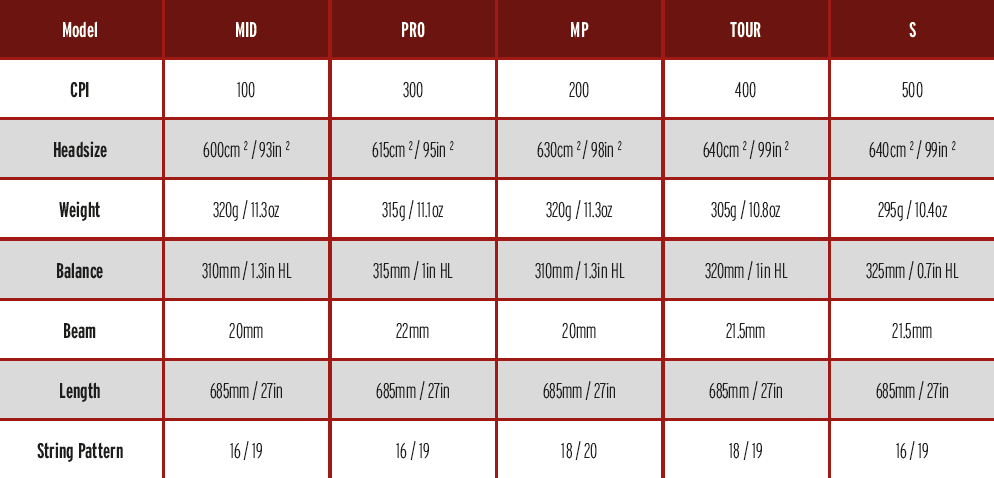 What is not yet published by HEAD are the stiffness ratings (usually listed in RA from 50-75). RA does not tell the whole story about how a racquet performs and how comfortable it is (weight, layup, beamwidth, etc impacts that too), but I would say the overall idea with the Prestige is a stiffness rating closer to 60. The stiffness goes up a bit when it comes to the S and the Tour, but they are not harsh or uncomfortable.
I have tested the racquets with various different HEAD strings: HEAD Experimental Tour, HEAD Velocity MLT
, HEAD Lynx
, and HEAD Hawk Touch.  Different strings suit the models differently and I will comment on that below.
How do they play?
Before I describe the various different models, I want to say that the Spiralfibers really soften the feel from the previous Graphene Touch version. It definitely suits the Prestige lines and brings it closer to older versions. The tech is similar to the Gravity racquets (click to read my review) so if you like the feel of those racquets, these racquets are the smaller, more traditional style (box beam!) versions of the Gravity.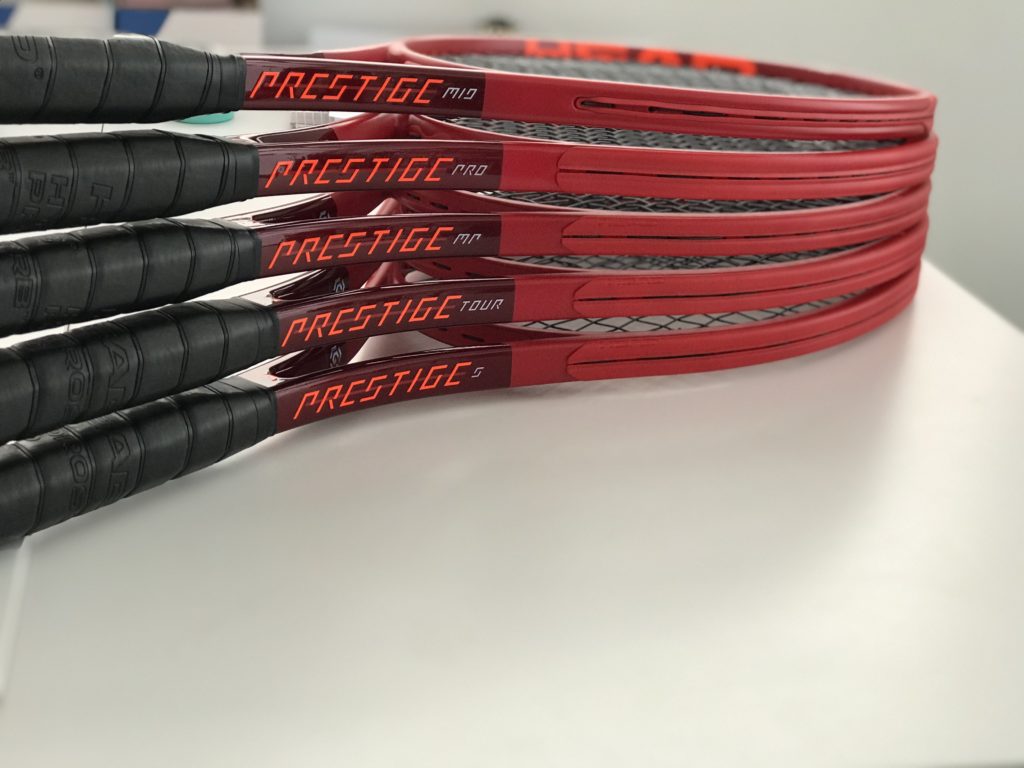 Mid
A true 93 sq inch racquet. Not as flexible as the legendary Prestige Classic, but with more free power. A suitable racquet for attacking players who like to move towards the net. Low on power, high on control. Some access to spin thanks to the 16×19 string pattern. A nice racquet when you are in the attacking mood, but midsize racquets are quite demanding so this is definitely for the advanced player. I really like playing with it, but it is not my favorite of the bunch. I would use a hybrid or a multifilament string in this racquet.
Pro
On paper, the Pro should be the one closest to my heart. It has a true 95 sq inch head size, an open pattern and a slightly thicker beam (22 mm) for more power. It is quite precise and plays similar to the Mid, but with a larger head size. I really like this racquet, since it comes around fast enough on groundstrokes and gives me excellent precision at the net. Still, a bit more difficult to use than the MP. I played this racquet with Lynx and Hawk Touch. You can string at a low tension (below 20 kg / 49 lbs) and get some nice pocketing on the ball. A hybrid setup with a soft string in the mains can be a good idea.
MP
The MP has a completely new mold and for the first time in Prestige history – a true 98 sq inch racquet. This one has the sweetest feel of the bunch. It really offers a nice sensation with the racquet flexing on impact. It is not a noodle but gives you a really nice sensation when playing with it. I especially love attacking the net with this racquet. The only thing I would note is that it can be a bit unstable at the top of the hoop, but a few grams of lead tape at 12 helps that.  I think this one plays even better than the IG Prestige MP, which is high praise! If you like the K7 Lime or an 18×20 Blade
, you will love this racquet. I played this with Lynx and HEAD Velocity MLT 1.30 and the Velocity was a winner although you got a bit more spin with Lynx. I think this racquet could play great with a hybrid setup.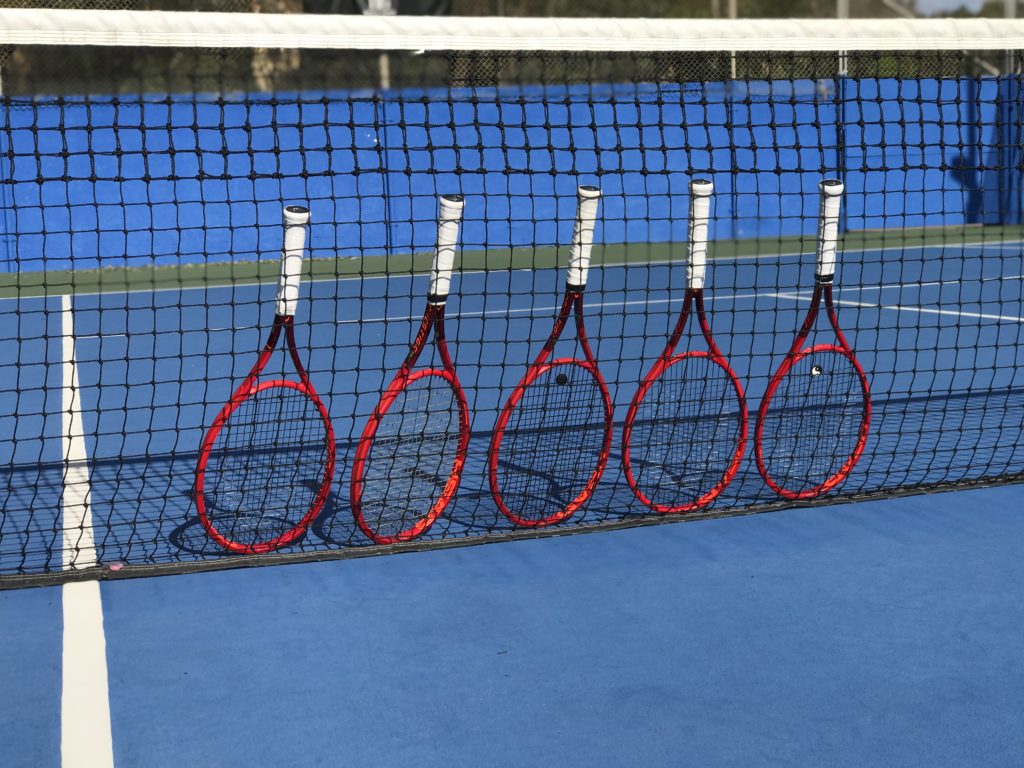 The "new" racquets in the line
Tour
The Tour was introduced in the Graphene Touch series and is more forgiving than the racquets above and a suitable "tweener" at 99 sq inches with an 18×19 string pattern. It is not as plush or precise as the MP, but gives you better access to spin and is easier to use. I am not sure about the naming here with MP, Pro, and Tour with different specs. Both Tour and Pro sound like fairly demanding racquets, but this one could suit a player who wants something in between a Gravity Tour and a Prestige MP. I liked this racquet with the new HEAD Experimental Tour (soon to be released as Lynx Tour) strung at 51 lbs / 23 kg.
S
The S is a little light for my taste and feels like something Extreme or Instinct-like with less power. The demographic isn't crystal clear for this frame and it kind of ends in between the different lines of racquets. Not so Prestige-like in my opinion, but not a bad racquet by any means. Just not sure about the identity. I preferred this racquet with HEAD Experimental Tour strung at 53 lbs.
It offers a lot of spin and power, but better control than more Pure Drive-inspired racquets. A good platform racquet for players who like to start with a low static weight and weigh it up to their preferred specs.
Summary
I really believe that the new HEAD Prestige line-up is a significant improvement over the Graphene Touch version. I feel more connected to the ball, the comfort is improved and I think there are quite a few options to suit your game if you are a player looking for control. I personally enjoyed the Mid, Pro and the MP, but the MP had the sweetest feel of the bunch. The ball pocketing was exceptional and although moving to a larger head size was a bold move (although it will annoy some of the Prestige MP fans), it really seems to have worked out well.
If you are an advanced player who likes to feel connected to your racquet on every shot, you should definitely try the new Prestige. A video review to come soon.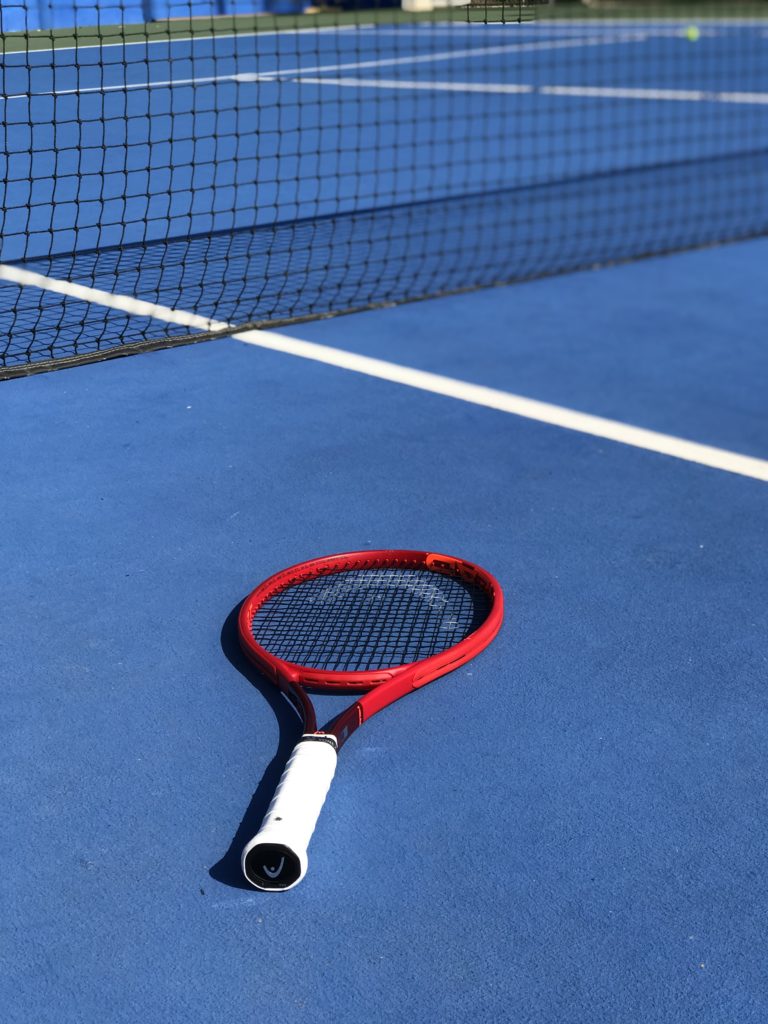 Have you tried the new Prestige racquets? What do you think? 
If you buy a racquet from our friends at All Things Tennis, you will get 5% off and a free string upgrade if you use the code: TENNISNERD at checkout.