A while back I gave my first impressions about this long-awaited frame. Now it is time for the complete HEAD Pro Tour 2.0 Racquet Review.
The HEAD Pro Tour 2.0 is the comeback of a classic. It has the same design as the original, but a stiffer layup. It also lacks Twaron, a material that the hardcore Pro Tour 630/280 fans claim to be the magic ingredient. Despite the lack of it, the racquet plays plush and controlled – very close to the original. Perhaps the most hardcore PT630/280 fans will detect a slightly different feel, but in my opinion, it is very, very slight. I would say that you get a bit more control with the original (the string bed is more dead) and you get more power and a livelier feel from the Pro Tour 2.0.  Considering how much the Pro Tour 630 costs on the used market, this one is the obvious choice if you want to see for yourself what all the fuzz is about.
In short: more than 25 years later, this is still a great racquet. Is it easy to use? No. Do I (and many other players of various levels) play their best tennis with it? No.
The reality is, the sweet spot is small (the racquet is 95 sq inches), the spin potential is decent, but not comparable to most 98-100 sq inch racquets, but the touch, feel and control are divine. If you want to play tennis for fun (without competitive juices flowing) and just enjoy a nice feeling racquet – the HEAD Pro Tour 2.0 is a great choice, but if you have plans to compete, there should be racquets that will give you a bit more for free. At least in terms of power, spin, and forgiveness.
HEAD Pro Tour 2.0 Racquet Review – Specs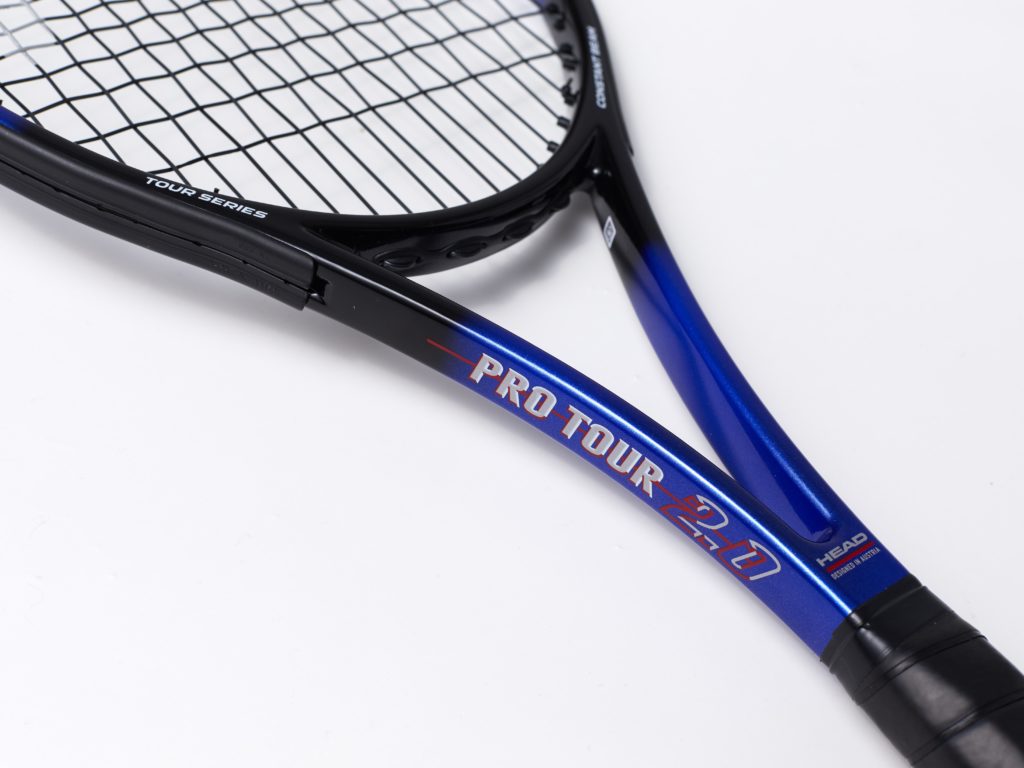 As I mentioned in my first impressions post, all new HEAD racquets come with the rounder pallets these days (TK82S), but the HEAD Pro Tour 2.0 has the more old-school rectangular TK82 pallet. You can always change this on HEAD racquets by buying new pallets and replacing them.
The two string setups I used made the specs differ a bit. I do prefer a hybrid setup in this racquet, but even with a full bed of poly, it's not harsh.
HEAD Velocity MLT
1.25 mains (25 kg and Luxilon Alu power
(24 kg) 1.15 crosses: 339g, 32 cm, 327.5 SW.
HEAD Hawk Touch Red
1.20 (23 kg): 341.8g, 32.2 cm, 332 SW.
As you can see, the gauge and material of the string can impact swing weight quite a bit. This is good to know.
The other HEAD Pro Tour 2.0 specs are:
Head size: 95 sq inches
Beam: 20 mm
Weight: 340g strung (depending on string)
Stiffness: 65 (says TW, I can't measure it)
Balance: 6 pts HL or 32 cm
String pattern: 18×20

How does it play?
This racquet is all about control and feel. If that are the key components you're looking for – it is a must-try. Still, there are things to consider. The swing weight is pretty high, so you need to be an advanced player to get the racquet moving. And when you do, the sweet spot is still pretty small, so you need to have quick feet and eyes. This racquet is simply a stick for more advanced players. It is beyond my wheelhouse to use effectively in matches unless I'm on my game.
If I would compare to other racquets in the same category, I think it offers a bit better control than the Prestige MP, but that the new MP is more forgiving. The sweet spot size is similar to a Prince Phantom 93P. Pretty generous for its head size, but since the head size is small, it doesn't compare well against most 98 sq inch racquets and above.
This racquet is plusher than the Dunlop Srixon CX 200 Tour 18×20. The Dunlop offers a bit more free power and a slightly larger sweet spot,  but the HEAD feels nicer.
Who is it for?
This racquet is very versatile in the hands of the right player. You feel very connected to it and you know exactly where the ball will go. It doesn't give you a huge serve or groundstroke – but it gives you exactly what you put in. If you're Tommy Haas or Andy Murray, that's great. For most of us, we need a little more help.
Still, this HEAD Pro Tour 2.0 version is easier to use than the original. You get a bit more free power, the swing weight is lower and the string bed is livelier for more spin. I think they did a good job of getting it more player-friendly and ready for a modern game without killing that vintage buttery feel.
You need to be an advanced player to benefit from this racquet. That cannot be said enough. If you are, it's still great. The classic returns and it's still a classic.
You can buy this frame from Tennis Warehouse. The Tennisnerd video review of this frame will be published tomorrow evening at 8 pm CET.
Have you tried the new HEAD Pro Tour 2.0? What do you feel about it?