I had never tried the first edition of the pro staff 90 before, so it was high time for Wilson Pro Staff Tour 90 Review.
The Wilson Pro Staff Tour 90 is pretty much synonymous with Roger Federer. This was likely the racquet he used until 2013 when he switched to the Pro Staff RF97 Autograph. He used it under various paint jobs: nCode, the k-Factor, the BLX, and the Amplifeel. I have tried all the retail versions, but this is the first time I play with the Wilson Pro Staff Tour 90 and for me, this is the best one. Perhaps because it's the closest one in feel to the legendary Wilson Pro Staff 85.  So it was a lot of fun to do this Wilson Pro Staff Tour 90 Review.
The Wilson Pro Staff Tour 90 was the racquet/paint that Federer used when he won his first Wimbledon title in 2003 and I think he stayed with that mold. But let's go through, briefly, how the different models of the Pro Staff Tour 90 played. I am also keen to hear which one was your favorite.
The Pro Staff Tour 90 – A legend in tennis racquets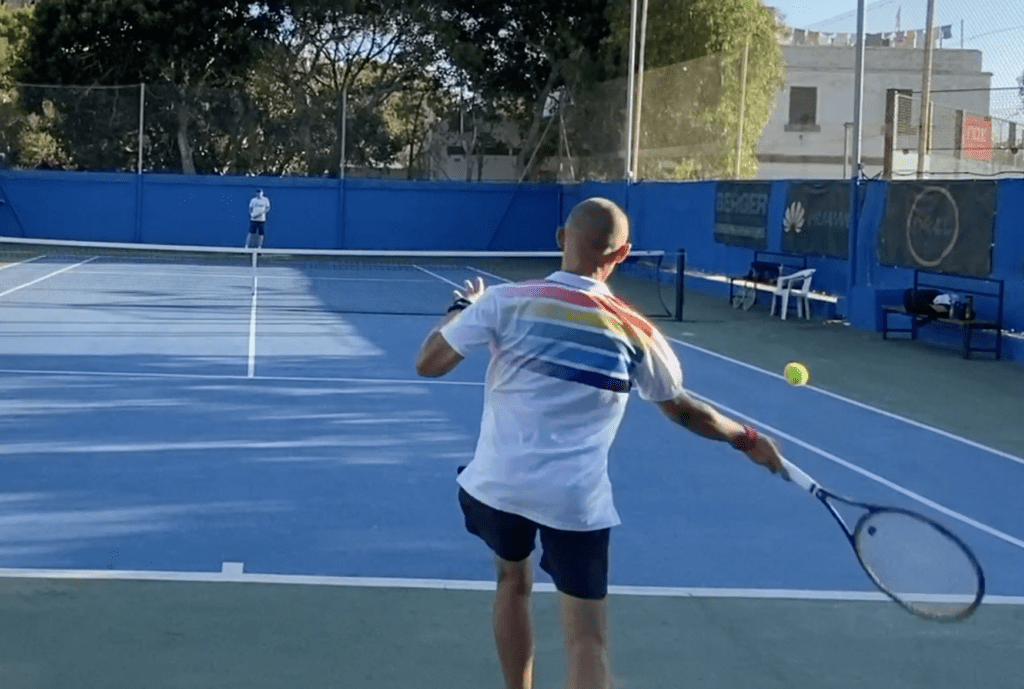 The nCode was a bit more muted in feel and lighter to swing, the k-Factor was heavy and stiff but offered a good amount of power, the BLX was again a bit lighter and muted and the Amplifeel version that Federer won the 2012 Wimbledon title with was again rawer, but with a lower swing weight and the most user-friendly version.
I haven't hit the Pro Staff 90 in a few years and I was keen to take this one on court. I bought it used and it was strung with a synthetic string that had likely been in the racquet for years. I had no time to restring it before my first session, but I actually preferred it with the synthetic gut over the multifilament/poly hybrid I installed after this session.
The Pro Staff Tour 90 has a razor-thin 17 mm beam, perimeter weighting system at 3 and 9, a braided graphite and kevlar construction for stiffness and stability. Mine was grip 2, so I added a half-size shrink sleeve to get the size up to 2.5. At first, I tried adding a full size to get it to three, but then the racquet came in at 367 grams and that is a bit much so I removed it and put on a half-size. I strung it up with Mayami Tour Hex 1.23 in the mains at 53 lbs or 24 kg and Tecnifibre Triax 1.38 in the crosses at 25 kg or 55 lbs.
I played nice, but I liked the pocketing and feel better with the synthetic gut and I would have preferred a full bed of Triax. This is not a knock the Mayami Tour Hex string, which is one of the best polys for my game right now with excellent tension maintenance.
My strung specs were: 360g, 31.4 cm balance, and 337 swing weight. Yes, not for the faint of heart. Below are the specs from prostocktennis.com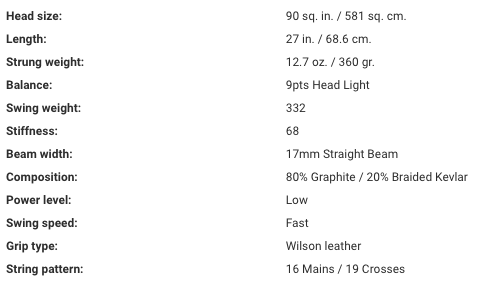 How does it play?
This racquet is a dream to hit with, but it won't forgive your sloppy footwork or lazy preparation. If you bring your A-game, the racquet delivers in spades. It's the best Tour 90 I've hit with and if you want the feel of the Pro Staff 85 in a slightly bigger head size, I think this is the one. So as long as you hit the sweet spot, you're gold with this frame.
It almost made me want to call Roger up and say: Why did you ever switch? But then I remembered I don't have his number.
When you're hitting your forehand well you can create really impressive angles with this frame. And it rewards you with great control, but some pop too. On my weaker backhand wing, I struggled a bit more to find the sweet spot. Despite Roger being a true tennis black belt, I could see why he would struggle against Rafa with this head size. Shanking is very likely when you get high balls on your weaker wing. But if you move around and protect your backhand, it provides surprising maneuverability.
I miss the mids. You can still play great tennis with them. Sometimes I would love it if they restricted head size to 90 sq inches to make tennis a bit more difficult for the pros. It would definitely create some entertainment in my mind.
I have played the IG Prestige Mid and the Pro Staff Tour 90 side by side and they're both great in different ways. The Prestige is more controlled, softer in feel, while the Tour 90 is more powerful and raw.
I could take this into a tournament just for the fun of it. It would look like a brilliant idea on a good day and a ridiculous idea on a bad day. It shines a mirror on your tennis game. If you're Roger, you can win 16 slams, if you're a happy tennis nerd, you can just appreciate the beauty of a real tool on the court.
Which Pro Staff 90 is your favorite?