The Wilson Six One 95 is one of the most iconic racquet lines in history and it deserves a classic racquet review. Have you used this legendary racquet?
What started with the Wilson Pro Staff 6.1 Classic 30 or so years ago, is still going strong among both club players and pros today.
The Six One 95, in one of its many iterations, is still one of the more popular racquets on the men's pro tour as it came in at a high weight but head-light balance from the start and required minimal customization to also be playable on higher levels.
The Wilson Six One 95 through history
The Pro Staff Classic that started it all came in two string patterns and that kept going until the line was discontinued in 2015-16. When it came back in 2017 as a reissue, only the 18×20 string pattern survived. Probably due to the nowadays more limited target group for heavy 95 sq inch racquets. I would also assume that the tighter string pattern was always the bestseller of the two.
This racquet in various iterations is used by players such as: Juan Martin Del Potro, Philipp Kohlschreiber, Kyle Edmund, Dan Evans, Roberto Bautista-Agut, Dusan Lajovic and many more.
In this video review, I use the K-factor edition
(still available on Amazon and TW). It is my second favorite after nCode Six One 95, which was my first real player racquet. Let's go through them briefly. If you want to add details or your own opinions about these racquets, please do so in the comments below.
Wilson Six One 95 Generations
Most of these frames are very close in specs, so it is mainly a matter of feel.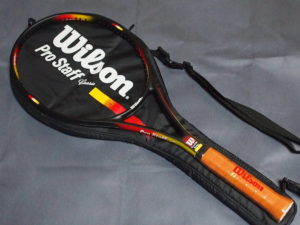 The Pro Staff 6.1 95 Classic – A really raw frame with a lot of feedback and connection to the ball. Many racquet nerds love this one the best.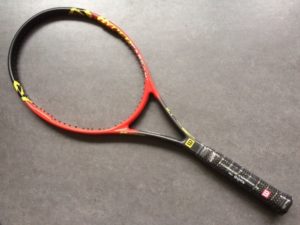 Hyper Pro Staff 6.1 95 – This one played pretty similar to the original, but with a slightly lower stiffness and more muted feel. This is Del Potro's choice.
nCode Six One 95 – The nCode version is the plushest and best feeling edition in my opinion. It also has the lowest stiffness.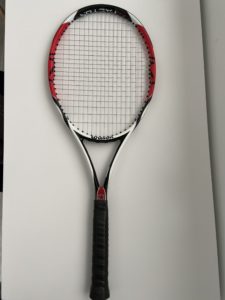 K-Factor Six One 95 – This is the stiffest and most powerful of the bunch. It might not be the best choice for sensitive elbows and wrists, but it does pack a PUNCH.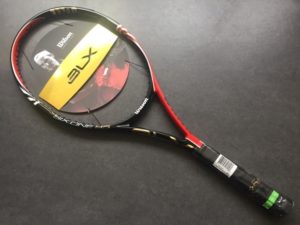 BLX 2010 edition – The BLX version also offered a nice feel, despite the higher stiffness it also had a more manageable swing weight.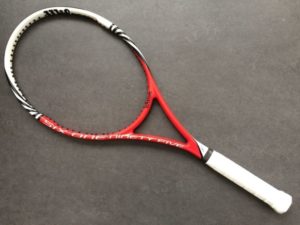 BLX 2012 Amplifeel edition – the so-called Candycane was not my favorite stick of the bunch. It had a higher swing weight and a little bit stiffer feel than the BLX.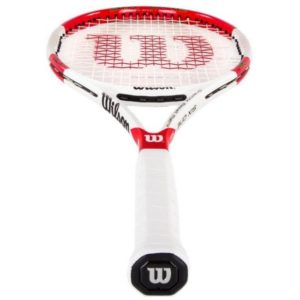 The 2014 parallel drilling edition. The idea with the parallel drilling technology was to increase the sweet spot. Not sure it worked, but some players have reported a slight increase in forgiveness.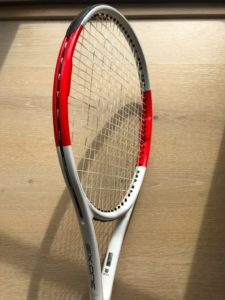 The reissue of the parallel version came in 2017 with inverted white/red colors.
Wilson Six One 95 Review
That is pretty much the lowdown of the different versions. I appreciate most of them, but the nCode is my favorite. If you want to try the feel of a Six One 95
, don't worry too much about which version you go for. They all play pretty similarly and which you like best is a matter of taste.
Wilson Six One 95 Unstrung specs:
Head: 95 sq inch
Length: 27 inches (there are XL versions)
Beam: 22 mm
Stiffness: 67-72 RA depending on the version
String pattern: 16×18 and 18×20
To review any of the Six One 95 racquets, I would say it is a model for advanced players who like to attack the ball. You need solid technique and footwork to really benefit from this racquet. But if you have the game and are playing well it gives you a beautiful blend of power and control, meaning you can attack the ball with confidence.
I really enjoyed it on serves, volleys and approach shots. Rallying with it form the baseline can be demanding, as the head size and string pattern isn't very forgiving, but when I was moving towards the net or hitting flatter shots, I felt very comfortable and got great results.
This is not a racquet for players who rely heavily on top spin, but more for flatter hitters looking for great control, but with some added pace compared to other control-oriented racquets, like for example a Prestige.