Henrik "Hank" Wallensten is back. This time with a Babolat Pure Drive 2020 Review. Yes, the new Pure Drive is here! Word over to Henrik.
I have a strong memory of my first contact with the Pure Drive. Back In 1996 at a sports-business-fair in Jönköping, the importer of Babolat in the Scandinavian countries showed some new racquets. Babolat was up until then, "only" know for their superior natural gut strings and exclusive multifilaments. The new frame at display had an unusual shape, and it felt so good in the hand.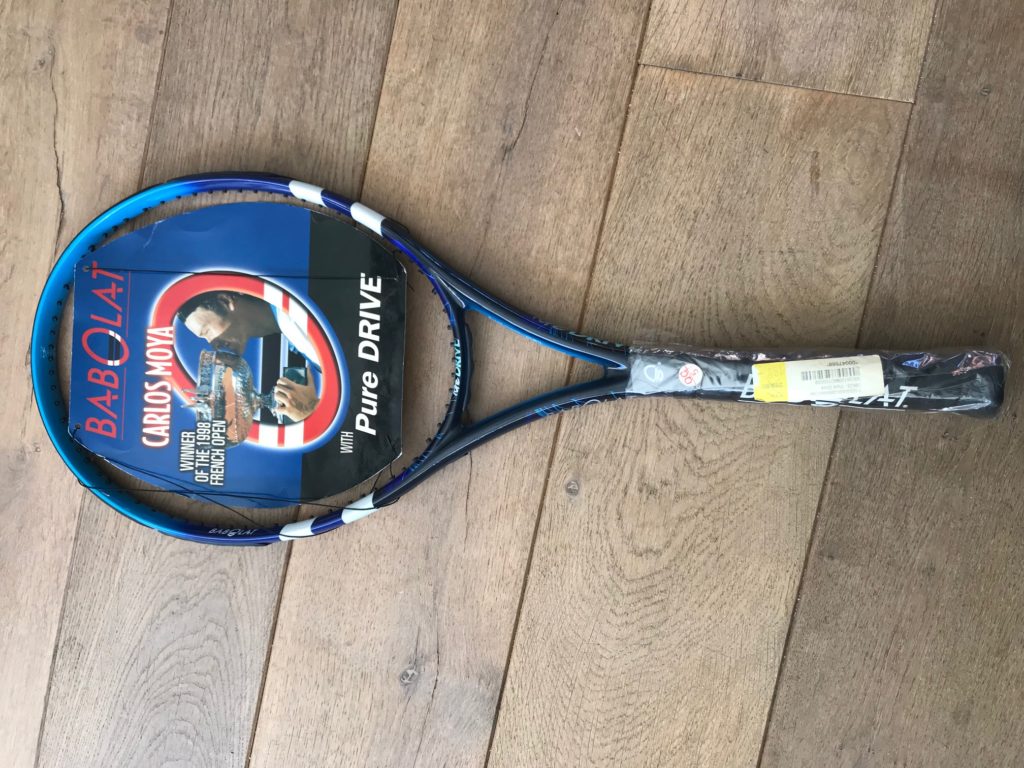 The first Pure Drive was not something brand new, though. The mold of the Pure Drive was pretty much an old(er) Pro Kennex Destiny-mold that Pro Kennex sold to Babolat. The first Pure Drive had an attractive price-point. Almost half price compared to its competitors, and it started to spread pretty fast, at least here in Sweden. I bought 6 of them. It had an open string pattern, and at the time, I strung my frames extremely tight at 30 kilos or 66 lbs. My Kirschbaum-strings lasted about 60 minutes of play, so I was constantly re-stringing my racquets.
The next step in line for Babolat was a couple of years later when the PD "Swirly" came out (no called Swirly by Babolat, just a common nickname at forums), and now Babolat added woofer-grommets. This was the first Pure Drive launched in the US. It also had a bit tighter 16/19 string pattern for more control. The Pure Drive team came out as next in line, and that was the last frame without cortex. An excellent frame that I still have two frames of and use in match-play to this day. Then came Cortex. The much-debated dampening system that was said to reduce vibrations in the throat of the frame.
A new model of Pure Drive then came out every 2 to 3 years, and by each model, the feel of the first Pure Drive disappeared more and more. I'm not saying it is a bad thing, though but some purists still miss that old thick, comfy feel of the first Pure Drive. When Babolat launched the Pure Drive VS, some hope it would be the actual first-generation Pure Drive again, but it turned out to be a completely different frame with a smaller 98 sq inch surface and a thinner beam.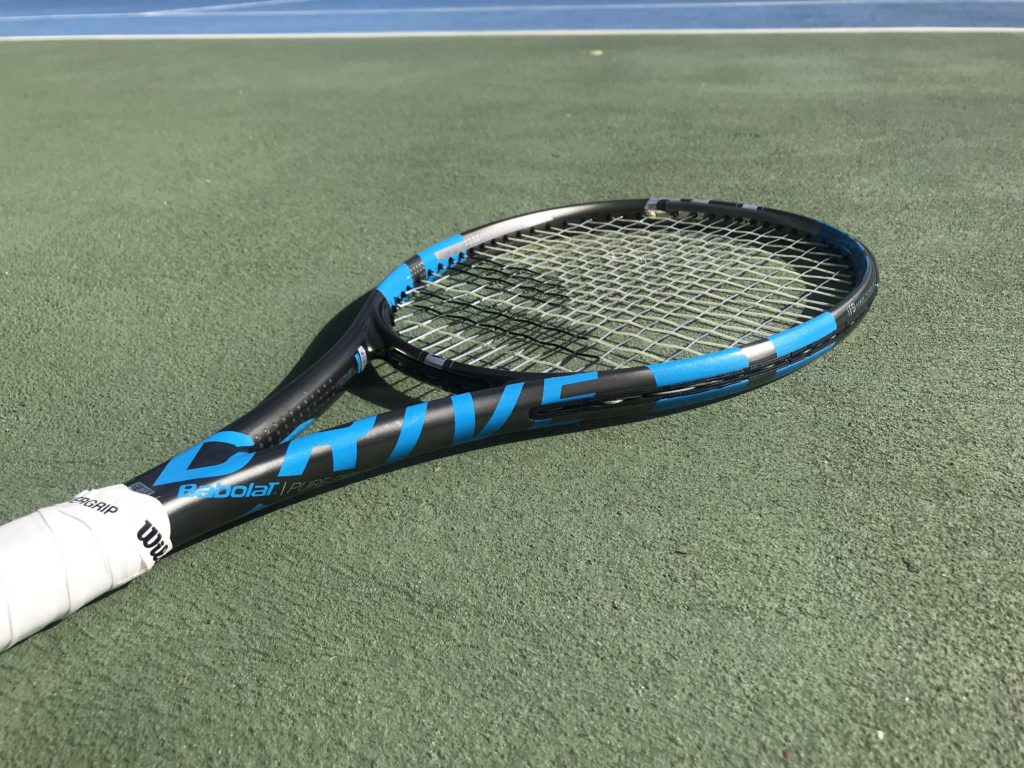 Then came 2020. And what a year it has been. Some say it's like World War 3, but with an invisible enemy. Travel is heavily restricted; tournaments canceled, and everything turned upside down. But at least we got some good news considering new racquets when we heard the Pure Drive launch was still on. Thanks to the Swedish Babolat-importer Racketdoktorn we had the chance to get a sample of the new Pure Drive about a month before the actual launch. That gave us enough time to test the frame before we share our thoughts. We got some video footage as well, and I apologize for the shocking pink shorts featured in the video, but you must remember, image is everything.
Babolat Pure Drive 2020 Review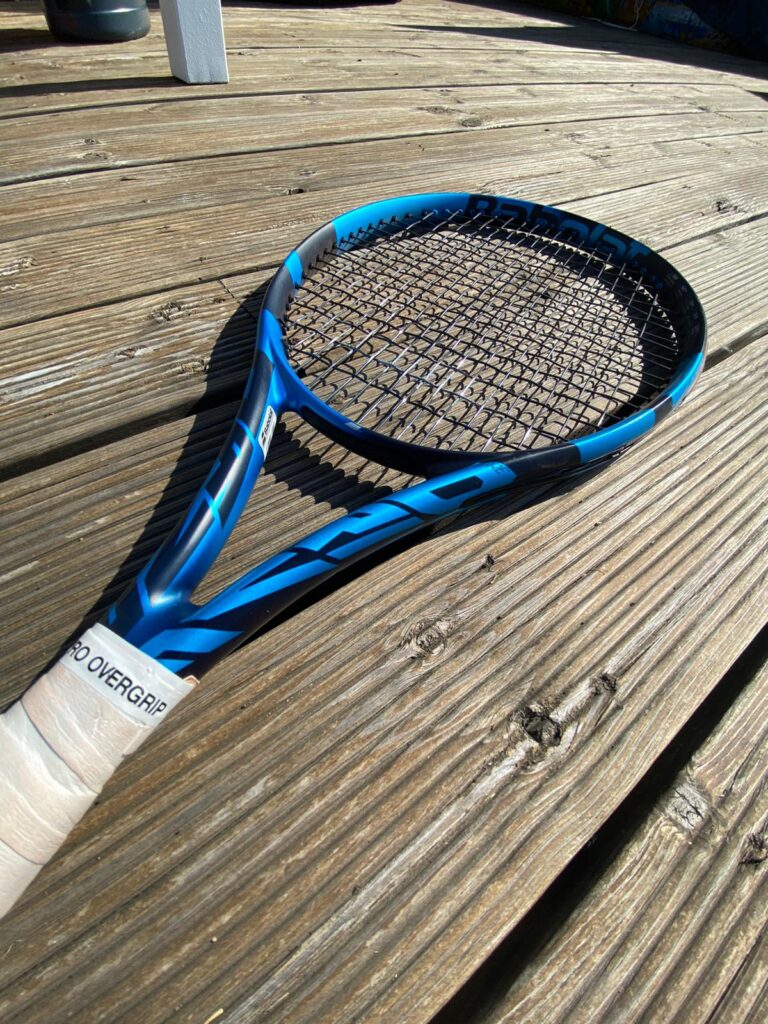 So, how is the new Pure Drive? When I first got it, I must say the design looks outstanding in person. It gives an illusion that the frame is thinner and smaller then it is. "Everyone" thought that it is smaller compared to the latest Blue version of the Pure Drive, but when placed on top of each other, it looks like the same mold and string pattern. The grommet-system of the 2020 version has one update, though. At 3 and 9 on the sides, it seems a fair bit like the first 1997 version. Maybe this gives the frame a tad more stability or provides more room to hide lead under it. I do not know the thought behind that design.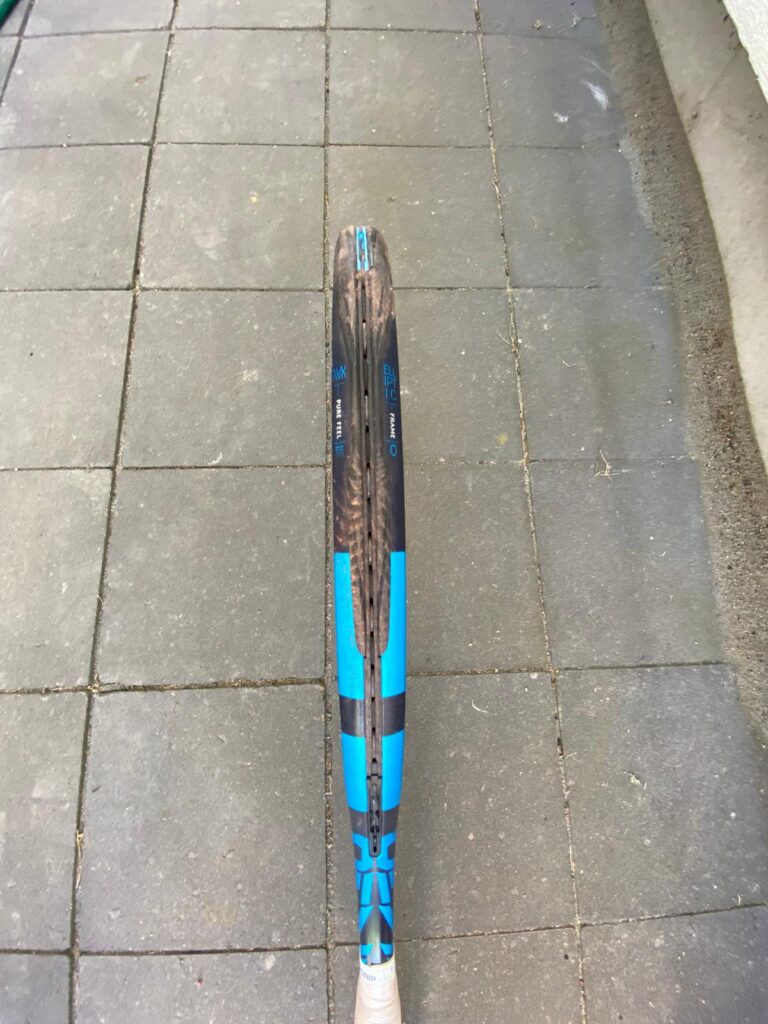 On the frame, there are some tech printed: SWX Pure Feel, Elliptic frame, HTR system, and FSI power technology. Let's look at what they mean from the Babolat product sheet.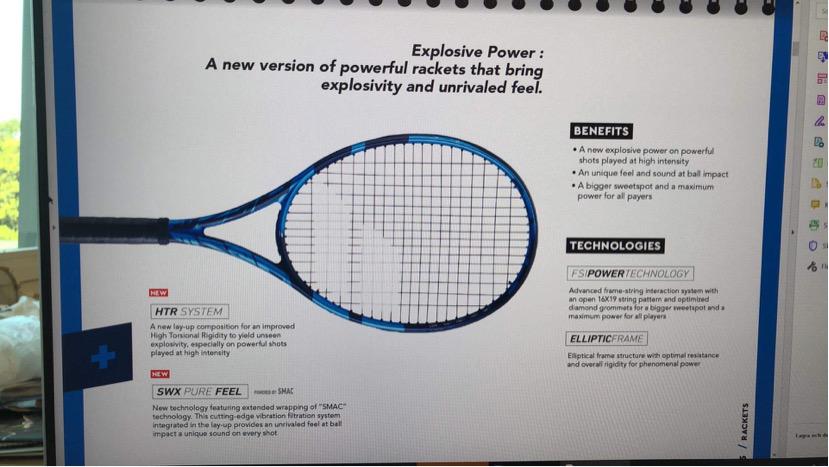 HTR System and SWX Pure Feel are new techs. It says: "HTR System is a new lay-up composition for an improved High.-Torsional Rigidity to yield unseen explosivity, especially on powerful shots played at high intensity." SWX Pure Feel is a new technology featuring extended wrapping of SMAC technology. This cutting edge vibration filtration system integrated into the lay-up provides an unrivaled feel at ball impact and unique sound on every shot."
The sample we got was strung with RPM Blast 16
in an estimated 24 kilos (53 lbs). The printed specs on the frame are (unstrung) 300 grams weight, 320 mm balance, and a 16/19 string pattern. The recommended tension is 23 to 27 kilos (51-59 lbs). I don't have any RA-reading, but a guess is around 69-71 RA. The strung swing weight i s 320.0.
My standard specs of a frame are 315 grams unstrung, 31,5 cm unstrung balance and a strung SW of 325 to 330 so this PD was (spec wise) a tad light by just looking at the specs, but when we try new frames we, of course, test them without any modifications at first (I always add a dampener, so that's not counting.)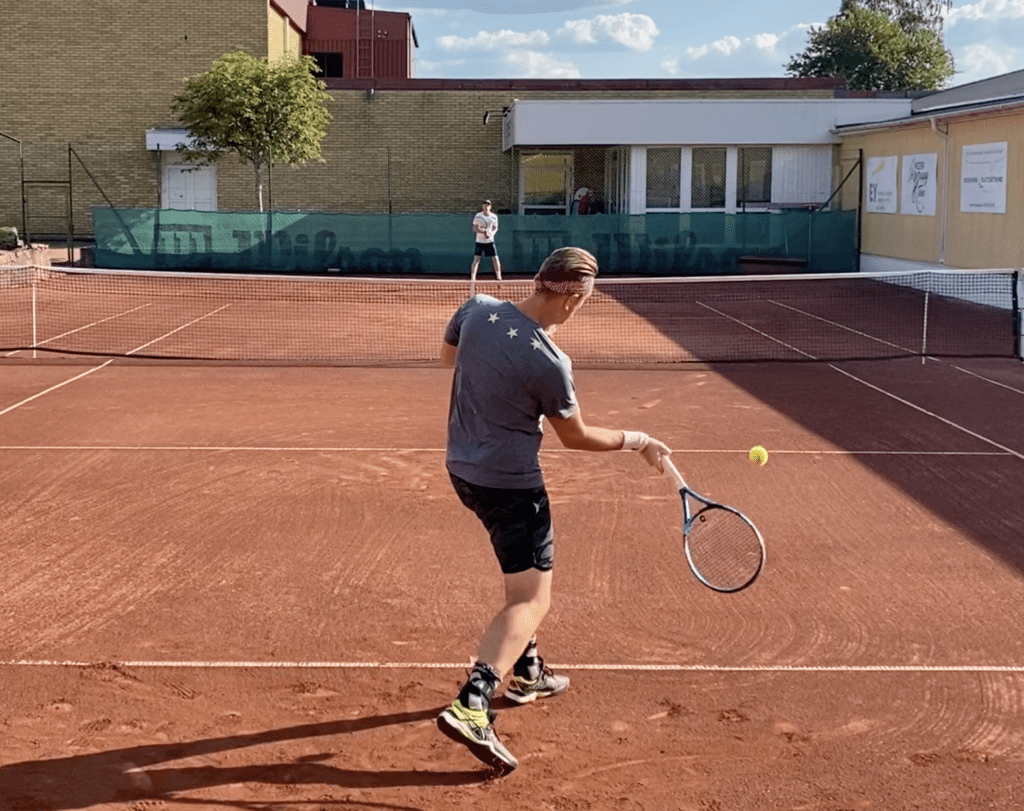 I tried this version against a wide variety of players, from seniors to juniors and a good hit against a top player here in Sweden that had ATP points a year ago (Jonathan Stenberg).
How does it feel on the court? Compared to the 2018 blue version, the Babolat Pure Drive 2020 feels "richer". The ball sinks into the strings better on this version. I get more feel out of the frame. It's also more solid even in stock form. As a bonus, it has a pleasant sound at impact.
From the baseline, I got a good groove straight away. It's after all a Pure Drive and not something completely new. A high launch angle is normal, with an open 16/19 string pattern on a 100 sq inch racquet. This frame will work best for players with heavy strokes and lots of spin and slice. A player with flat strokes needs a higher tension to keep the ball in the court, but it all comes down to technique. I tried a lot of serves and volleys with it, and it feels very solid at the net.
On the serve, I get good pace but most of all good spin on both slice and kick-serves. When hitting flat serves, I would like some more mass in the top to get that little extra "ooommph". Something that 5-10 grams of lead at the top of the frame would help with.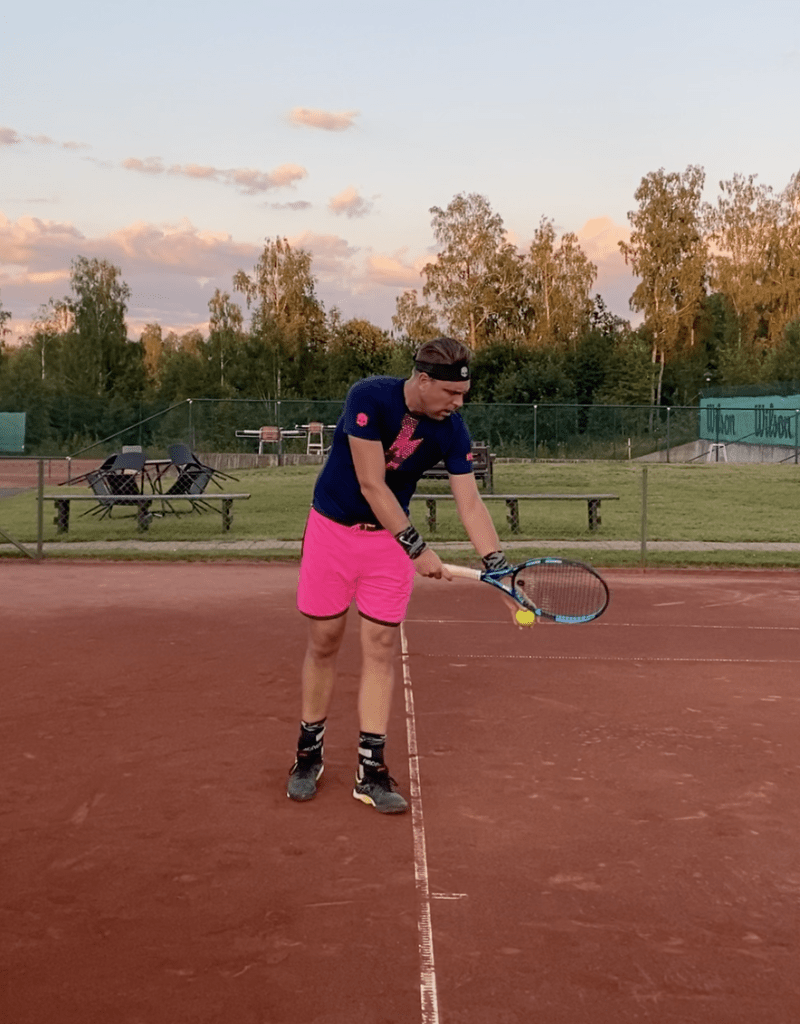 I tend to get golfers' elbow when playing with stiff frames, and that was the case with the blue 2018 pure drive. With the new version, I have not felt any pain or irritation whatsoever in my tender elbow, which is a good sign. Harsh vibrations do not go through to my hand, and that is for me the best update of the new version.
The next step with this frame is to string it with some different strings and try some minor modifications. I will add some lead at 3,9 and 12 and also some silicone to counterbalance it. Maybe this is not needed for most players, but I am very used to my specs and would love to test it at my go-to specs and strings/tension (Solinco Tour bite
1.20 at 22,5 kilos) and see how it plays.
All in all, an excellent update to the Pure Drive! We have to say that Pure Drive is a benchmark in the industry and something that every other company looks at and tries to copy. When Babolat launches something new, there is a great interest, and I'm sure that this version of the Pure Drive will be popular in the hands of a wide variety of players around the world.
Babolat Pure Drive 2020 – Video
The key update is the softer, richer feel and fewer vibrations that will help players with tender elbows and joints. Previous Pure Drive players will feel at home at once with this version, and you do not lack any power or spin. You also get a somewhat more stable response from the frame.
It will be fascinating to see what you guys have to say about this update when you have tried it and PLEASE, comment if you miss any details in this review. Then I will make sure to answer your questions and update them with any relevant information.
Babolat Pure Drive Launch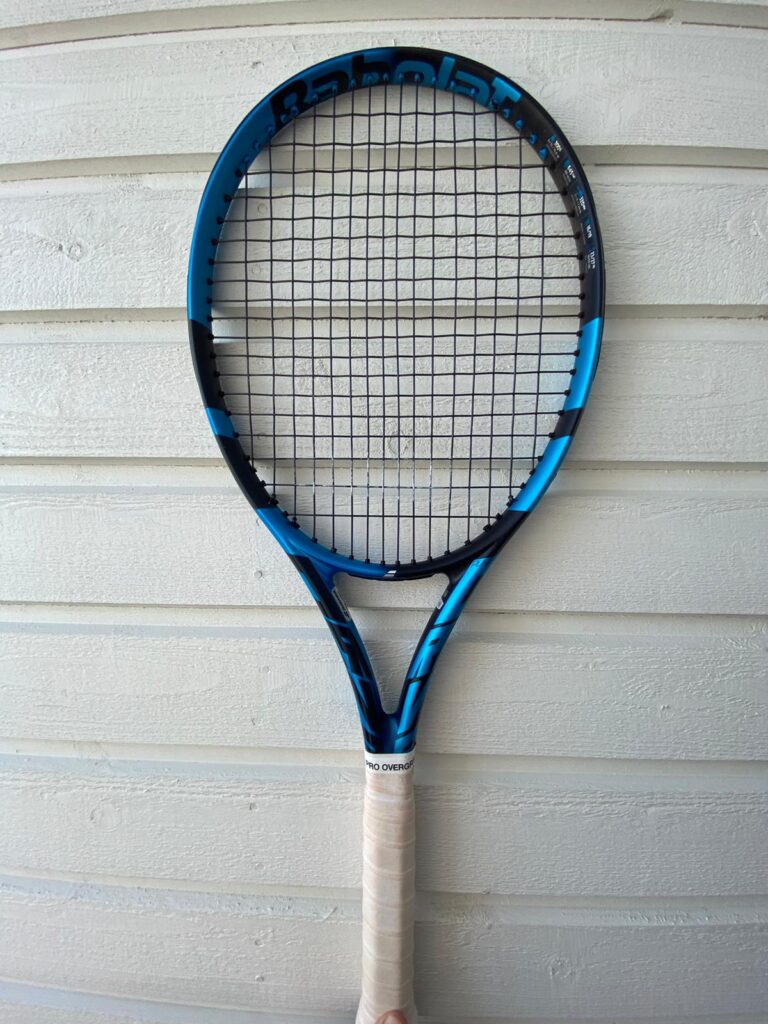 Should be on the 24th of September for Europe. Probably two weeks earlier in the U.S. and Asia.