Dahcor is a new company that creates beautiful custom racquets. I have been following the brand closely and here is my Dahcor racquet review.
Ricardo Dahcor is an entrepreneur who decided to take on the competitive and complicated industry of tennis racquets. His idea: that a racquet is a highly personal choice and that you should be able to customize pretty much any part of your tennis racquet. Through his "Build Your Own" program, you can choose up to billions of combinations (you can write your own signature, choose your color, bumper, grip type, stiffness, frame design and a lot more). Just by browsing the Dahcor website you can't help but be impressed. Still, I was a bit skeptical. It is not easy to create a nice tennis racquet. Yes, it may look nice, but does it play nice?
It is tough to review a custom program because there are so many options, but the team at Dahcor said they would create a racquet based on the specs they thought I would like. After a couple of weeks, they sent me the Dahcor Tennisnerd racquet.
Dahcor Racquet Review
I was very impressed by the way it looked. The racquet felt solid, the paint seemed to be of high quality and it felt very nice in the hand. Dahcor frames come equipped with an NFC reader and each racquet has a unique link with their specs and other information about the racquet – creating a truly "handmade" experience. When I scanned my racquet with the NFC reader I got the following specs: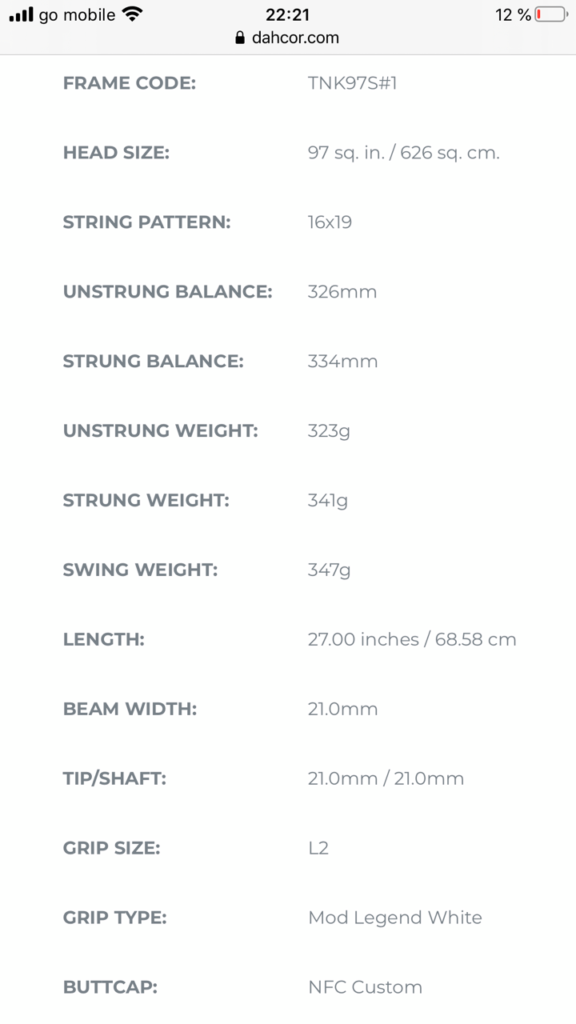 Ricardo must have high hopes about my tennis level because a 347 swing weight is no joke (my HEAD sw machine measured it as 339 so maybe that is closer to the truth, not sure). I don't mind high SWs, but this got me a bit worried that it would be difficult to manuever.  But somehow the racquet moves quite effortlessly through the air and when it contacts the ball it does so with authority.
The racquet came strung with a Dahcor hybrid of two poly strings, Black in the mains and Silver in the crosses. For this test, I also re-strung it with HEAD Hawk Touch at 23 kg since I had never tried Dahcor strings before and wanted a familiar aspect of the racquet.
How does it play?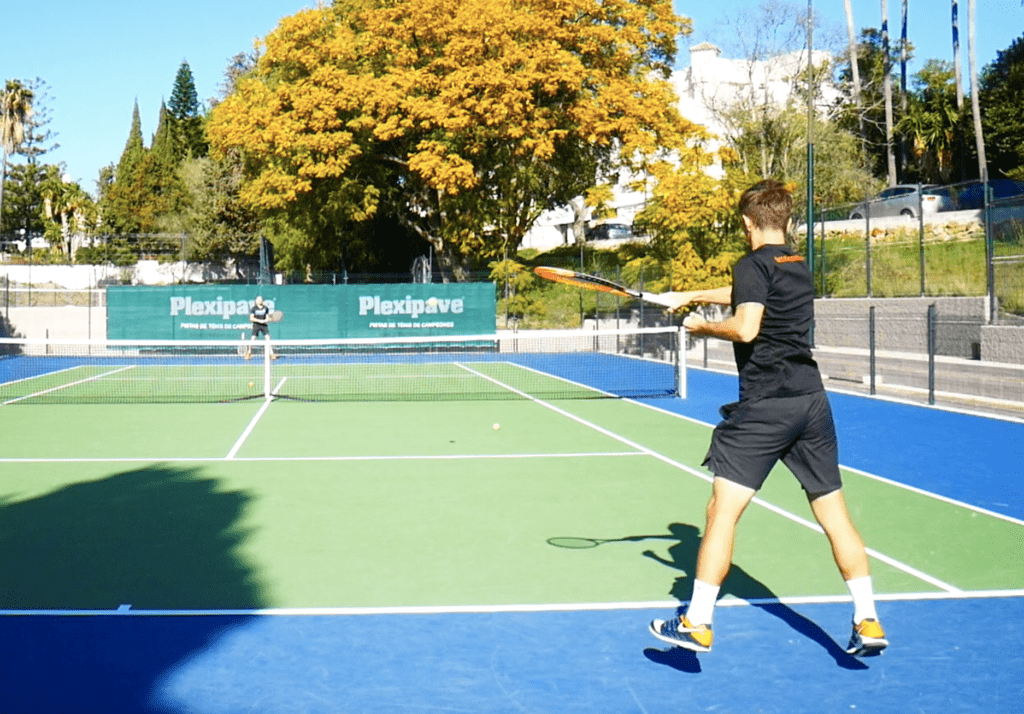 I was not alone in testing this racquet. I have let three better players than myself hit with this stick and they were all pretty positive.
The racquet comes with silicone in the handle, lead tape at 12 o'clock and has a proper "pro stock racquet feel". I really think I could hand this racquet to Tsitsipas or Federer (they both play with somewhat similar specs) and they would be quite comfortable with it from the get-go.
What I immediately noticed was that the racquet really impacted the ball with force, not dissimilar to a Wilson Pro Staff RF97 Autograph, but it felt faster through the air and a bit more comfortable. The lower stiffness does make it a bit less powerful than the RF97A, but I personally don't mind that at all. Less power = more control.
Hitting Hard
Somehow this racquet really begged to be swung fast and hard. I don't know why really. I just had this feeling that I wanted to really blast the ball. And the racquet obliged with some nice winners over and over again. Yes, when I am defending, the weight and smaller sweet spot make it more difficult, but when I am attacking this racquet felt like a winner.
The Dahcor Tennisnerd racquet is made for the attacking player who likes to dominate their opponents. Yes, I got one that is customized to be heavier than the normal K97S spec, but the characteristics would apply also with a lower swingweight. I think it offered a nice combo of abilities: decent comfort (65 RA unstrung so 62 RA strung approx), solid on impact, maneuverable, quite powerful and especially nice on slice and flatter shots.
Summary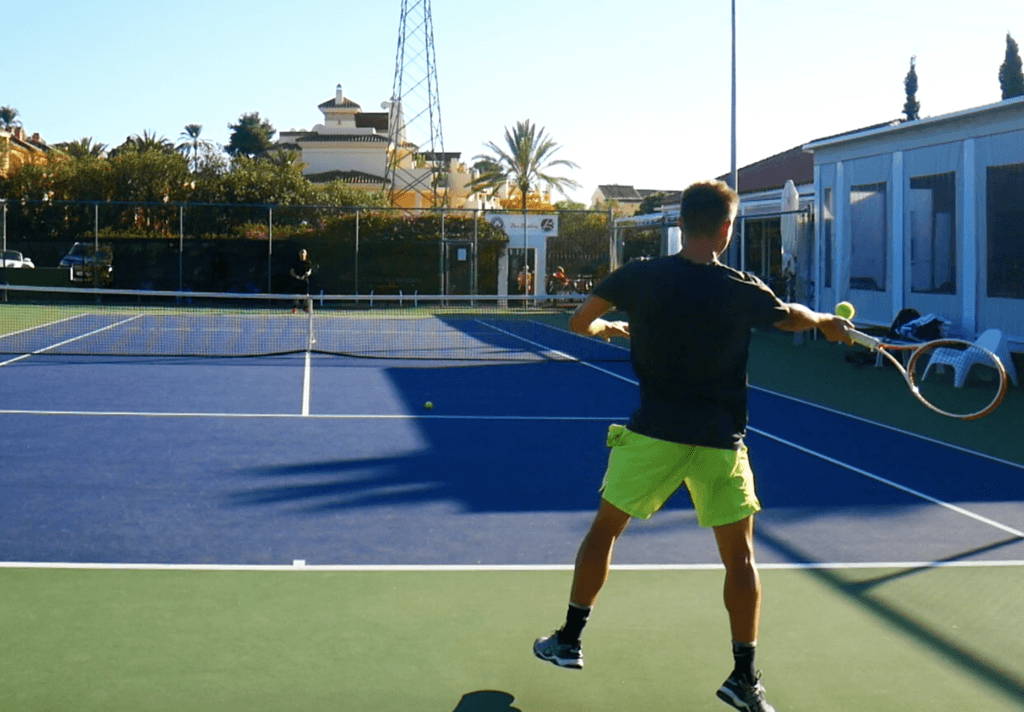 This review left me very positive about Dahcor as this racquet played way above my expectations. Some pros and cons of the K97S Dahcor Tennisnerd racquet:
Pros +
Solid
Precise
Powerful
Great for attacking players
Cons –
Smaller sweet spot
You need to good footwork
Tougher to defend with
I could definitely switch to this racquet for tournament play. I felt it focused my game around my strengths and made me attack the ball more, which is the style that comes most naturally to me. If you like the Pro Staff 97 or the Prestige MP, I think this racquet is definitely worth a test. And the big bonus is that you can get it painted and customized the way you like it.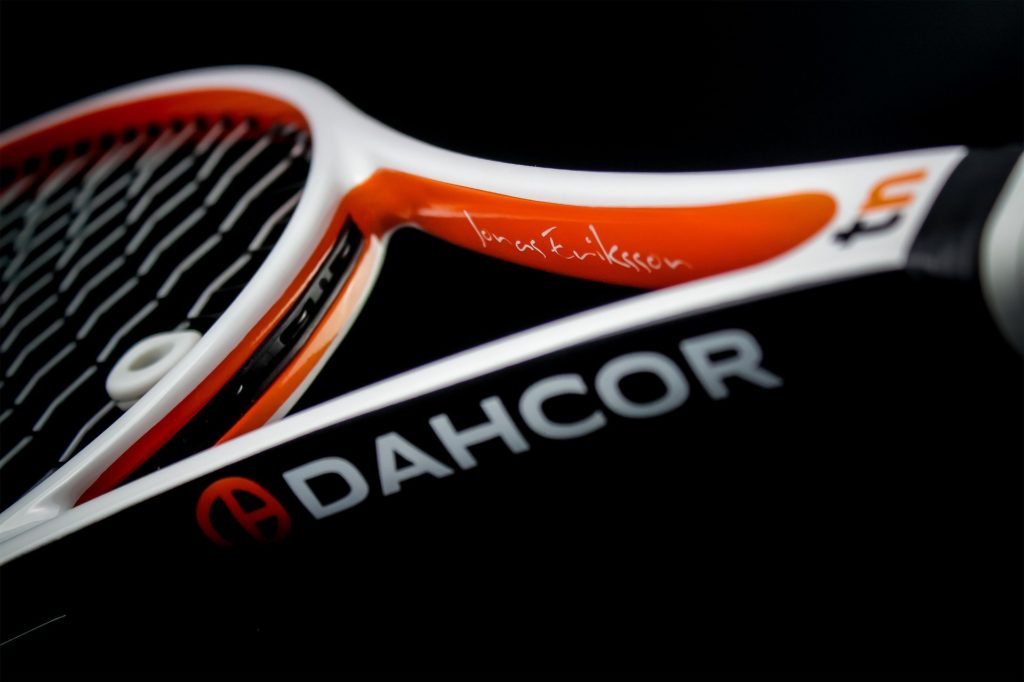 Have you tried Dahcor racquets? What do you think about them? Would you be interested in getting a custom painted frame to your specs? Please comment below.