If you're a racquetholic and watched Wimbledon, you might have noticed Grigor Dimitrov's new racquet. What is it?
I've gotten several messages about it. Everything from players just wondering what it is and also from people who are close enough to "the action" to be in the know. I don't know the specs, but I've figured out that there is not one Dimitrov's new racquet, but rather that he is testing a few options. The one you might have spotted in Wimbledon is a Wilson H22 pro stock, but he is testing some other racquets (Pro Staffs) as well.
Is Dimitrov's new racquet going to improve his game? No, I personally don't think so. It more seems like a symptom that he is not sure of himself and he is trying everything to improve his results. Dimitrov has been a racquet-switcher for most of his career and played with many different models, similar to Verdasco. I would love to sit down and talk to these guys about their affection for testing racquets. They're the most high-profile racquet nerds out there and it would be a fascinating talk. Maybe at some point down the line when they've both retired.
Can the racquet make a difference?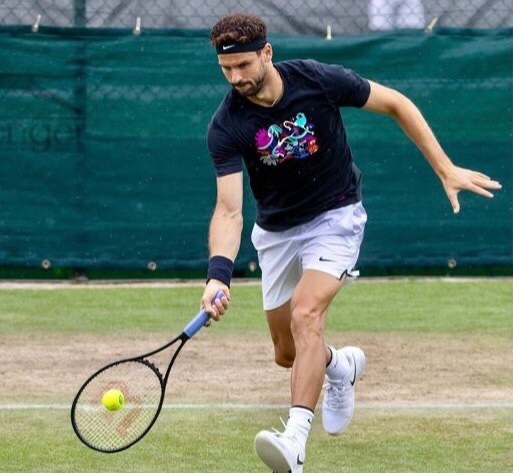 If you read Tennisnerd, you know what I think about this topic. Of course, it makes a difference! But an endless search after perfection if you're a competitive player, can detract from working on other things in your game. In Dimitrov's case, I think a new coach focusing on mental tennis would be the most useful. He seems to have everything in his game technically and physically, so what fails him is either the strategy or the mental strength. It would be interesting to see what happened if he tried to play more like Federer for example and go after the ball more. That's what he did in his youth and what took him to this level to start with.
In terms of Dimitrov's specs, I don't think much has changed. It's in the weight range of 350g (slightly below) and with a balance of 33 cm (4 pts HL). He strings it with natural gut in the mains and Luxilon 4G in the crosses.
I love watching Dimitrov play. He plays elegant tennis and has had some impressive results. Maybe he could have done or can do more by switching up other parts of his game besides his racquets? I don't know what is going on behind the scenes but would love to see him playing more aggressively. It might not work in the end, but I think it's worth a serious try.
What do you think we can learn from Dimitrov's racquet story?