Yes, Donnay racquets are still around and should not be forgotten. Here is our  Donnay Formula 100 Octacore Review.
Donnay Formula 100 Octacore Review
Donnay's trademark in recent years for tennis racquets has been various layers of foam to make them arm-friendly. This foam is called Xenecore and will help dampen the impact and also create a solid response.
The racquet I reviewed is also "unibody," meaning it's all in one piece. No pallet or foamed grip. That is also supposed to increase the solid feel.
I would say one benefit of Donnay racquets is their arm-friendliness, and the new Octacore Formula 100 does not disappoint.
It plays with excellent comfort, and I had no issues with my hitting arm even after using a full bed of poly. I tried it with Donnay X Poly 1.25 at 51 lbs and Yonex Poly Tour Pro 1.25 at 53 lbs.
Both strings worked fell in the racquet. I like hitting both the Formula 100 and the Pro One 97 when the tension has dropped a bit, so perhaps starting out around 50 lbs for both could be more sensible.
Average specifications
Head size: 100sq"
Unstrung Weight: 300g
Unstrung Balance: 320mm
Unstrung S.W: 280
String Pattern: 16×19
Stiffness rating: Unknown
Grip: Cushion
Rec. String Tension: 45lbs (+/- 10)
Beam Width: 20/27/24mm
Length: 27inches
How does it play?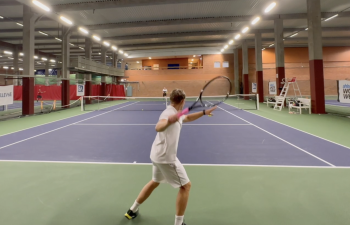 The Formula 100 is kind of a comfortable Pure Drive. It has more flex than the Babolat powerhouse, but still provides excellent force.
Spin potential is good as well, and the racquet feels like it has a relatively large sweet spot.
I might like a slightly denser string pattern for these power racquets, like an Ezone 100, but the Donnay is not a wild racquet by any means. It plays somewhere in between a spin and a power racquet.
The lower stiffness can be felt at times on off-center hits when a stiffer racquet might be a tad more stable.
Summary
Overall, I was very impressed with Donnay Formula, and I have used it beyond what was needed for the play test, which is relatively rare and a positive sign.
I liked the Formula better than the more demanding Pro One 97, but both racquets are excellent.
I much prefer the Octacore line to the Hexacore. I am unsure if it's the Unibody tech or something they've changed in the line-up, but I get better power and a more solid feel with these new Donnay racquets.
I don't get quite the power of Pure Drives or Ezones, but the comfort is much more important for me and I think most players will be happy with that aspect of the racquet.
Donnay keeps being a solid option for players looking for arm-friendly racquets.  I am not sure where you can get these except for the official website—big thanks to Racket1.no, who arranged the demo racquets for me.
I think they ship within Europe at least if you are interested, and the Donnay racquets retail at a slightly lower price than the main brands.