The French Open 2020 draw is out and there are some great first-round matches. Such as Murray vs Wawrinka and Thiem vs Cilic.
When you look at the French Open 2020 draw sheet, you can't help but get excited. There are several popcorn matches already in round 1! The Murray vs Wawrinka match is fascinating in the way that both players are triple Grand Slam champions. Their Head-to-head is 12-8 in Murray's favor. But Murray vs Wawrinka is not the only blockbuster to start the event. Thiem might have a battle on his hands against Cilic (although it's arguably not the best surface for the Croatian ex-top 3 player), and Goffin has his work cut out for him against impressive youngster Jannik Sinner.
Other exciting match-ups include Richard Gasquet vs Roberto Bautista-Agut (who seems to be in great form lately) and Gael Monfils vs showman Alexander Bublik. In short: there is a lot of 5-set clay court action to look forward to.
You can check out the French Open 2020 draw on the official website or have a look at the screens below. Are there any other matches that stand out to you? Please comment below.
2020 French Open Draw Sheet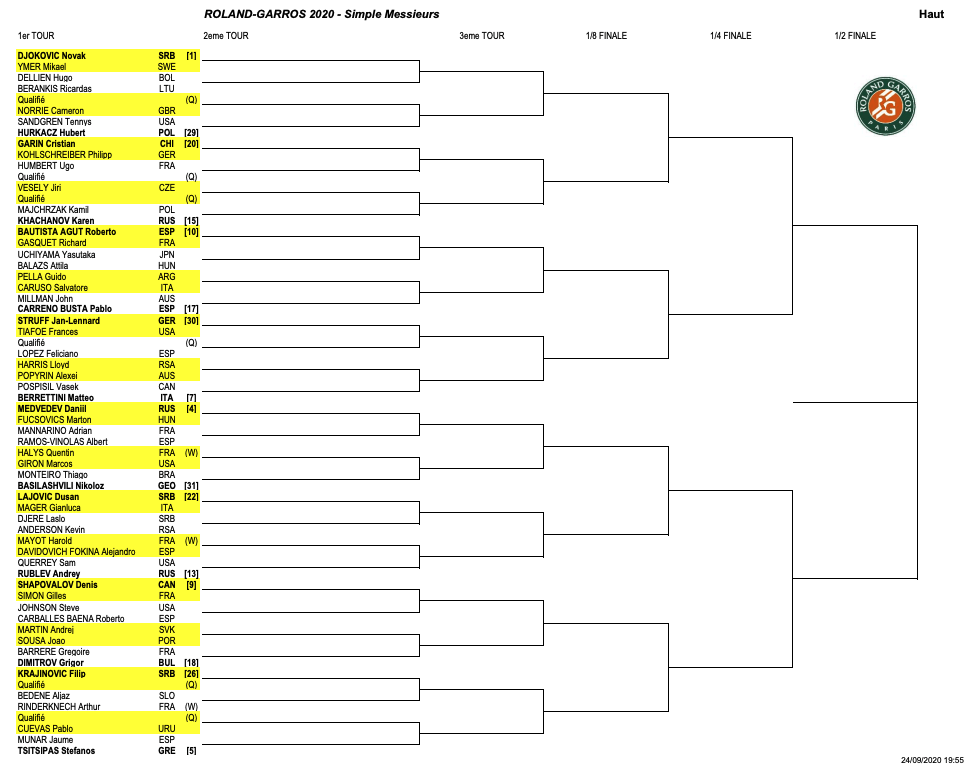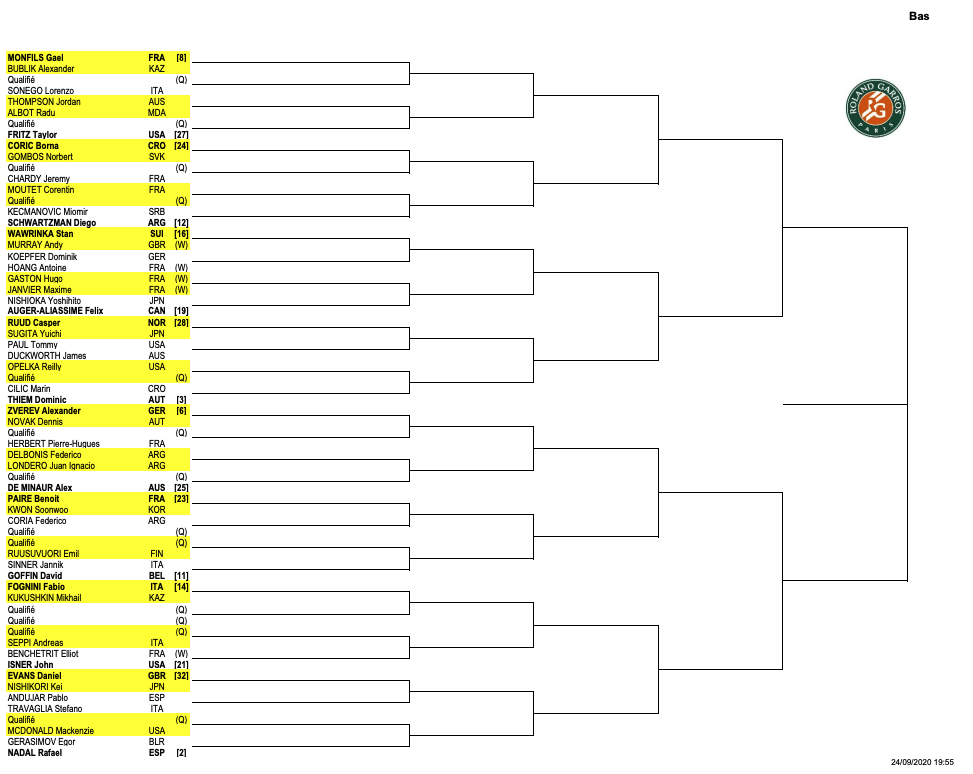 My gut feeling is that this French Open will see plenty of upsets and surprising results. Coming back from the COVID break has not been easy for everyone and it seems like the younger players on tour have gotten out of the starting blocks a bit faster. Tsitsipas did not look great at the US Open, but is finding his form in Hamburg. I am curious to see Ferrer will bring to Zverev's game. Auger-Aliassime doesn't look a hundred percent confident on the clay, but Lorenzo Musetti will be interesting to watch after his impressive Rome tournament.
Older top guys like Fognini, Murray, Wawrinka, Monfils, and Dimitrov, I don't have that much hope for. Their form doesn't point upwards going into the tournament. Let's not even mention Benoit Paire who has had a horrible few weeks going back and forth between COVID positive and negative.
Outsiders like Dominic Koepfer will be interesting to watch. He is a pretty much unknown player, but has shown great results in the weeks leading up to the French Open. Lajovic is another player in solid form. Same goes for Krajinovic, but not at all for Khachanov.
All we can be sure of is that Djokovic and Nadal are favorites and there are not many players in the field that can stop them in the best of five sets. Thiem can beat both on the red dirt, but who else really?