He is known as one of the more frequent racquet-switching players on the ATP Tour. These are Grigor Dimitrov's latest racquet specs.
Throughout his racquet history, from his HEAD Prestige 600 to his Wilson Pro Staff 93 customs and his signature Pro Staff 97S, his swing weight has remained pretty consistent in the 350s. Moreso than his results. We have seen flashes of brilliance mixed with frustrating setbacks. After slumping down to 78 in the rankings he seems to have found his groove on the court again. Is it the racquet? Of course not. But what is his racquet these days?
Grigor Dimitrov's Latest Racquet Specs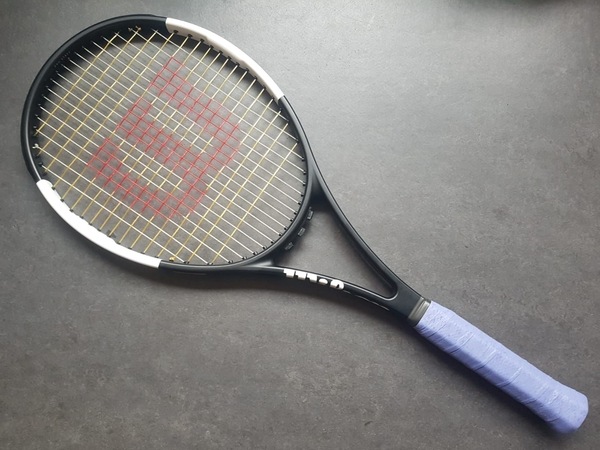 Many of Grigor Dimitrov's racquet have been found on various forums and sites. The latest iteration of the Dimitrov racquet specs can be found on prostocktennis.com (the racquet pics and specs are from there) and is not a revelation of any means. Dimitrov has been using the Pro Staff RF97A (click for my review) pro stock for a while but has now changed the string pattern to his old 18×17 "spin-effect" pattern. Before the Pro Staff 97 pro stock, he used to play with a lower stiffness rating, but now he gets more power from his racquet.
These are Grigor Dimitrov's Latest Racquet Specs:
Head size: 97 sq. in. / 626 sq. cm
Length: 27 in. / 68.6 cm.
Strung weight: 12.5 oz. / 355 gr.
Strung balance: 329 mm
Stiffness: 68
Swing weight: 357
Grip size: L4 (4 1/2)
Grip type: Wilson Leather
+ Tourna Overgrip

String pattern: 18 Mains / 17 Crosses
Paint: Wilson Pro Staff 97 Tuxedo
Silicone: No (epoxy filled)
Lead: No (at least not visible)
Pro stock code: Pro Staff 97 inch mold
Strings: Natural gut
mains and Luxilon 4G
crosses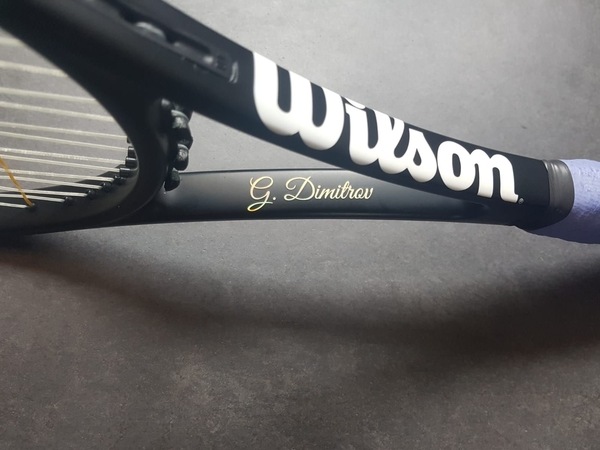 Grigor Dimitrov's Latest Racquet Specs – What do they do for his game?
Dimitrov's racquet journey has been bumpy. He has been looking for his right setup for a long time. Perhaps he has found something he can stick to now. He wanted to increase the stiffness to get more power on his backhand and judging by his results at the US Open – it has worked. The string pattern change from 16×19 to 18×17 is interesting. He definitely feels more at home with the 18×17 and I assume it is because he gets more control that way. The string pattern of 18×17 is obviously quite open, but more evenly spaced.
The racquet setup obviously matters for a pro player of Dimitrov's caliber. Besides his own skillset on the court, it is the one tool he has. And I am sure most of you reading this post can relate to his racquet woes and frequent tinkering. I know I can 🙂
Featured image: News.com.Au
What do you think of Dimitrov's latest racquet specs? Has it made a change to his game? Please comment below.