HEAD is releasing their Graphene Touch line across all racquet models and this time it's the Extreme line who gets the more muted, comfortable feel with HEAD Graphene Touch Extreme MP.
The HEAD Extreme line has always felt like a push towards Babolat Pure Drive and Pure Aero
sticks with a user-friendly, powerful response. I was particularly impressed by the HEAD IG 2.0 Extreme Pro racquet
 which pretty much had everything you're looking for in a tweener racquet and still was rather comfortable. In general the whole HEAD IG (Innegra) line was a hit with their more traditional feel, but obviously the game is changing and Graphene is their way to introduce more stability/stiffness into their racquets.
I previously wrote about the HEAD Graphene Touch series in this post and they've also launched the Graphene Touch Adaptive which allows you to customize your racquet with different string pattern, length and lead inserts (this is nothing revolutionary however, Donnay and other brands have tried this before with limited success).
The HEAD Graphene Touch Extreme MP has the following (strung) specs:
Head Size: 100 sq. in. / 645 sq. cm.
Length: 27in / 68.58cm
Strung Weight:11.2oz / 317.51g
Balance: 13.12in / 33.32cm / 3 pts HL
Swingweight: 325
Stiffness: 64
Beam Width: 23mm / 26mm / 23mm /
Composition: Graphene Touch/Graphite
Power Level: Low-Medium
Stroke Style: Medium-Full
Swing Speed: Medium-Fast
Racquet Colors: Black/Yellow
Grip Type: Head Hydrosorb Pro
String Pattern: 16 Mains / 19 Crosses
Mains skip: 7T,9T,7H,9H
Two Pieces
No Shared Holes
String Tension: 52-62 pounds
So what is new in the HEAD Graphene Touch Extreme MP? Well, a couple of things:
Wider spacing in the string bed, supposed to give more spin.
Lower stiffness (64 compared to 66)
360 Grommet system with larger, funnel-shaped grommets to promote greater string movement (to create snapback = power and dwell-time).
I haven't yet tried the racquet myself, but my one personal concern with the latest trend in racquets like the Wilson Blade with Countervail and the HEAD Graphene Touch is that they're becoming too muted and doesn't give you feedback one where on the racquet face you hit the ball. And this is one of the key things for most players, that the racquet gives you information on how you're playing and where you should hit the ball (and by that I don't mean Babolat PLAY
kind of information, although that stuff is good too).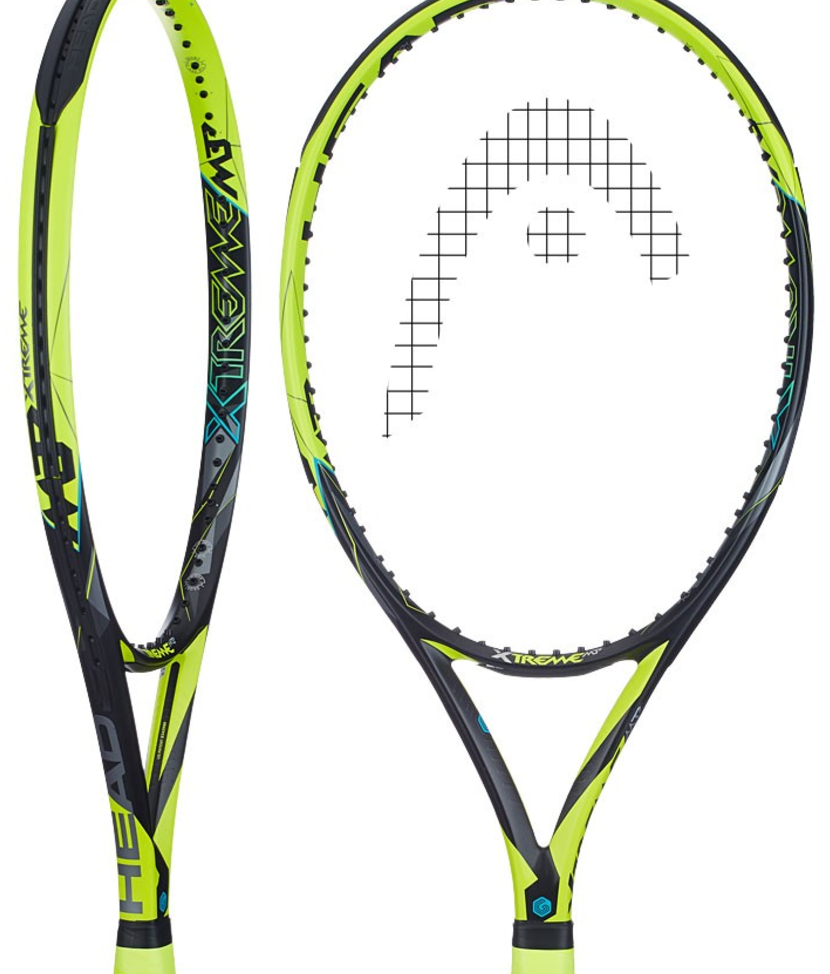 On the other hand, making racquets more comfortable again is a step in the right direction. Pros with perfect technique and good physique can handle most stiffness ratings while recreational tennis players should be wary of anything that can induce tennis elbow or wrist pain and try to create power with legs and torso instead of in the frame. This is highly personal of course, but you need to take racquet stiffness and potential pain into the consideration when you're shopping for a racquet. I've written some articles about the racquet buying process, have a look at the bottom of the article.
To summarize, knowing the HEAD Extreme line, I think the HEAD Graphene Touch Extreme MP can offer something to lots of players. The specs are great for the modern game and with a relatively high swing-weight it packs a punch despite not being a heavy stick. The final note can be made on the design – the HEAD Extreme has never been the prettiest line of racquets and there is nothing here, but I personally prefer the new lime green colour from the usual yellow. Is this a stab in the direction of the Babolat Pure Aero
? Very probably!
Racquet buying guides
Here is a great racquet buying guide to get you started.
What tennis racquet should I buy?
Top tennis racquets to buy right now
The Gear of the Year 2016
Tennis racquets for juniors
Tennis racquets for kids
Places where you can buy the HEAD Graphene Extreme MP and other tennis racquets.
EU
Racquet Depot
Pro Direct Tennis
USA
Tennis Express
Do It Tennis
Amazon.com