The Laver Cup is ready for its 3rd year, this time in Geneva. And like last year, Wilson will release a Laver Cup Pro Staff RF97 for the event.
The Laver Cup is a team competition between Team Europe (blue) and Team World (red). That is why I thought it was weird that last year's Laver Cup Pro Staff RF97 was red (Federer obviously plays for the blue team). But this year he is going to play with the blue paint job. I have reviewed the Wilson Pro Staff RF97 Autograph here if you are curious about that racquet. This is a limited edition paint job of the same racquet, not a new racquet.
The Laver Cup 2019 – Rules and Teams
Below team overview was found on the Laver Cup wikipedia page.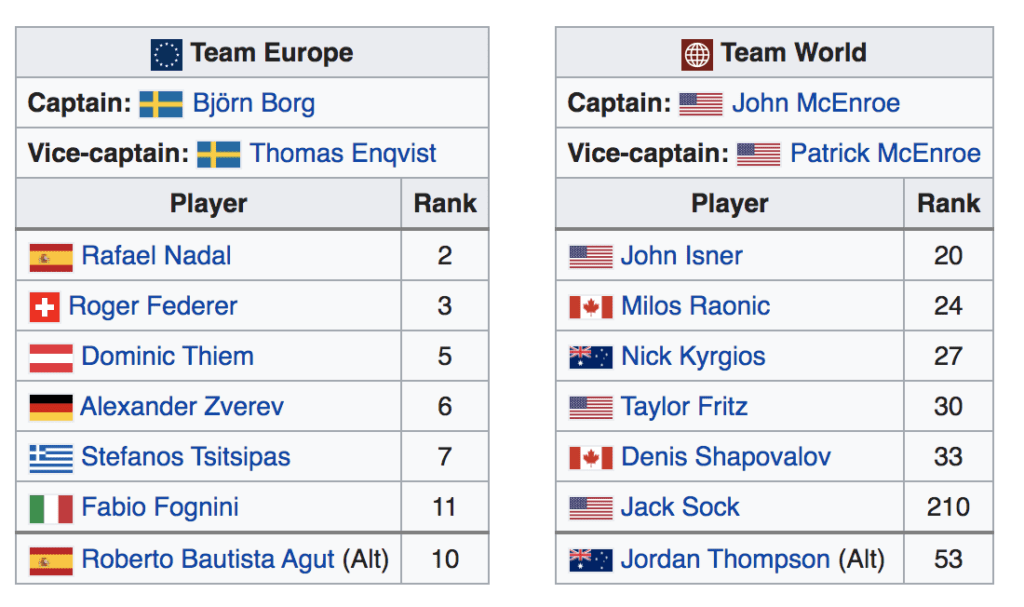 Team Europe has won the previous two editions, but it hasn't been as one-sided as the teams may look. Team World can't match Team Europe in the rankings, but the tournament is played indoors and big servers like Isner, Kyrgios, and Raonic will all love the faster court, which will likely make it closer than what it seems like on paper.
The competition takes place over a weekend and each day they will play three singles matches and one doubles match. Which in total makes for 12 matches. But the point scoring is slightly different to increase the drama and reduce the risk of "dead" matches. Each match win on day 1 is worth one point, on day 2 two points, and on day 3 three points. The first team to 13 points wins. So you can't win the competition before the final day.
The Laver Cup 2019 – Pro Staff RF97
The "Europe" blue Laver Cup Pro Staff RF97 will be sold in limited quantities. Not sure how many will be produced, but the interest around the Pro Staff RF97 Autograph racquet is still remarkably high. and Federer's impact on the game should not be underestimated. The Pro Staff RF97A is a difficult racquet to use, but if you are an advanced player you can really play some amazing tennis with it.
If I manage to get my hands on a Pro Staff RF97 in Laver Cup paint, I will post some pics on the Tennisnerd Instagram @tennisnerdinsta, our Facebook page and perhaps a video on the Tennisnerd YouTube channel.
Pics: from "desmondchan" on Tennis Warehouse forum and the Laver Cup official website.