This Mantis Pro 310 Racquet Review is the first time I try a Mantis racquet. It is a small brand, but I had heard some good things about their racquets.
Mantis Sports is a pretty new company. They were founded by "an ex-tennis professional and global product manager for a major tennis brand" (according to their website) in 2011 and has been creating racquets, strings grips, and more ever since. Greg Rusedski was their ambassador a while back and they have been sponsoring both tennis and squash events. Still, breaking into the tennis industry with giants like HEAD, Wilson and Babolat, is not easy. But there is no reason why smaller brands like Mantis can create nice racquets. Is the Mantis Pro 310 a good racquet? Read this racquet review to find out.
The Mantis Pro 310 Racquet Review – Specs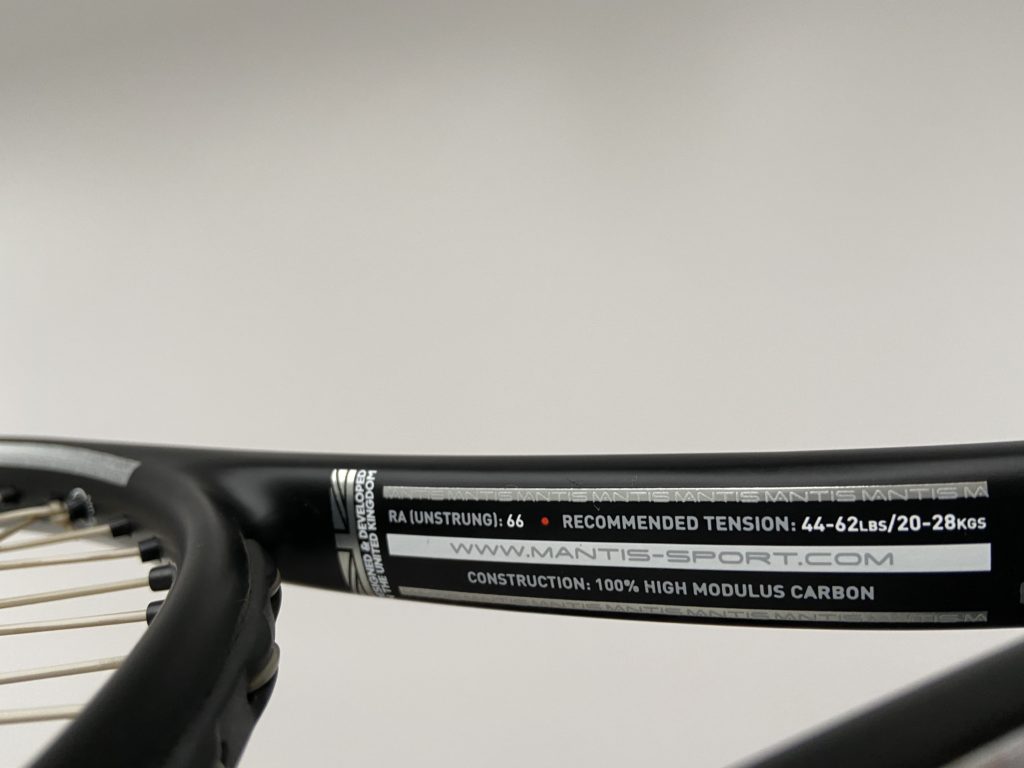 When I got the Mantis Pro in my hands, first impressions were good.  The racquet specs aligned well with the listed specs, the paint job, and build quality seemed high. There simply no apparent reasons why this racquet would be worse than HEAD and Wilson racquets. Mantis uses high-modulus carbon in the construction of their racquets and offers a pallet system to be able to change grip size and shape (the current shape is close to HEAD TK76 pallets – which is very rectangular).
The specs the Mantis Pro 310 are:
Material: 100% HM Carbon
Weight: 310g
Head size: 98 sq inches
String pattern: 16×19
Balance: 315 mm (8 pts HL)
Stiffness: 66 RA
I assume this racquet is supposed to be a challenger to a Wilson Blade or a Babolat Pure Strike. It's definitely in the advanced player category.
I strung up my racquet with HEAD Lynx Tour at 23.5 kg or 52 lbs which gave the following strung specs: 330g, 32.5 cm balance, and 326.5 SW. I think a lot of more experienced players will appreciate this kind of spec.
How does it play?
The racquet offers a surprising amount of power and spin for racquets in a similar spec range. I struggled a bit to control my shots and I also felt like the racquet suffered some stability issues. The grip shape was also something I struggled with at first. I was never a huge fan of the TK76 pallet shape, it just feels too rectangular to me.
So to be honest, after the first hit, I wasn't too excited about the racquet. I decided to add around 4 grams of lead tape at 3 and 9 to increase the stability. On hit number 2 and 3, I started enjoying the racquet a lot more. This is a good lesson – you should always give a demo racquet ample time. It takes time to adjust to a racquet. Sometimes a long time.
Summary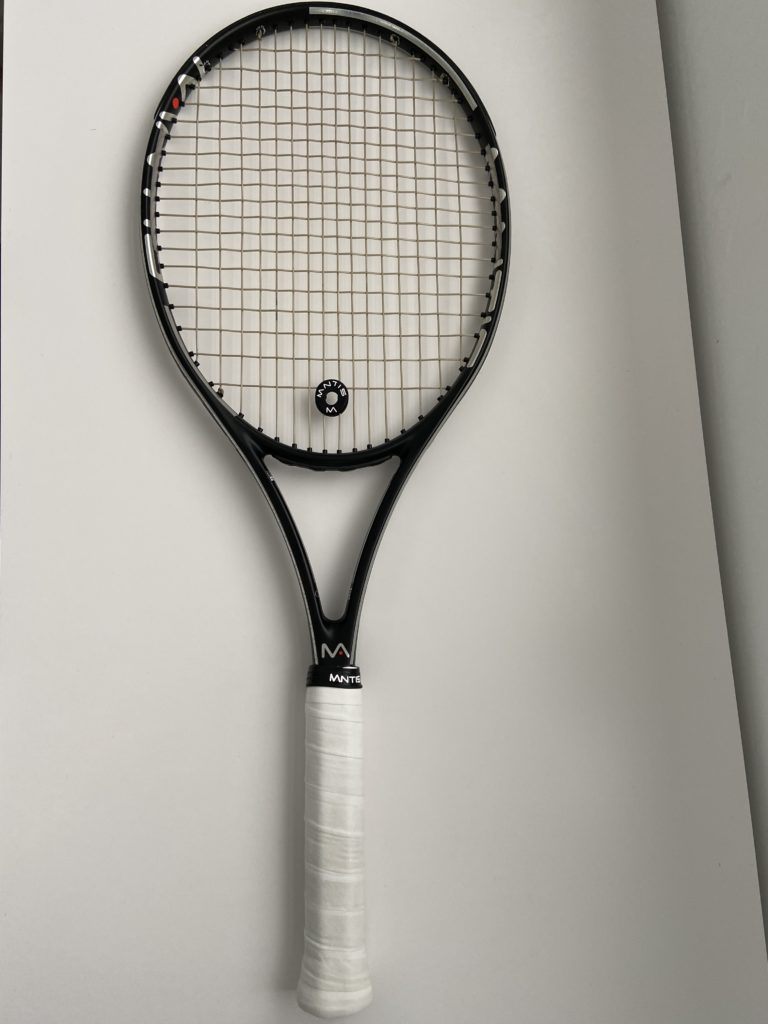 The spin potential with this racquet is good as the pattern is quite open. It reminds me of an Angell K7 Red or Solinco Shadow. It is a little bit too open for my liking, so stringing the racquet a kg or 2 lbs higher helps to control the string bed. The feel is comfortable with a mid-60 stiffness. The racquet is not too crisp or too flexy. The sweet spot feels pretty big for a 98 sq inch head size.
Pros and Cons of the Mantis Pro 310
+ Spin-friendly
+ Good comfort
+ Good power
– A bit unstable
– High launch angle due to the open pattern
After adding lead tape and upping the tension, the Mantis Pro 310 played really nicely. It is definitely a competent frame for advanced players looking for an option to the bigger brands. The price point of Mantis racquets is definitely a selling point. This racquet is currently on sale at All Things Tennis for 119 GBP.  If you use the code TENNISNERD you get 5% off and a free string job.
Have you tried Mantis racquets? Please comment below.