HEAD recently released a new polyester string that has been in the works for a long time. Here is my HEAD Lynx Tour string review.
The new champagne-colored string HEAD Lynx Tour was previously called HEAD Experimental Tour. It is supposed to fill in the gap between the softer HEAD Lynx string and the stiffer HEAD Hawk. It comes in two gauges, 1.25 and 1.30. I would say the playability and tension maintenance is quite similar to Solinco Hyper-G and HEAD's Dennis Fabian even alludes to that string being an inspiration for HEAD in his interview below.
I tried this string in many different racquets and in both hybrids and full beds and in various tensions. In a tighter string pattern – let's say a 95-97 sq inch racquet with an 18×20 pattern, I prefer it as a hybrid with a softer string like natural gut, a synthetic gut or a quality multifilament string like HEAD Velocity MLT
.  Here are some of the racquets I have tried this string in: HEAD Gravity Pro, HEAD Prestige Tour, HEAD Speed Pro, Wilson Pro Staff RF97A Custom, Prince Phantom 97P, Yonex Ezone 98 XL, HEAD Gravity MP Lite XL, Babolat Pure Aero VS XL, Prince Phantom 100X O XL, my customized Babolat Soft Drive and a few more that I am probably forgetting.
HEAD Lynx Tour String Characteristics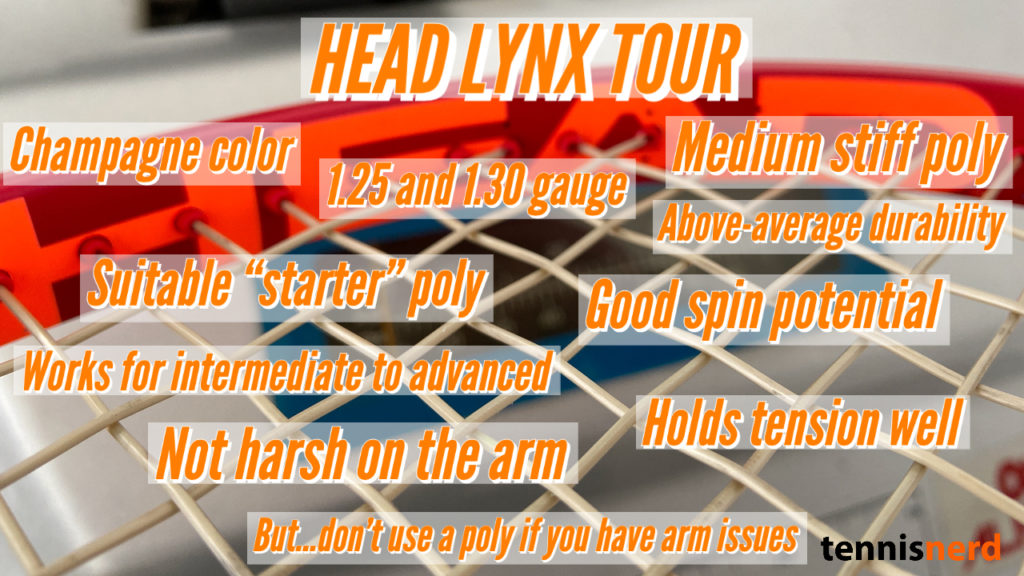 As you can see in the above image, HEAD Lynx Tour is a medium-stiff poly, with good spin potential and tension maintenance. It works for a wide group of players as it is not harsh on the arm, but still gives you the typical control properties of a quality polyester/monofilament string.
But if you have arm issues, I think the best advice is to stay away from polyester strings until you're feeling better.
The string got some extra publicity when Dominic Thiem used it in a hybrid with HEAD Hawk when he won Indian Wells in 2019, but he has since switched to Babolat RPM Power. Perhaps out of brand loyalty or just that he enjoys that string more.
The string is currently used by top junior Jonas Forejtek and is also being tested by many other pro players. We will see who ends up committing to this string on a full-time basis when pro tennis resumes.
HEAD Lynx Tour String Review and Interview
I interview one of the guys behind the string, HEAD's Dennis Fabian, in the podcast below. Dennis talks about the work with the string and other things he is responsible for, like HEAD's 3-in-1 machine and the stringing machine. Dennis has a lot of experience in the industry and as a stringer and the interview is well worth a listen (I am perhaps biased, but anyway).
Below you can also find my video review of the HEAD Lynx Tour string. After testing it for months, it has become one of my go-to strings. I really enjoy its playability and feel and it also looks great in many different racquets.
Have you tried HEAD Lynx Tour? What do you think about it?