My Top 5 Tennis Strings Right Now are all polyester strings, because that is mainly what I use for my own game. But there is plenty of info about multifilaments on Tennisnerd as well.
I got asked a question on my YouTube channel by patron John B. He wanted me to list my 5 favorite polyester strings at the moment. So without further ado, here are my top 5 tennis strings right now.
Grapplesnake Tour M8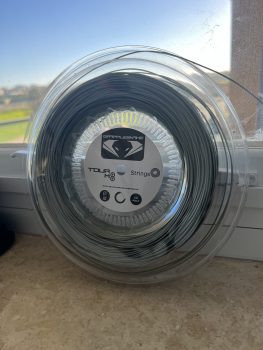 This string took me by surprise when I reviewed it. Despite the 1.30 gauge and 8-sided profile, it played pretty soft and excelled even at low tensions.
I especially like it in more open string patterns like the HEAD Boom MP and Babolat Pure Aero.
You can buy Grapplesnake Tour M8 from the official website. (10% off using this link).
HEAD Lynx Tour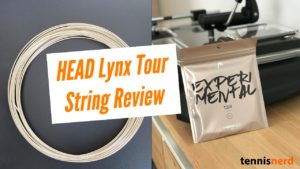 This string is a little stiffer, but at lower tension it plays amazing well and remains playable for a long time. A gem in the HEAD string line-up together with Hawk Touch and Sonic Pro.
Check out my HEAD Lynx Tour review
Buy HEAD Lynx Tour from Tennis Warehouse.
TopSpin Max Rotation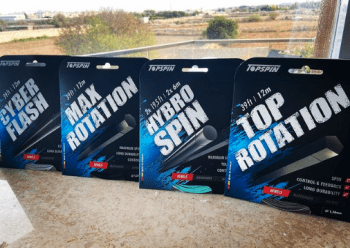 If you want a string that grabs the ball, the 7-sided TopSpin Max Rotation can become your best friend. It's stiff string that offers great control, spin potential and holds tension well. If you have any arm concerns, you should probably avoid it. And stringers will likely not enjoy the sharp profile.
Check out my TopSpin strings review.
Solinco Hyper-G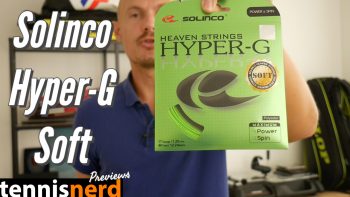 The bright green Hyper-G has been a solid performer in my string arsenal for many years. In recent times, I mostly used Soft version, which is a little more arm-friendly, but I do like both. If you don't have any arm concerns, regular Hyper-G plays great in my opinion. But like with everything, the feel and playability of a string is subjective. To me it offers enough control, spin and a nice sensation on impact, which makes me feel connected to the ball.
Watch my Solinco Hyper-G Soft review
Toroline Caviar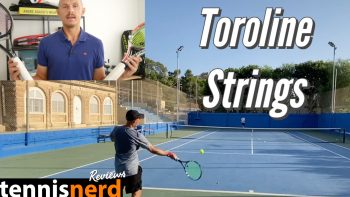 Toroline is a small American string brand that produces some nice strings, but Caviar is my personal favorite. I like bright-colored strings that offer good control and tension maintenance and this one does that in spades. I've used it in various racquets, but like it best in a powerful and spin-friendly racquet like my Babolat Soft Drive.
I don't know where to get a hold of Toroline strings in Europe, sadly. I will investigate this more closely. Here is my Toroline string review.
The rest
There are more strings mentioned in the above video such as Luxilon Alu Power Vibe, String Project Magic, Yonex PolyTour Pro, MSV Co-Focus Hex and Mayami Tour Hex. All good strings for the right player.
What is your favorite string at the moment?