I've been searching for the perfect string now that I've settled on a racquet (more racquet reviews to come shortly anyway) and it's for sure an interesting journey with a lot of high quality polys out there. One of them is MSV Focus-Hex Ultra.
The MSV Focus-Hex Ultra
is a white, co-poly hexagonal string which is supposed to give you a "comfortably firm feel, explosive power, reduced string movement and long lasting tension maintenance with maximum durability". This is what it says on the box. And I'm happy to report that the box doesn't line.
I usually prefer rather dead poly's but the explosiveness of the MSV Focus-Hex Ultra can be quite intoxicating. You really feel the string grip the ball and catapult it towards your opponent with power and spin. The first hours with the string I was a bit hesitant because it felt more powerful than what I'm used to, but once I had settled with it and added some more spin to my swing it felt great.
It really does do what it says: it's firm but comfortable and offers good power and spin. So if you have full strokes and are looking for those characteristics in a poly string, I really recommend to take it our for a swing. As an added bonus it's quite inexpensive at around 75 EUR or 90 USD for a whole 200 meter reel!
It's definitely a string I could see myself switch and I did enjoy it in a thinner gauge (1.20 mm) than what I usually gravitate towards (1.25 mm). The thinner profile will make the string slightly softer, but of course a little less durable.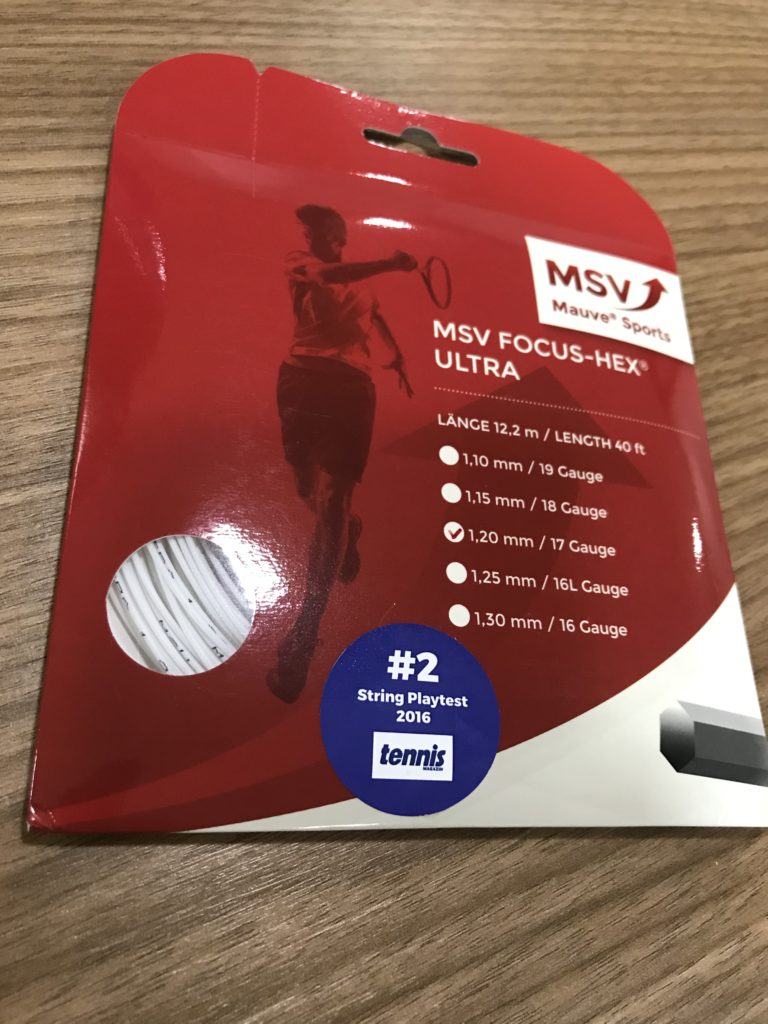 I think for players that keep changing racquets, it can be a little easier to try to find the right string and tension for your stick. It's cheaper, faster and does make a big difference on the playability of your racquet.
The MSV Focus-Hex Ultra was easy to string and lasts about the same time as a standard poly. Tension loss was pretty minimal, but if you want to be able to play a string until it breaks, I'd suggest natural gut. It costs more, but the tension loss is minimal and depending on your playing style it can last long enough to be a better option than a normally rather stiff poly string.
Good job, MSV. Another great poly string on the market making the choice even more difficult.
Below is the video review including footage from a recent tennis match using the string.
***
Do you like Tennisnerd? Don't miss a word or video by stalking us on social media. Every like and follow is appreciated!

YouTube
Instagram
Twitter
Facebook Page
Amazon Influencer
Buy tennis gear
EU
Racquet Depot
Pro Direct Tennis

USA
Tennis Express
Do It Tennis
Amazon.com
Racquet buying guides
Here is a great racquet buying guide to get you started.
What tennis racquet should I buy?
Top tennis racquets to buy right now
The Gear of the Year 2017
The Gear of the Year 2016
Tennis racquets for juniors
Tennis racquets for kids
Popular posts
What the ATP pros play
Questions about pro stock tennis racquets
Is a pro stock racquet better than a retail one?
Do professional players change racquets?
Racquet Commitment Issues