I've now tested four different strings from TopSpin: Cyber Flash, Hybro Spin, Top Rotation, Max Rotation. Here is my TopSpin Strings Review.
This TopSpin Strings Review was enjoyable because all strings were of good quality. They all offer something different for different player types, but I would say these four strings are mainly suited for intermediate to advanced players without arm issues. TopSpin does offer a bunch of other interesting strings that could be more suited towards players looking for softer, more powerful alternatives. You can check them out on the TopSpin website.
TopSpin Cyber Flash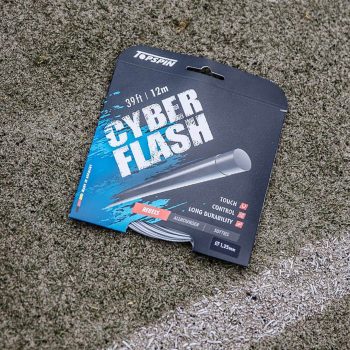 This one is a round, silver-colored co-polyester string similar to strings like Weisscannon Silverstring, Luxilon Alu Power and RS Lyon. It's not a spin monster, but an enjoyable string with decent tension maintenance. It competes well with all the strings mentioned and it's a medium to soft stiffness, which is kind of what I prefer when it comes to polyester strings. I tried it in a couple different racquets and it performed well across the board.
Spin: Don't expect massive spin potential or bite from this string, it's round.
Control: Good, typical for this type of medium-firm round poly
Comfort: Slightly above average for a poly
Tension maintenance: Average
Price: 7.49 USD for a set, 75 USD for a reel at Tennis Warehouse, €52.90 at Tennis Warehouse Europe
Verdict: Good round string for players looking to try polyesters.
TopSpin Hybro Spin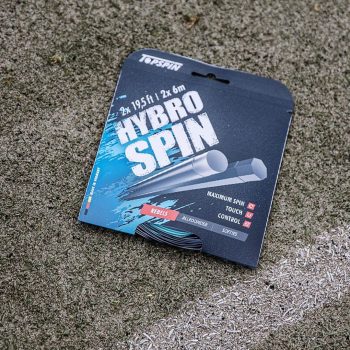 A poly hybrid with good spin potential and a softer response. One string is black and the other is turquoise. One is 7-sided for more spin potential and one is round for a softer feel.
Spin: Solid spin potential, I like the idea of an aggressively sided string and a round one together
Control: Very good
Comfort: Average
Tension maintenance: Average
Price: €19.99 on the TopSpin website
Verdict: Interesting combo for players looking for spin but a softer feel
TopSpin Top Rotation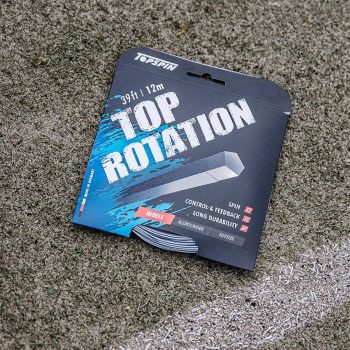 This is a stiffer, grey, five-sided poly, more like in the style of Solinco Tour Bite. Good for spin and control, but too stiff for players with sensitive arms. You need to swing big to get the max potential out of this string.
Spin: Nice spin potential
Control: Yes, lots
Comfort: Not the best
Tension maintenance: Decent
Price: €10.90 on the TopSpin website
Verdict: A good spin/control string, compares well to Tour Bite
TopSpin Max Rotation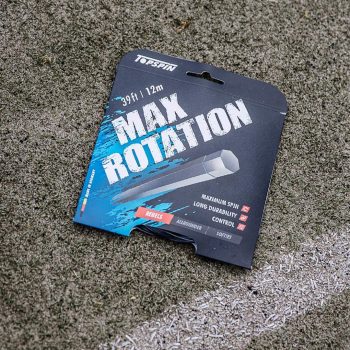 The spinniest string from TopSpin and also the stiffest. A seven-sided black string which is great for big hitters that swing fast, not a string giving you lots of feel and comfort though.
Spin: Great spin potential
Control: Very good
Comfort: Nope
Tension maintenance: Average
Price: €9.90 on the TopSpin website
Verdict: Players who hit big will like this one, stringers not (cuts your fingers).
Summary
Cyber Flash is what made TopSpin a notable brand and name on the string market. But they also produce some other high-quality strings. My favorite was Cyber Flash and Hybro Spin, as I'm not a huge fan of stiffer, shaped strings. But both Top and Max Rotation (easy to confuse, sadly) are good options for players that hit big with loads of spin. Nothing to be placed in a more control-oriented racquet, but in your typical power racquet, these strings work great.
I tested these strings in a BUNCH of racquets.
HEAD Extreme Tour
HEAD Prestige MP
Solinco Prototype
HEAD Prestige MP L
Tecnifibre Iga Swiatek 298
Pacific X-Fast LT
All in all, a solid string brand with some interesting strings. Worth considering for poly users.