I have made a new vlog and I wanted to list a few options below for you who are looking to get some free depth and spin on your shots. Here are the best power racquets.
Pretty much every racquet manufacturer and brand offer a line of racquets that will give the player extra power and depth on their shots. This racquet came out with the idea to help players with lesser technique and footwork skills be able to achieve more power but has now become the most popular type of racquets on the market. It is also popular on the pro tours, especially on the WTA Tour. Here is my take on the best power racquets.
There are a few things that unite the best power racquets on the market:
Larger head size (100 sq inches or more)
Thick beam (24 mm or thicker)
Open string pattern (for more spin and launch)
Lower weight (there are Tour versions that give you even more power though)
High stiffness rating (67+ RA strung – often more)
These features will help give the player better depth and power. The downside is that stiff racquets can be difficult to control. And to increase control, most players string the racquet at a higher tension with a stiff poly, and that in turn can lead to arm issues like tennis elbow or wrist tendonitis. If you suffer from tennis elbow or forearm pain (I've been there), I can really recommend seeing a physio but also to get a Flexbar
and improve your arm strength. Those two things helped me get rid of my tennis elbow and forearm pain.
The Best Power Racquets – A few ideas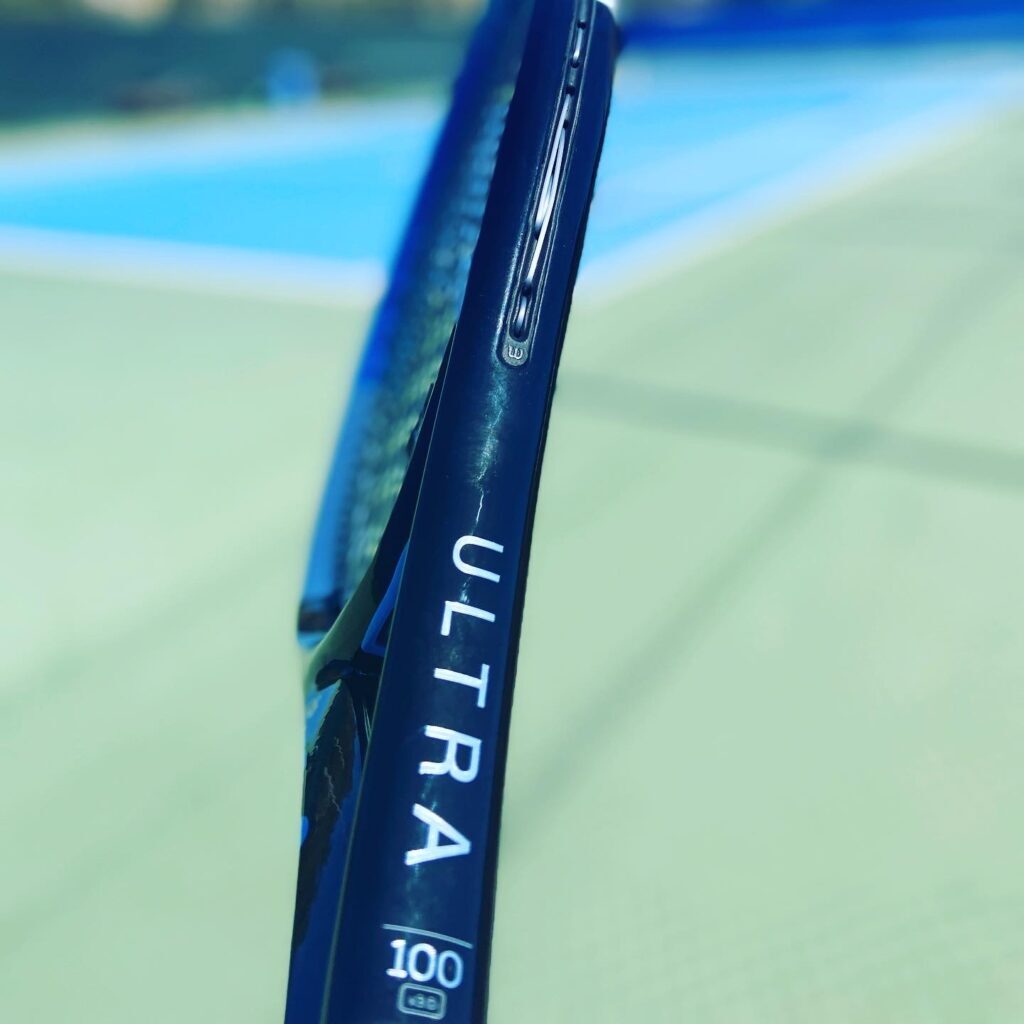 Let's list some ideas if you're looking for free power and improved depth.
Babolat Pure Drive – If you click the link you get to my review of the 2018 version. That one was very powerful and spin-friendly. A bit too much for my taste, but if that is what you're after – the Pure Drive is an icon. It is one of the most common racquets on the WTA Tour for a reason. It is rumored that Babolat will release a new one in September this year. I have not seen any confirmation of this yet but will keep you posted here on Tennisnerd.
Wilson Ultra 100 (click the link for my review). They increased the stiffness of this one and it was very easy to use, but I would worry a little bit about the high stiffness and lack of dampening technology in this one. But despite using it with a full bed of Luxilon Alu Power – I sensed no elbow or wrist pain.
HEAD Graphene 360 Instinct MP
– (I have not created a full-length review, but I did like this one). The Instinct is not quite as powerful as the Ultra or Pure Drive but in the same category. It feels a bit better on the arm to compensate. I do look forward to the Graphene 360+ Instinct MP with spiral fibers – I think that can be a real winner.
Dunlop FX (coming soon) – If you check out Dunlop Sports on Instagram you will see previews of their new FX line, which is all about power and not so much about spin as the SX line that I review here.
Mantis 300 III – I am currently play-testing this racquet. A review to come – a definite plush is the lower stiffness rating (67 strung). It is on sale on All Things Tennis (use the code TENNISNERD for 5% off)
Yonex Ezone 100 – This racquet was full of testosterone, but offered a bit better comfort than the new Pure Drive. I tested the Prototype version, but that should be the same as the one with the full blue paint job.
Tecnifibre Tflash CES 300 – This racquet had an even thicker beam than the rest and felt a bit difficult to maneuver at times, but the free power was all there!
Power and Spin
Some lines focus more on power, while others focus primarily on spin and power. The Aero racquets from Babolat is one of those lines. They offer a bit more control than the Power racquets above, but will still give you lots of power.
Babolat Pure Aero
Dunlop SX
HEAD Extreme
YONEX VCORE
I am not sure what Wilson sees as their Spin line of racquets. If it is the Clash, that definitely stands out as having a different feel than the rest.
I think the risk of the power and spin categories of racquets is that they are so close in certain cases, that it is almost impossible to tell them apart. The major difference between the Pure Drive and the Pure Aero is that the Pure Drive packs more power, but they are both very spin-friendly. It is quite similar with the HEAD Extreme and the Instinct. So I think this can drive even more confusion among the consumers. The general idea is though that the lines based on pure Power is more powerful/stiffer than the Spin-focused ones (although they are also powerful.
What do you think of power racquets? Do you have a favorite?
The video will be published at 8 pm CET on July 6 (later today).