The Wilson Clash is one of the most hyped-up racquets in recent years. I wrote very positively about the Prototype version but felt like it played best with some lead tape. That is why I was really excited to do this Wilson Clash Tour Racquet Review. And it did not disappoint.
Wilson have been working on the Clash line of racquets for around five years and they really set the bar high. I quote from their Clash info page: "Wilson LABS set out with an audacious goal: make a racket that renders all other rackets obsolete." They go on to write: The result was two proprietary technologies: FreeFlex and StableSmart. These technologies constructed the carbon fibers at unconventional angles while creating a unique frame geometry that optimized the modern swing pattern. Does it work? Well, read my Wilson Clash Tour Racquet Review to find out.
First of all, the Wilson Clash Tour is the heavier version of the Wilson Clash. The standard Wilson Clash, which I review here, weighs 295 grams unstrung, while the Clash Tour weighs 310 grams unstrung. What is different from this racquet and for example, the Babolat Pure Aero or the HEAD Graphene 360 Extreme Pro, is that it is far more headlight and significantly more flexible. This is where the magic and wow-effect of the Clash lies, they have managed to create a racquet that plays like a powerful, spin-friendly frame, but is much easier on the arm and has a plusher feel.
Buy the Wilson Clash Tour here (Amazon link)
The Wilson Clash Tour Racquet Review – Specs and tech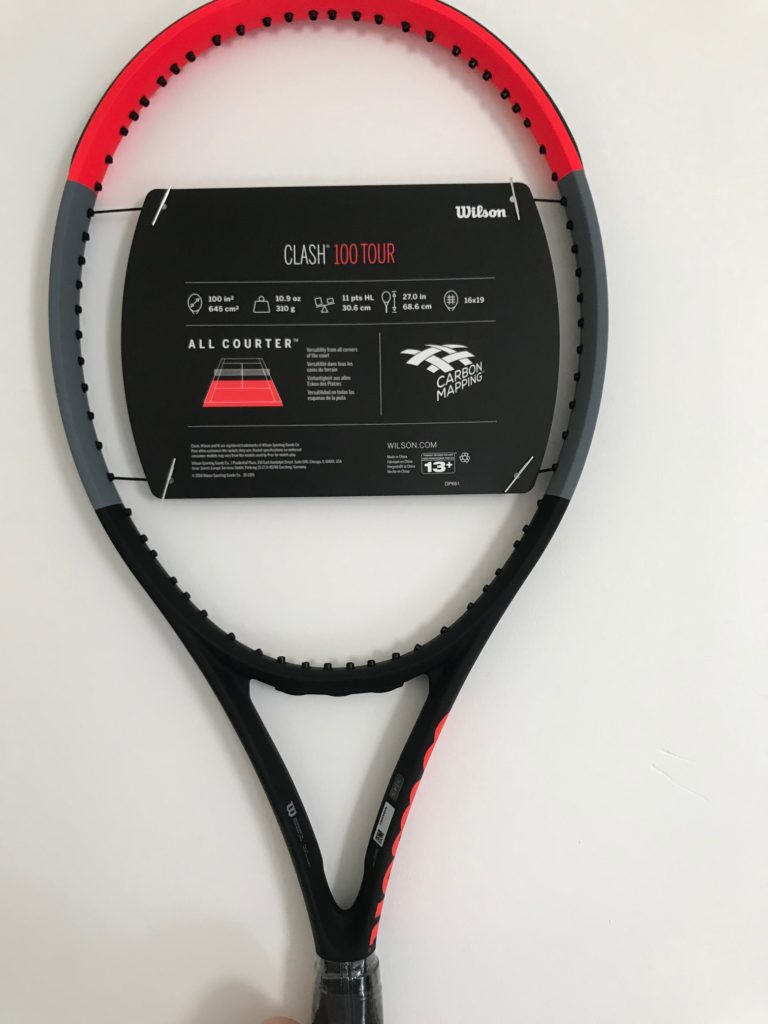 The Wilson Clash Tour specs are definitely a challenge to more conventional racquets on the market. A thick beam, yet a flexible response? A 100 sq inch racquet with a very head light balance? What's up with the funky throat design? A lot of things with the Clash makes you shake your head in surprise. Wilson has really challenged themselves to come up with something new here and for that I applaud them. It is about time we see something really new and different in the racquet industry.
Here are the specs of the Wilson Clash Tour:
Head size: 100 in² / 645.16 cm²
Length: 27in / 68.58cm
Unstrung Weight: 310 grams
Balance: 30.6 cm / 11 pts HL
Stiffness: 55 RA strung (!)
Beam Width: 24.5mm / 24.5mm / 24.5mm
String Pattern:16 Mains / 19 Crosses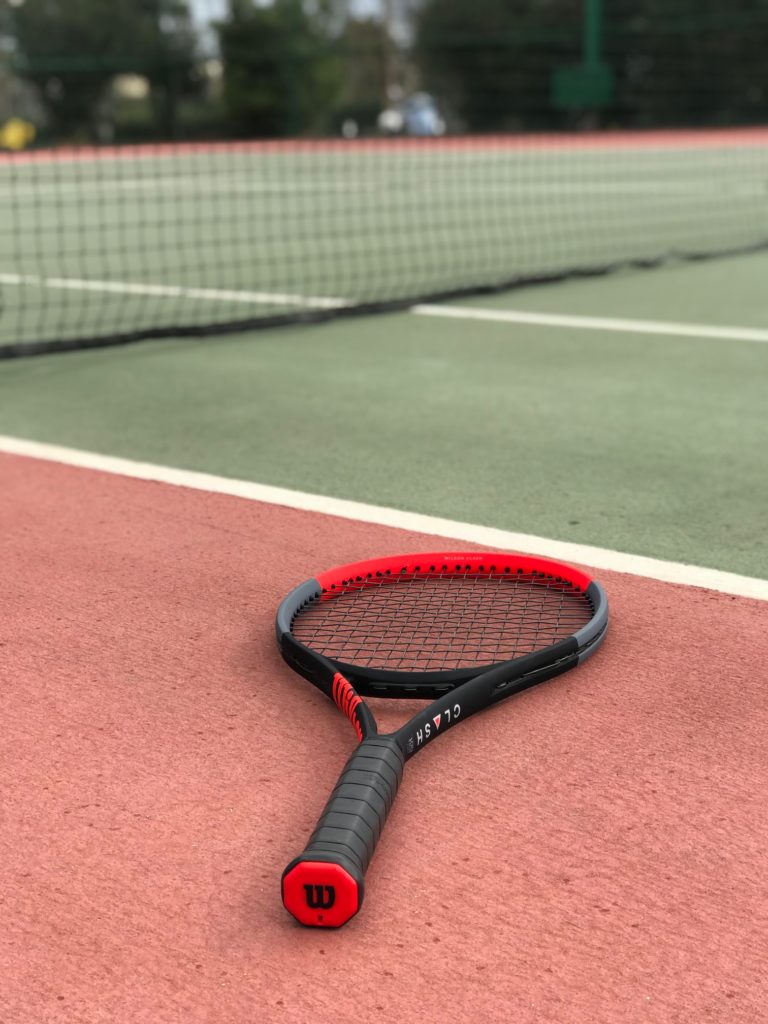 A few more words about FreeFlex and StableSmart. These technologies actually seem to work really well. The racquet is definitely more stable than the stiffness rating tells you, and the flex creates a nice cupping effect of the ball in the string bed. This is what Wilson writes about the technologies (you obviously want to know how they got here, but that is a trade secret I guess):
FreeFlex
Bends the racket in horizontal and vertical directions so players can swing freely and powerfully while still controlling the ball.
StableSmart
Maintains high-performing stability while also enhancing the flexibility of the racket.

Wilson Clash Tour Racquet Review – Playability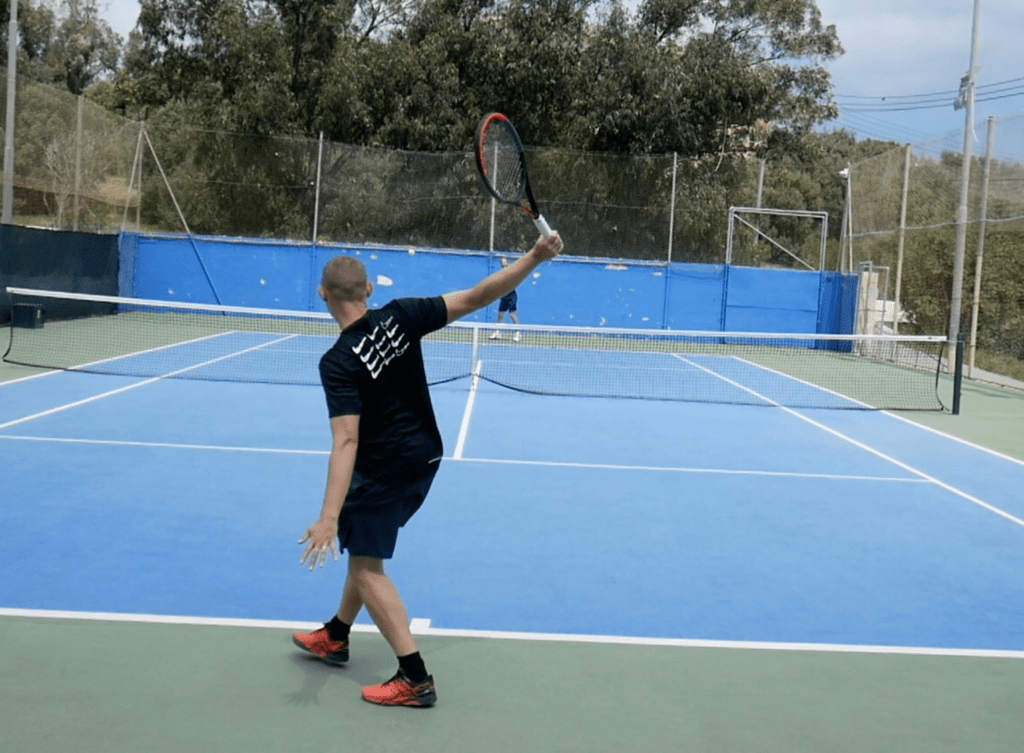 Now that all the innovation and marketing jargon is out of the way, let's talk about how the Wilson Clash Tour performs on the court. Despite, the low stiffness, the racquet definitely packs some power. Not as much as a Pure Drive or HEAD Extreme, but not far off either. The string pattern is quite open so the spin potential is very good. But if you hit with a flatter swing the ball might launch on you a bit, so this is definitely a racquet for a player with a modern, windshield wiper swing. If you play a flat and precision-oriented game, I think you will find this racquet a bit clunky and too powerful.
But…and this is a big but, if you play with a lot of spin, the Clash gives you comfort, feel and enough power and spin to push your opponents back and control the court. I am usually not a fan of powerful frames, but the Clash has a plush response and is a bit more controlled than a Pure Drive. And since I am trying to play with a more semi-western grip and more spin on the ball, the Clash really makes that style of game feel more natural. It has a large sweet spot and does not feel jarring to the arm even with a stiff poly string.
The Clash Tour is simply a lot of fun to play with and makes tennis feel easy at times because you get easy depth and spin on your groundstrokes without sacrificing too much control. I played it with the Luxilon Smart
string at 23 kg and Solinco Tour Bite
at 25 kg and both setups suited the racquet well. The Smart (read my review) string offers a softer feel and a bit more muted response, while the Tour Bite stiffens the racquet up a bit but also gives it more control. It is simply up to you if you want more power or more control from your racquet.
Wilson Clash Tour Racquet Review – Performance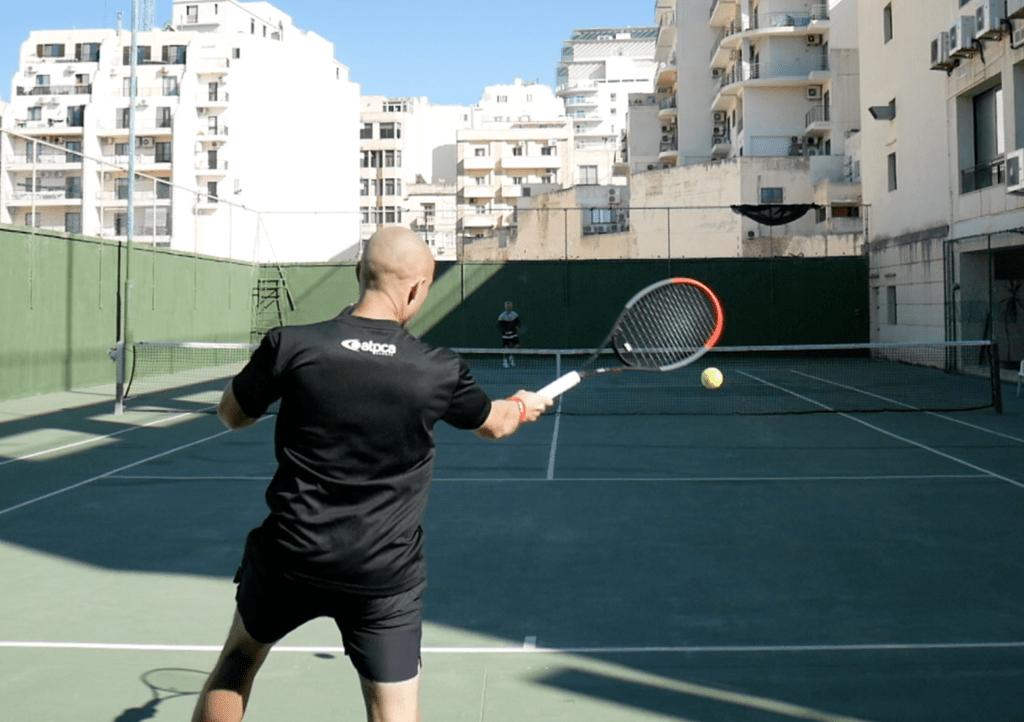 The Clash does most things well for players who hit with spin. Let's look at the different areas:
Groundstrokes: This is definitely a baseliners' weapon. Great spin, enough power. You can play offensive and defensive as long as you put spin on the ball. Flatter hitters will prefer other racquets such as a Pro Staff or a Blade (if we're talking Wilson racquets).
Volleys: Definitely stable for its weight. Pretty much point and shoot. I did not quite find the touch I get with more control-oriented racquets, but the large sweet spot and stability despite the low weight makes it a good choice for doubles players.
Serves: The Clash is more controlled than a Pure Drive and I definitely prefer the Babolat for hitting heavy serves. The Clash does, however, offer you a lot of spin and good placement on the ball.
Slice: If I would compare this to my beloved Soft Drive or many other 100 sq inch racquets, I would say this is one area where I really prefer the Clash. The slice bites a lot better with this racquet for some reason.
Comfort: The comfort with the Clash is exceptional. It is nice to play with a racquet that offers good spin and power without any jarring sensations or excessive vibrations. Simply top of the line here.
Control: For a 100 sq inch power and spin racquet, control is good. On flatter shots, the ball tends to launch and float a bit, but when you play with spin the Clash seems to magically dip the ball into the court over and over again.
Feel: The feel is plush and nice, but I did struggle a bit with the muted response at times. My friend and ex-pro enjoyed the racquet too, but exclaimed: "The ball lands in, but I don't know why or how!" I think the lack of direct feedback will scare some more advanced players off, but compared to many other stiff racquets, the feel with the Clash is really good.
Wilson Clash Tour Racquet Review – Who is it for?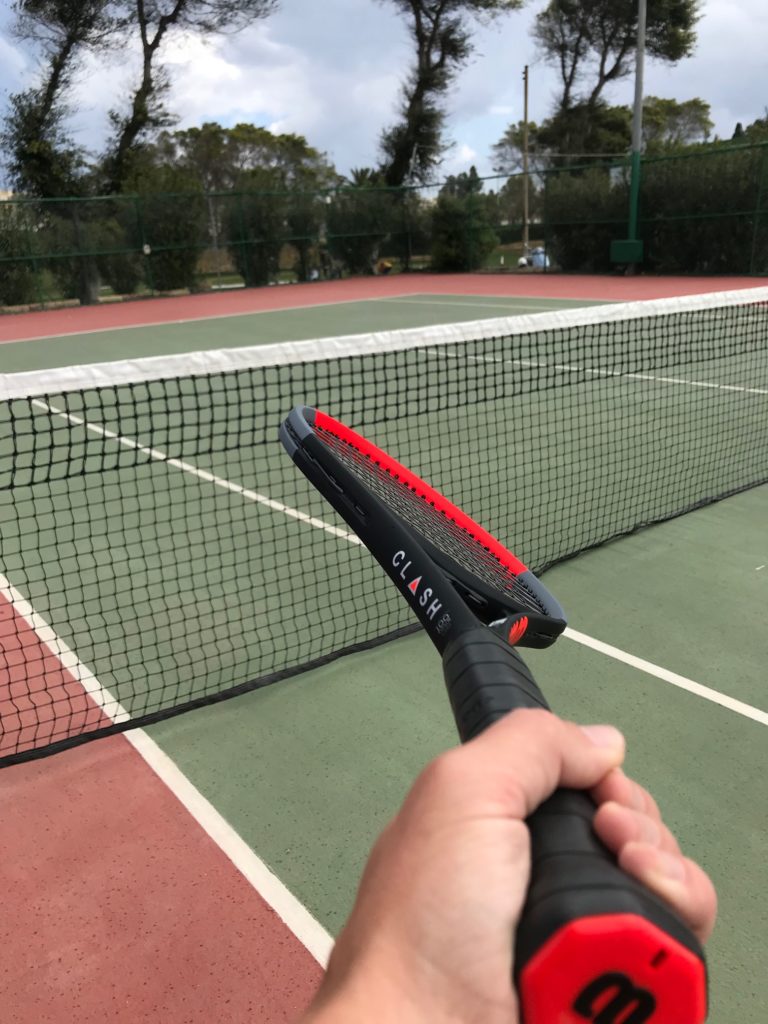 It definitely took guts from Wilson to release such a different racquet than the Clash. It does not make other racquets obsolete (which was their utopian goal), but it deserves a lot of praise for bringing something new and really good to the table in an industry where not much innovation has happened in 25 or so years. I think the Clash and the Clash Tour will suit a wide group of players: everyone from juniors who play a modern game but want a bit more control than many other 100 sq inch frames to seniors and other intermediate players who want a bit of extra help on their strokes without sacrificing arm comfort.
I think the toughest crowd to win over is advanced to competition players who crave a lot of control and feedback from their racquets. But then there are so many other racquets on the market to fill that need and perhaps the upcoming Clash 98 could give them a bit more confidence?
Personally, I really enjoy playing with this racquet. I am hitting with spin and going for angles I rarely do with my more control-oriented frames. I did struggle at times with the muted response when it came to touch shots, but my results do not lie. I do hit with more spin and depth with the Wilson Clash Tour than with my current more player-focused racquet. It simply makes tennis a little bit easier for me. Not sure that is enough to switch to this racquet, but I will sure keep it in my bag for days when I need a bit of extra help on the court.
Wilson Clash Tour Racquet Review – Summary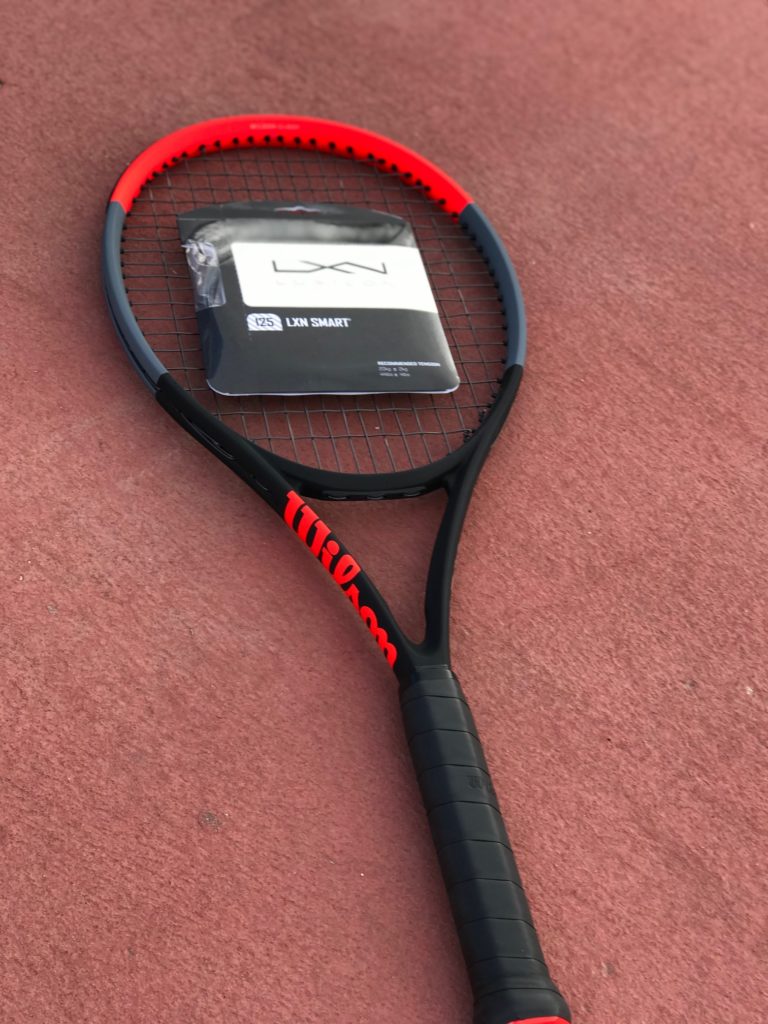 Wilson boasted about racquet revolution and bringing something completely new to the racquet market. My natural response is to be highly skeptical of any such claims. But, after this Wilson Clash Tour racquet review, I can confirm that they are backing up the talk with a racquet that actually is innovative and fresh. The Wilson Clash is definitely not for everyone, but it is a fun and excellent racquet to use for many, many players. It also nudges the tennis industry in a new direction and hopefully pushes competitors to try even harder to find new ways to make tennis racquets arm-friendly and still easy-to-use.
Well done, Wilson Tennis. Not just a good racquet, but something entirely new and different.
Wilson Clash Tour Racquet Review – Video
Do you like Tennisnerd? Please also follow and share our other channels. Every like, share and follow is deeply appreciated! You can now also become a Tennisnerd patron and receive unique content and reviews before everyone else!

Patreon – Support and get VIP content
YouTube – In-depth video reviews and vlog
Instagram – Racquets, racquets, racquets
Twitter
Facebook Page – New content daily
Facebook Group – Join the discussion with other tennis nerds
Amazon Influencer
About tennis racquets
All racquet reviews
Here is a great racquet buying guide to get you started.
What tennis racquet should I buy?
Top tennis racquets to buy right now
The Gear of the Year 2018
The Gear of the Year 2017
The Gear of the Year 2016
Tennis racquets for juniors
Tennis racquets for kids