I have been revisiting two of the HEAD Extreme racquets from last year and here is my HEAD Extreme NITE racquets review.
The NITE edition is a blacked-out version of the HEAD Extreme racquets that I reviewed in 2020. Two models in the line-up got this cosmetic update, the MP and the Tour. If you're interested in any of the racquets after reading this HEAD Extreme NITE racquets review, you can check them out at my affiliates Tennis Warehouse, Tennis Warehouse Europe and Tennis Only. Any purchase through my links sends a small commission to Tennisnerd at no cost to you. Helps the site stay alive. Thanks.
When I reviewed the Extreme racquets the first time, I had two favorites: the Pro and the Tour (heavier and with a tighter pattern than the MP). But I prefer the 98 sq inch head size for my own game, so I was most curious about the Tour this time around.
HEAD Extreme NITE Racquets video review
MP
The MP is a typical "tweener" '(forgiving, easy power/spin) frame and competes well with racquets like the Babolat Pure Aero, Dunlop SX 300, and Wilson Burn 100 V4 for example. It comes with Spin Grommets to enhance more string movement from the main strings (better snapback = more spin) and a Spin Shaft to improve aerodynamics and amplify the windshield wiper swing path.
I found the MP to be easy to generate power and spin with. It was softer on the arm than the Pure Aero and more similar in that respect to the Dunlop SX 300. However, the string pattern is quite open and I felt that I lacked some control on flatter shots. The stability and solid feel were a plus, so the only real downside for me with this racquet was that I had to hold back a bit and slow down my swings. But if free power and depth are what you're looking for, this frame could be interesting. It definitely favors players that hit with spin more naturally and try to push their opponent back through RPMs.
Not a finesse frame, but an excellent competitor to other spin tweeners out there.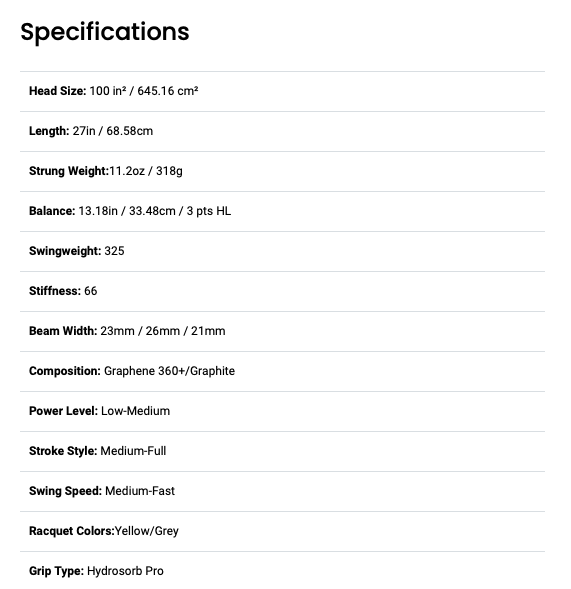 Tour
The Tour was on paper a racquet I am supposed to love. Thin-ish beam, medium 60 flex, 98 sq inch head size, it's kind of right in the spec range for what I usually like. For some reason, it didn't win me over last time, but this time it was love at first hit. Maybe it was the different string setup (Lynx over Hawk) or that I tried a setup with a little weight at 12 instead of 3 and 9 that won me over. But I think it's mainly that I've improved as a player and changed a bit when it comes to what I look for in a racquet.
I have improved and with that, the level of my opposition has also improved, which means that I need a bit more power from my racquets to compete. But I don't feel confident with a 100 sq inch tweener frame and often end up over-hitting in tense moments.
The Tour was a little bit unstable/underpowered in stock form, so I added 2.5 grams at 12 o'clock, a leather grip, and an overgrip + a dampener to get the strung specs around: 335g, 32.1 cm balance (6 pts HL), 330 SW. It feels whippy, yet solid and offers a bit more power and spin over my Prestige MP that I have been using for quite a while on and off.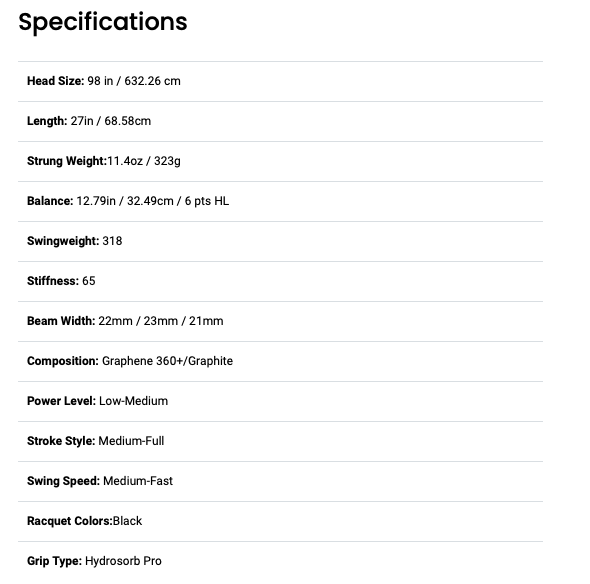 Summary
The Extreme MP is easy to use and generate depth and spin with but can be a bit difficult to control for more advanced players. This is where the Extreme Tour comes in. The Tour has an excellent balance of power, control, and spin. It feels relatively whippy, yet stable (especially with my customizations), and has enough defensive power to get the balls over with good depth when you're pushed back.
As you can hear, I'm quite taken with this frame. I sense no discomfort while using it and feel like it's controlled enough for my game, but adds a little bit of power and spin to make it easier to use than my standard Prestige MP.
Have you tried the Extreme racquets? What are your thoughts?