I might have found my new favorite string. And it isn't made by a mainstream brand. Here is my Grapplesnake Tour M8 review.
For this Grapplesnake Tour M8 review, I have used the racquet in a bunch of different models such as: Head Boom MP, Babolat Pure Aero RAFA, Head Extreme MP, HEAD Gravity Pro. This string comes only in 1.30 gauge and an olive green color. It's a stiff and control-oriented string targeted towards advanced players. In the Gravity Pro at a "normal" tension of 22 kg or 49 lbs, it gave excellent control, but felt a little stiff. It's when I strung it up in my Pure Aero RAFA at 11 kg or 24 lbs that it really showed its properties of tension maintenance, durability and control. I have also enjoyed the string at 15 kg / 33 lbs in my HEAD Extreme MP or 20 kg / 44 lbs in the HEAD Boom MP without comfort issues.
How does it play?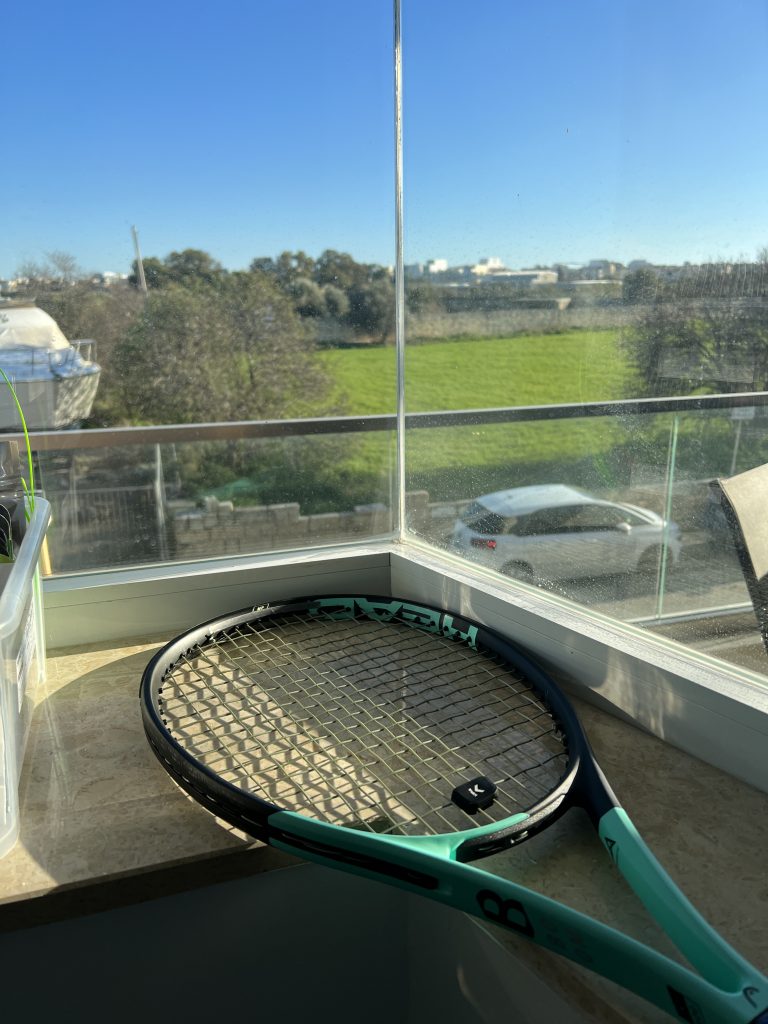 Grapplesnake Tour M8 feels quite soft when you string it up, so it's definitely not the harshest string on the market. But if you have arm issues, I would still avoid a poly (in general), even at low tensions. It has held tension well and stayed playable even in racquets with LOW tensions like 11 kg / 24 lbs or 15 kg / 33 lbs. I have tried other strings at this tension, but rarely get the same snapback and playability as with Tour M8.
Like I wrote above, the string really came to life at tensions at or below the 20 kg / 44 lbs mark. I tend to prefer thinner gauges and slightly higher tensions. In fact, 51 lbs / 23 kg has been a reference tension for me over the year, but that has been changing in the last couple of months. I feel like polyester strings are made to be played at lower tensions ( anything below 20 kg / 44 lbs I put as "lower") where you can still get excellent control, ball pocketing and spin.
In short, the Grapplesnake Tour M8 is a high-quality control poly with excellent feel, control and spin properties. It's on the short list of becoming my regular string for match play, that's how good it is.
If you want to try Grapplesnake Tour M8, Tour Sniper or any of their other strings, get 10% off using this link on your first purchase.
About Grapplesnake
Grapplesnake is a German string brand and the strings they produce are not only designed/engineered in Germany, but also made there. This is what they say about themselves on their About Us page:
Grapplesnake was born in Germany, initially experimenting with new polymers and fabrics for the rope industry. There are strong engineering similarities when compared to tennis strings. This is why we decided to apply our knowledge into producing innovative compounds that lead to very high quality tennis strings. Every string we produce is aimed at providing players with unique characteristics for different styles of play, including our dual-poly hybrids.
Our goal is to improve the string industry and the game as a whole.
Have you tried any Grapplesnake strings? Check out Grapplesnake strings and other tennis gear at Tennis Warehouse Europe. They can also be bought through their official website in the US.