I've been play-testing a new string from Luxilon, which is a little different. Read on to find out more in this Luxilon Alu Power Vibe string review.
For this Luxilon Alu Power Vibe review I mainly used the string in my perhaps two most-used racquets which I often use for string reviews. The Babolat Soft Drive and the Wilson Six One 95 nCode. I like to use racquets I am familiar with and preferably (if I get more than one set for test) two racquets with a different profile to see how the strings affect the racquet.
What is Luxilon Alu Power Vibe?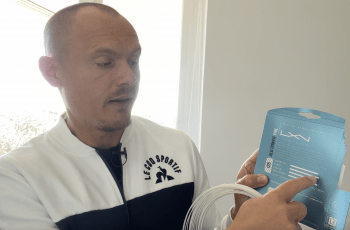 Luxilon Alu Power Vibe is an interesting string with a new idea. Luxilon has taken Alu Power and ground down their famous purple Legacy dampener (!) into the mix of the string. The idea is that the rubber in the dampener would apply a more dampened feel to Alu Power. If that is something that sounds appealing to you, I'm sure you'll like this string, because I did.
It only comes in one gauge (1.25) so far and the price is not cheap by poly standards (20+ USD), but it's for sure a high-quality string.
You can purchase a string set or a reel from Tennis Warehouse, Tennis Warehouse Europe or Tennis Only.
How does it play?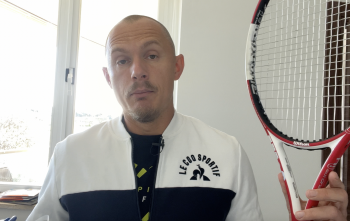 This string feels more comfortable than Alu Power, but looking at the stiffness rating, it's actually stiffer than Alu. It's in between Alu Power and 4G. It's not a comfort string for players suffering from tennis elbow (use arm-friendly strings), but it offers a pleasant sensation on impact and I did not notice any issues with harshness. Personally, I prefer the slightly dampened feel over this string than Alu Power, because I still felt like I got excellent control and the tension maintenance was more like 4G than Alu (better).
It's not the most spin-friendly string though as the surface of the string is a bit coarse and doesn't allow for a lot of movement or snapback. It almost feels more like a tightly strung natural gut than a poly. I wouldn't say the spin potential is poor, but it's not what this string is for.
I liked the string in both racquets. It killed some of the launch angle of the Soft Drive (OPEN pattern) and maintained good control and feel for the Six One 95. I think it's a better string for me than Alu Power in several respects:
+ I prefer the slightly softer/more dampened feel (this is subjective, some might find it too dampened)
+ It holds tension better
+ I do think it offers better control
Summary
For some reason, there haven't been much fanfare around Luxilon Alu Power Vibe, but for advanced players seeking a controlled string, it's a great option. It all boils down to if you prefer a more dampened feel or a slightly rawer string bed from options like 4G and Alu.
Ps. Video review to come! Ds.
Have you tried Luxilon Alu Power Vibe?