Throwback time! Old-school racquet lovers will likely love this one. Here is my Prince CTS Synergy DB 26 Review.
The Prince CTS Synergy DB 26 is classic in design, style and playability. It has quite a drastic CTS from 20 in the throat to 26 at the top of the beam. It feels solid despite my racquet being quite a bit under spec compared to Tennis Warehouse. Their measured 346g strung and mine is 331g strung with overgrip and a hybrid of Luxilon Element (mains) and Luxilon Alu Power 1.25 (crosses). The racquet still play solid, but I would have liked a little more weight for a beefier shot. Still, I have really enjoyed and found some good tennis with this Prince CTS Synergy DB 26.
There is a Prince 50th anniversary logo on the frame, which is one of the reasons they re-introduced it. The standout feature besides the clean, steel-blue look, is the Double Bridge throat piece with Liquid Crystal Polymer. The idea behind it to dampen vibrations. Not sure if it is just the clean graphite layup or the bridge tech, but this is a pretty comfortable racquet even at 65 RA strung.
Spec check
Head size: 97 sq inches
Length: 27 inches
Strung weight: 331g with overgrip (under spec as I mentioned above)
Balance: 32.4 cm
Swing weight: 318.5
Beam: 26/24/20 mm
String pattern: 16×18 (a Prince favorite!)
How does it play?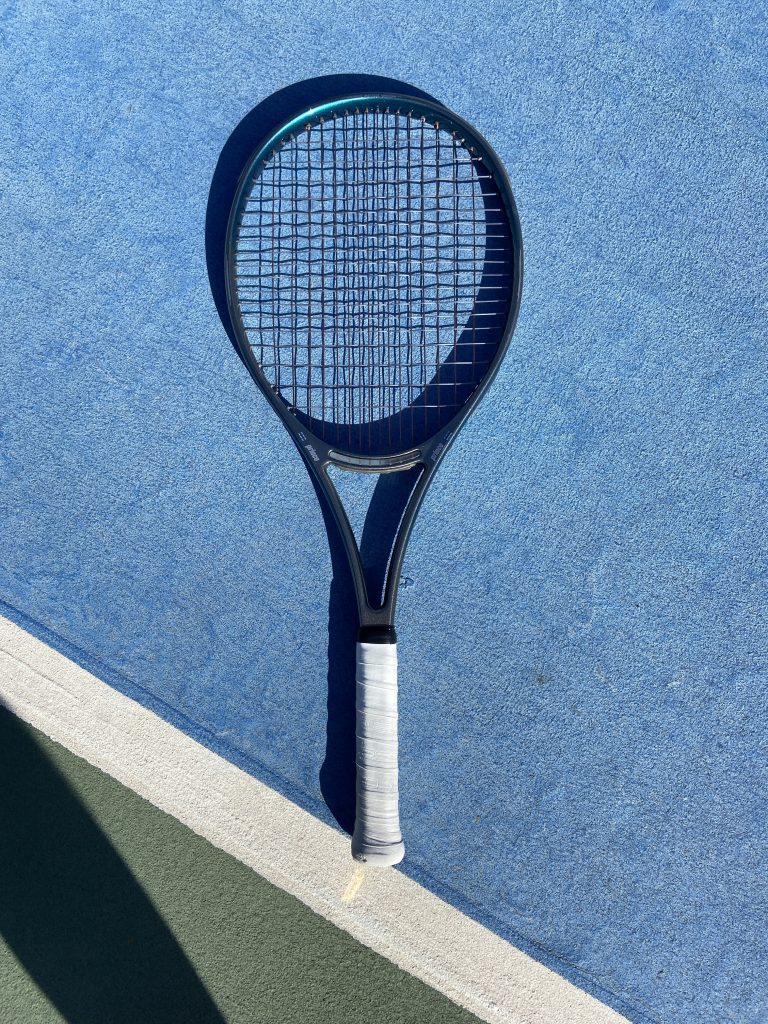 This feels like an old school racquet, but in a good way. A classic graphite feel, direct, not harsh, not soft. Just nice. The sweet spot is not bad at all for a 97 sq inch racquet from way back when. I think the thicker beam in the hoop helps to create good stability on pick-up shots. The ball trajectory is lower than for example a pro-staff though, but you can get a decent amount of spin. I don't know how Prince always manages to make their "trademark" 16×18 pattern to be so "knifey" on the slice. The knife slice is really a murder weapon with the CTS Synergy DB 26, so if that is an important shot to you – put this on your consideration list.
The Prince CTS Synergy DB 26 comes pre-strung with a synthethic gut. The racquet didn't play nicely with that string, but with a soft poly combo it was great.
Characteristics
The Prince CTS Synergy DB 26 is a control-oriented frame with a decent amount of power. It moves through the air well despite the thick beam in the hoop and can handle pretty much any shot for an advanced player. I think attacking players of 4.0 or above should take this one for a demo. It could be an interesting comparison to the Wilson Pro Staff 97 V13 for example.
I have played some of my best tennis with the CTS Synergy – to my big surprise. After the first hit, I wasn't so impressed, but the more I played with it, the better it felt. So if you like retro-style frames that can still compete with the modern racquets of today – take this one out for a spin.
If you want to buy the new Prince CTS Synergy DB 26 MP (or other racquets/gear), please consider doing so with one of our affiliates: Tennis Warehouse (US), Tennis Warehouse Europe, or Tennis Only (AUS).
Have you tried the Prince CTS Synergy DB 26? What are your thoughts?